'We had to pull all of our ads off YouTube': Marketers sound off on brand safety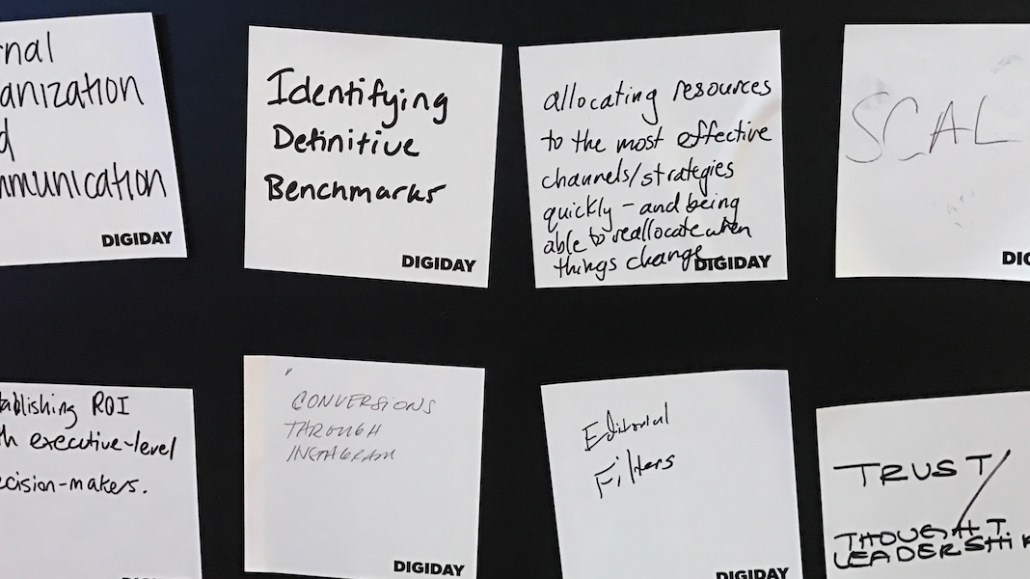 It's a scary time for marketers: Somewhere in the depths of YouTube, your brand's campaign ad could be the pre-roll video playing before an ISIS video.
Brand safety was a top-of-mind topic at the Digiday Marketing Summit, taking place this week in the Bahamas. Marketers got together to discuss the right mode of action to take when a programmatic ad surfaces on a polarizing site like Breitbart or when a hurricane hits the coastline as soon as a new social campaign was set to go on blast. Oftentimes, the solution often lies in the way brands react. Oftentimes, a crisis manual is involved.
We gathered the best overheard moments from the summit around brand safety, influencer marketing, silos and internal organization to offer an idea of what challenges marketers deal with on a daily basis.
Navigating brand safety
"We had to pull all of our ads from YouTube after ads ran alongside ISIS videos. We can't run that risk while we're still figuring things out."
"We have customers that will call and complain that we support a political party because an ad ran on Breitbart or Lauren Ingraham's website — either side. As an organization, we don't know where to draw the line. Customers are complaining because they believe it's a direct media buy and that we have relationships with those platforms. I don't have a solution for that."
"Is advertising on Fox an issue? CNN? Drawing the line — some shows are blacklisted. But what should you blacklist? You can't make everyone happy. At the same time, you have to wonder if Twitter backlash really impacts sales."
"Sometimes you have no control over it. We've had ads running on the NFL, and now people think we're supporters of the protesters."
"We've started doing training programs across teams to make sure marketers are all in line and know what to do. We have a crisis manual that needs to keep being updated."
The content machine
"Six-second videos make it impossible to tell a story. How do you get that across and tell everybody what you want to in six seconds?"
"It's about understanding what that [six-second] unit does — it's not designed to tell a story but to get a singular idea across very hard. That's what I need help with: Figuring out how everything fits together so you know what can convert, how many times I need to show you something before you convert and who is never going to convert so I stop wasting my time."
"Who is going to watch a three-minute video? It may be the world's best story, but nobody's going to watch that."
"I have a very hard time explaining things like Pinterest to our CEO. We also have a really long conversion time there — which makes it that much harder. If Pinterest could get me better data and track customers for longer, it would make my life a lot easier. How do you talk about and argue for those partners that are great converters over the long term and not quick hits like Facebook?"
Bringing agency work in-house
"We do everything in-house, which means there are some things we execute very poorly. We're in a rush to get things done because we're doing everything ourselves."
"Big data comes with bigger processing, which means taking away from someone's job. Trying to explain what you're trying to do to other parts of the business, getting your usable data in there, and trying to get the message across."
Bringing down the silos
"It's not just different departments within our company, it's the fact that different departments are working with different agencies. Most of my job at this point is about breaking down silos because it's hard. It takes a while, and you really have to understand every part of your company in order to do so. Everyone's just so focused on what they do."
"Or maybe: Don't try to break down silos. It's a machine, and you can't beat the machine and change the way people have worked for decades. You have to think of different solutions. Instead of breaking down silos, just build around them."
"I was on a call with 63 different people to talk about a new campaign, and I had no idea what any of them did."
"You can't just put all these people who used to have offices into an open floor space and say, 'Have fun! Collaborate!' There has to be a strategy behind it, and that doesn't exist."
Influencer relationships
"Organic, DIY-type posts from influencers drive so much more revenue for us than the big influencers today. They're too sanitized."
"Brands don't want to bet the house on one big name. So you need to know an influencer and their following really well, and be ready to build a relationship with influencers. Do a campaign with 20 influencers almost like an audition — and see who drives results. And also, be really clear on the results you're looking for. Is it engagement and awareness or growing followers? Those are two different end results."
"We aggressively rely on microinfluencers. At the same time, their followers are low — so what do we expect to get out of them posting content? We need to have the organic relationship with them, though, because we can't afford anyone else."
"Why does influencer marketing and the laws around it still feel like the wild, Wild West? It feels like the FTC is just rewriting the rules as they go, and I don't know how we're supposed to keep up to date."
Brand partnerships
"Brands are confused about partnerships — they don't even understand the rules or what they're getting themselves into. That makes it a pretty painful partnership."
"The celebrity as the creative director is basically an influencer that's been worked into the brand on a level that lets them avoid #ad disclosure."
Internal organization
"I try to have four people or less in any meeting, even if that means more shorter meetings over time, instead of going into a meeting where we say, 'Let's hear everyone's input on what we think we should do.' You leave those meetings with 10 new ideas and no action."
"Everyone thinks they're a marketer. If I hear another marketing idea from Bob in accounting … Bob, you're not in the wrong career."
"We're wasting time, we're wasting money, and we need to make decisions and know that these people are the ones who are making the decisions and they need to be empowered to do so — it's not about everyone needing to be heard."
"We have multiple teams that work on marketing and communications in the building, each of which holds their own meetings. Many of the meetings they have are duplicative, and feature similar groups of people."
"I just want to see the workload of people who spend all day wasting time in meetings. Is that their workload?"
"We've established this presenteeism where people will get FOMO over meetings if they're left out. I didn't know you could get FOMO over a meeting about digital marketing, but apparently you can."