Programmatic's biggest challenges to getting really big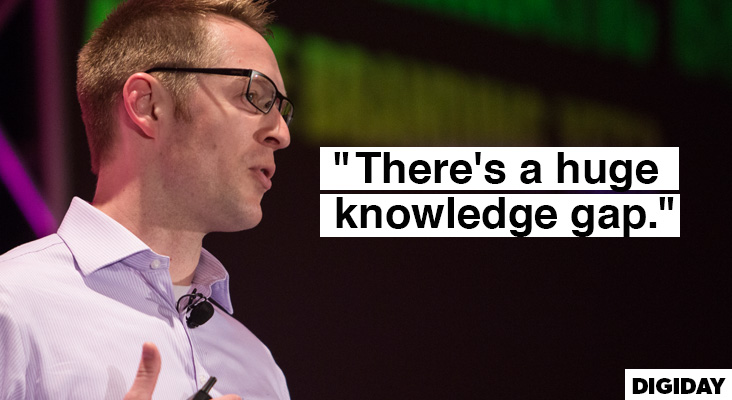 The programmatic ecosystem, while growing, has developed its share of early challenges as it has built mindshare and influence in the online marketing world.
Many of the biggest issues popped up often during presentations at the Digiday Programmatic Summit in New Orleans. Programmatic's knowledge gap is still a big one, and industry challenges like fraud and cross-device targeting still puzzle the industry. Here are a few of the more pressing challenges that programmatic is introducing as it evolves.
What the heck is programmatic, anyway?
Most of the early issues facing programmatic have to do with education. The eye-crossing mish-mash of ad tech terms is tough to understand, particularly when agencies and vendors use entirely different definitions of the word "programmatic" itself.
"There's a huge knowledge gap in terms of what we think people know and what they actually do, especially from the client and agency sides," said Thomas Moyer, media supervisor at Saatchi Mobile.
This extends, too, to perception. For most of its history, programmatic has been seen as a backfilling solution for unsold inventory. What publishers can't sell directly, they push into the programmatic ecosystem. That perception is changing, however, as publishers and buyers start to view programmatic as a way to support brand awareness campaigns via inventory sold directly by publishers.
"Right now, direct response still has the majority of the budget, but branding is starting to eat away at that," Moyer said.
Dealing with fraud
Fraud is a big problem in online advertising. When systems move fast and develop lots of moving parts, fraudsters tend to fill in the gaps. This is an issue that the programmatic world is particularly sensitive to. More fraud generates more skepticism in the industry, which in turn leads to big brands stepping away entirely. And that's the exact scenario the ad tech industry is trying to avoid.
"It's hard to pinpoint who to blame," said Vik Kathuria, Razorfish global media chief. "As an industry, it's really important for us to be aggressive and proactive. This industry is so dynamic, and I don't think we have enough time to point fingers," he said.
Cracking cross-device targeting
Advertising in the desktop age was, relatively speaking, pretty simple: Advertisers had to target one person on a single machine. Things are more complicated today, when users are constantly jumping between smartphones, desktop, and tablets. This presents some real challenges for agencies and vendors trying to solve issues related to conversion attribution and ad retargeting. Kim Kizka, senior manager of digital media at Kellogg Company said this was one of the biggest challenges for the company right now.
Getting creatives to think programmatically
Creatives drawn to the prestige of television advertising are often turned off by the confusing, grimier world of digital advertising. This has created a culture and education gap in the advertising creative world, which is full of people who don't understand how far the industry has moved over the past few years. This is an issue that the industry has yet to solve.
"It's about education and getting them to see that there's real value in this and that they can tell stories," said Christine Peterson, media director at MRY.  "They can do banners and win awards, too."
Getting the ecosystem to work together
While the promise of programmatic is that it offers marketers a more efficient way to reach their target audiences, it's also become yet another silo in the bloated ad tech industry. Agencies, clients, and vendors are all complicating the market with their own specialties, needs and products, leading to workflows that are complicated and fractured.
"It was amazing,"  said Matt Prohaska, principal at Prohaska Consulting. "A year ago major companies that are very well funded with a lot of smart people couldn't get pipes to work together."
https://digiday.com/?p=75322