Lane Bryant is the latest retailer to land itself in a soup after lifting designs from a New York-based artist without asking permission — or paying for them.
Shantell Martin is accusing retailer Lane Bryant of stealing her work, which is plastered all over new white t-shirts that the plus-size marketer started selling on its website and promoting on Instagram earlier this week. The t-shirts, priced at $24.90 on the retailer's website, feature the words "You Are You" in hand-drawn, black-ink font alongside stick figure drawings, mountains and trees.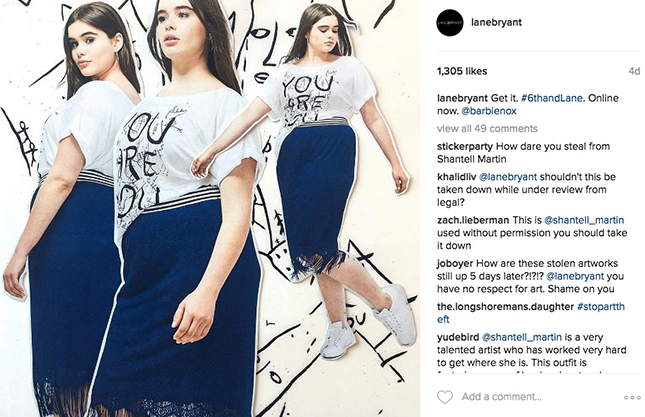 Martin first raised an alarm on Wednesday with a Facebook post. "Stolen!" she said, captioning an image from Lane Bryant's campaign. "I did not give my permission to this brand to take/use my stuff… Please call them out if you have a moment." The post got over 60 comments, 100 reactions and 60 shares.
Several other users online were also quick to notice that the text and font shared a striking resemblance to Martin's work. A cursory glance at Martin's Instagram shows that she has used the phrase, variations of it and the art that Lane Bryant has copied in her designs for quite some time.
Martin said that the marketer never made any attempt to collaborate with her. "I actually never knew of the brand until today," she told Adweek.
Lane Bryant's first official response was a comment on Instagram in which it thanked everyone for bringing this to its attention. But the retailer now appears to have stopped selling the t-shirt and has also removed all posts promoting it.
"Lane Bryant has stopped selling the t-shirt and removed all marketing images and social content featuring the item," a brand spokesperson said when Digiday reached out for comment. "We are in active conversations with Shantell Martin regarding the situation."
This is not the first instance where a retailer has come under fire for artistic theft. In June, Forever 21 was slammed for copying Kanye West's Life of Pablo shirts. Zara too landed itself in hot water when it allegedly stole some 40 designs from independent illustrators, designers and smaller brands.
https://digiday.com/?p=198583