Pernod-Ricard used weather data to target drinkers during the East Coast blizzard
March 15, 2017 • 3 min read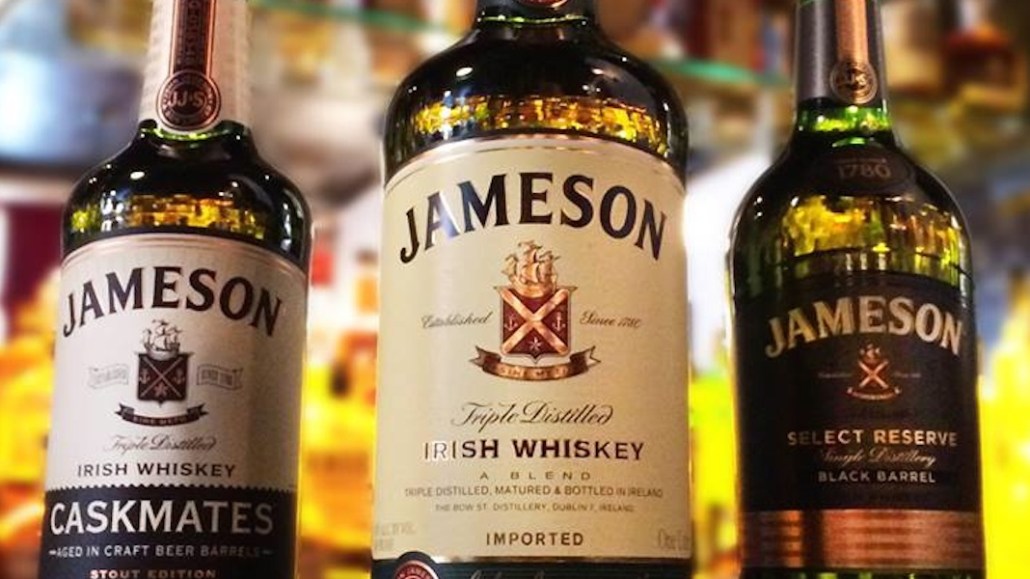 As shoppers were rushing grocery stores up and down the East Coast in anticipation of winter storm Stella on Tuesday, Pernod Ricard was busy giving them not-so-subtle reminders to also stock up on hooch.
The brand set in motion a custom media buying script on Monday, March 13, ahead of the storm, pulling API data around nasty weather reports in 10 local markets, including New York and Washington D.C., to automatically target consumers with deals and cocktail recipes.
The spirits brand used the program for four of its brands including Absolut, Jameson, The Glenlivet and Kahlua, identifying and targeting consumers with both paid social content on Facebook and Instagram and paid search content on Google. The content also drove to alcohol delivery service Minibar, encouraging customers to schedule their deliveries before the storm.
"Ours is a highly regulated category, so the use of data to drive marketing is still new," said Tim Murphy, Pernod's vp of consumer planning and spirits marketing. "Our aim was to use data to better engage our customers along their customer journeys and provide them new opportunities to buy our products."
The media plan was based on the — shocking! — insight that bad weather prompts consumers to stock up on booze, according to Jared Belsky, president at 360i, which developed the plan. The epiphany was gleaned from internal research as well as previous campaigns that Minibar had run, both of which demonstrated a lift in spirits sales during periods of bad weather.
The media buying plan targeted consumers over the age of 21 and was activated based on hundreds of qualifiers or keywords related to not just the brands, but also the weather, such as "heavy snow," "freezing rain," "sleet," "extreme wind" and "violent storm." So, for example, if someone searched "whiskey delivery" or "winter cocktails" on Google, the ad would show up.
The primary objective was no doubt to drive more sales of Pernod spirits, but the focus of the creative tended to emphasize the weather. The copy for a paid social ad for Kahlua on Facebook, for instance, read "Everyone drinks White Russians on snow days, right? Right?"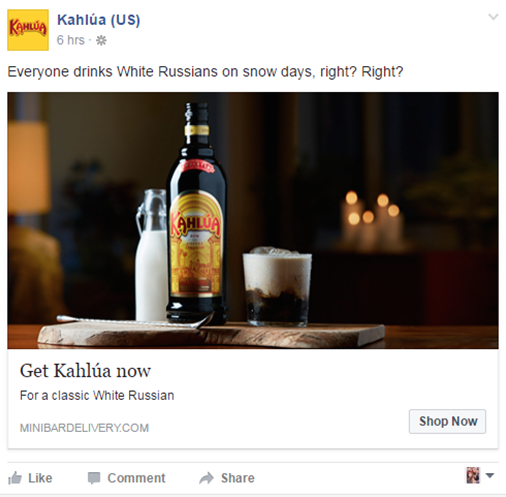 "Buying alcohol online is still a relatively new consumer behavior, so we wanted to focus on occasion-driven engagement to influence them to buy instead of traditional brand-driven engagement," said Murphy. "The cocktail image is like a fashion shot in that it's important to show it, but in the right context."
Pernod was aiming for not only increased consumer engagement, but also a lift in sales in the inventory it sells through Minibar. While it's still too early to report engagement metrics, the brand saw a 126 percent lift in e-commerce sales through Minibar on March 13 compared to any average Monday, according to Murphy. It had also run the program during a storm in February, where it saw a 37 percent lift and a 32 percent lift respectively, on the two days leading up to a storm on Feb. 10.
Given the success of the activation, Pernod-Ricard plans to continue to activate the media plan based on the weather in Chicago, Denver, Indianapolis, Minneapolis, New York and Washington D.C. in the next few months.
"Inclement weather presents the perfect opportunity to influence online spirits purchases," said Belsky. "Everyone wants to stock up on supplies, including alcohol, but no one wants to leave their house."
Hear how brands are using data in interesting ways at the Digiday Brand Summit in Charleston. Join us, April 18-20.
https://digiday.com/?p=227711
September 25, 2023 • 5 min read
As esports winter sets in, the companies that are best insulated from the cold are the ones that designed their balance sheets for a years-long march to profitability — not the massive and rapid returns promised by some esports companies during the industry's initial wave of growth.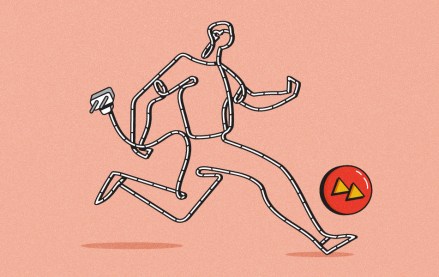 September 22, 2023 • 4 min read
Women's sports are having a moment. Brands, media companies and agencies are looking to get in on the action.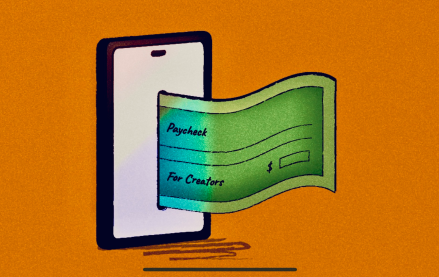 September 22, 2023 • 6 min read
The Hollywood strikes were supposed to be a game changer for many of them, but the situation hasn't quite lived up to the hype.