Tonight is the Super Bowl for Hollywood: the 86th annual Academy Awards.
And with any big event these days — the Oscars is expected to attract about 40 million viewers — there's the opportunity for brands to elbow into the action. Digiday will wade through the contenders as they grasp for their Arby's moment, giving credit where it's due and catcalls where appropriate. Check back as the evening wears on for updates on the real-time marketing efforts of brands.
And that's a wrap.
You watched the awards. You laughed at the tweets, groaned at the puns and kept constant tabs Digiday's live blog. Want the TL;DR? Check back for our five best social media moments of the night. And keep reading below for real-time Oscars marketing as it happened in real time.
A real-time opportunity falls in Miller's lap.
Matthew McConaughey's acceptance speech throws up a chance Miller Lite couldn't pass up.
Miller Lite. The official beer of award winning actor's dads.

— Miller Lite (@MillerLite) March 3, 2014
Mucinex is trying hard to force its way into the conversation.
How come no one ever thanks their cold medicine?

— Mucinex (@Mucinex) March 3, 2014
Asics is getting bored.
.@ABCNetwork, was hoping you would keep it at a sub-3 this year. #OSCARS

— ASICS America (@ASICSamerica) March 3, 2014
Red Bull has resorted to simply hijacking the #Oscars hashtag.
You want it? Come Get It… https://t.co/mDRz5P8gga #oscars #givesyouwings

— Red Bull (@redbull) March 3, 2014
Denny's is irritating Twitter.
Users are impressed by the diner chain's attempts to jump on the selfie bandwagon.
.@DennysDiner NOT NOW DENNYS

— David Real (@dtownsteez) March 3, 2014
TGI Fridays tweets, nobody listens.
One person has favorited this tweet so far. It has no replies or retweets.
Best supporting wingman goes to @__________ for spreading your love for TGI Friday #Oscars2014

— TGI Fridays (@TGIFridays) March 3, 2014
Pepsi rolls out movie quotes strategy.
The cola brand's big plan for the night appears to revolve around "#MiniCanQuotes" like the ones below to plug its new small cans.
Nobody puts baby in the corner #MiniCanQuotes #Oscars pic.twitter.com/nUO0yUg5F3

— Pepsi™ (@pepsi) March 3, 2014
Ellen crashes Twitter.
Another win for the social network. Ellen said she received an email from Twitter saying attention to her tweet helped crash the service. The crash isn't ideal, but the massive and repeated exposure is.
HuffPo causes controversy with Uganda tweet.
It's using the Lupita Nyong'o Oscar win in an attempt to sell Chelsea Handler books.
Congratulations #lupita To pre order #ugandabekiddingme go to https://t.co/3LRljoT3jN #Oscars @chelseahandler pic.twitter.com/BurqtrFgEn

— Huffington Post (@HuffingtonPost) March 3, 2014
Local pizza joint Big Mama's & Papa's enjoys its moment.
Ironically the local shop might be the biggest beneficiary of Oscar buzz so far.
#Oscars #BMPP, Thank you Ellen! pic.twitter.com/IHmtjW39qg

— Big Mama's & Papa's (@BigMamasNPapas) March 3, 2014
A decent idea from Snickers, but is anyone really listening?
This pizza-related effort has 16 retweets, 16 favorites, and four replies. Hardly an "engaged" audience.
For those who didn't get pizza, we have an idea #Oscars pic.twitter.com/iijAR6T9i7

— SNICKERS® (@SNICKERS) March 3, 2014
Snapple jumps in with a boring picture of a gold bottle.
The beverage brand clearly had this one lined up in advance and apparently decided now was the perfect time to publish it.
May the best flavor win. pic.twitter.com/MRU2oKSWjt

— Snapple® (@Snapple) March 3, 2014
Ellen's Oscar selfie is the most retweeted tweet ever.
It's official. The star-studded selfie tweet is now the most retweeted ever, beating Barack Obama's previous record. Big win for Twitter.
If only Bradley's arm was longer. Best photo ever. #oscars pic.twitter.com/C9U5NOtGap

— Ellen DeGeneres (@TheEllenShow) March 3, 2014
Red Bull jumps for the Wizard Of Oz bandwagon and misses.
Thank you for bringing COLOR to the world, #WizardofOz. #oscars pic.twitter.com/0edk1mxqAN

— Red Bull (@redbull) March 3, 2014
Clorox's Wizard Of Oz attempt is lame.
Just because you can, doesn't mean you should. This Wizard Of Oz reference from Clorox isn't funny or relevant, it's just weird.
Happy 75th birthday #WizardOfOz #Oscars2014 pic.twitter.com/pJNQ5H9yrK

— Clorox (@Clorox) March 3, 2014
Ellen spurns big pizza brands for mom and pop.
Big Mama's and Papa's Pizzeria got a nice, albeit weird plug when Ellen for some reason interrupted the show to serve delivery pizza to the stars. Rather than a national brand, she turned to a local shop.

Apple wins. Apple always wins.
Seems Ellen is using a Samsung phone onstage but an iPhone when she's backstage and free to use whatever product she wants. Oof.
@parislemon she's using an iPhone backstage. pic.twitter.com/eRZlAVwq3S

— Sammy (@sbanawan) March 3, 2014
Twitter and Samsung get nice plugs from Ellen Ellen DeGeneris pulled out her Samsung phone twice for selfies, including a group photo that she said would be the most retweeted tweet ever. Barack Obama's post-election tweet got over a half million retweets. Ellen's tweet had over 100,000 RTs less than 10 minutes after it was posted. This is just the kind of exposure to a large, mainstream audience that Twitter needs to re-ignite its growth.
"@TheEllenShow: If only Bradley's arm was longer. Best photo ever. #oscars pic.twitter.com/UzhwQ9ixi2"

— steketee (@steketee) March 3, 2014
Sears tries to elbow it's way in.
The oven connection is a bit of a stretch, but points for brand collaboration.
Hey @DiGiornio, looks like @TheEllenShow & her friends at the #Oscars want some pizza. We can help with an oven if you've got the pizzas..

— Sears (@Sears) March 3, 2014
House of Cards is a winner. Kevin Spacey's decision to do his presenter turn in character from House of Cards was a nice coup. Netflix got some nice play out of it.
Frank Underwood in the house! #Oscars

— Netflix US (@netflix) March 3, 2014
For all of you wondering, Claire picked out my tux. I love that woman.

— Francis J. Underwood (@RepUnderwoodSC) March 3, 2014
Pizza brands answer Ellen's call. Ellen's ordering-pizza joke brought out the pizza brands — and Chobani. But where are you, Dominos?
.@TheEllenShow R U SRS? #Oscars

— DiGiorno Pizza (@DiGiornoPizza) March 3, 2014
Did someone say pizza? We got you.

— Pizza Hut (@pizzahut) March 3, 2014
.@TheEllenShow Should we send some Chobani?

— Chobani (@Chobani) March 3, 2014
KFC's real-time Twitter awards fall flat.
The idea is solid enough. KFC decided to give "saucy" and "cheesy" awards for noteworthy tweets. Judging from the engagement on the tweets, however, not many people are interested. The tweets only have a handful of retweets and favorites.
@kfc Follow me please

— Vindore (@Vindore13) March 3, 2014
Order Papa John's, Ellen! #BetterIngredients #BetterPizza #Oscars

— Papa John's Pizza (@PapaJohns) March 3, 2014
Trolling the Oscars
For a couple brands, it's better to join the Twitter mob making fun of the whole thing. Arby's and Dennys are both making hay of the proceedings, cracking jokes throughout the night. A couple good ones:
Rust has been operating a Denny's in deep Louisiana. Staring at browning pancakes he whispers "time is a flat circle." #TrueDetective

— Denny's (@DennysDiner) March 3, 2014
.@JonahHill do you ever yell COOP THERE IT IS when bradley cooper walks into a room #oscars #redcarpetquestion #pizza

— DiGiorno Pizza (@DiGiornoPizza) March 3, 2014
No, not the puns.
Lipton couldn't resist, it just couldn't.
We loved Gravi-TEA! See what we did there? #oscars #BeMoreTea pic.twitter.com/ffMqb5YFX2

— LIPTON® Tea (@Lipton) March 3, 2014
Ellen. A celebrity unafraid to take a blurry selfie during her Oscar opening:
#Oscars #Blessed #blurry pic.twitter.com/gSo8vYJ34z

— Ellen DeGeneres (@TheEllenShow) March 3, 2014
Now, only you can witness Smokey the Bear's real-time marketing debut and nod to Pharrell Williams.
Just made my first ever #Oscars debut. Thanks again @Pharrell #hattip good luck. #happy pic.twitter.com/Ep2Burzile

— Smokey Bear (@smokey_bear) March 3, 2014
Benefit Beauty rewards Jared Leto's perfectly coifed hair. Or something.
So, @JaredLeto wins for best supporting actor, best son, and best hair. #Oscars pic.twitter.com/toYUgVNPer

— Benefit Cosmetics (@BenefitBeauty) March 3, 2014
Bark Box is looking to find purrfect celebrity-mutt pairings for its #awwscars:
We were rooting for you @JonahHill #Oscars #JonahHill #awwscars pic.twitter.com/iqSxPOeMmT

— BarkBox (@barkbox) March 3, 2014
Here we go, @TheEllenShow is finally on-stage to kick things off!! #awwscars #Oscars pic.twitter.com/P03jTMkU6O — BarkBox (@barkbox) March 3, 2014
Drinks are on the house. At least if Dr. Pepper wins its imaginary canimated award.
And the award for best canimated feature goes to… pic.twitter.com/yscGUCs5X5 — Dr Pepper (@drpepper) March 3, 2014
Real talk: NASA still stealing the show by tweeting out fun facts and comparing the movie to real space odysseys.
More #RealGravity as #Gravity is up for #Oscars2014 awards: @SciAstro services the Hubble Space Telescope in 2009 pic.twitter.com/kfABOk9cb4 — NASA (@NASA) March 3, 2014
More #RealGravity as #Gravity is up for #Oscars2014 awards: Installing new payloads during a #spacewalk in 2011 pic.twitter.com/BWv0YqOm4M

— NASA (@NASA) March 3, 2014
Pharrell strikes again Arby's won the Grammys for its tweet at superproducer Pharrell Williams and his kooky Smokey the Bear hat. [link: https://digiday.com/brands/brand-tweets-grammys/] Now in an incredible stroke of good luck, Williams — who is up for an Oscar for his "Despicable Me 2" hit "Happy" — tweeted at the fast food chain that the instantly iconic hat has sold for a small fortune on eBay. This makes Arby's the first big winner of the night, before the ceremony even began.
@Arbys @Pharrell haha I love that Arbys won this! — Erin (@PandaVike22) March 3, 2014
If it worked once … Fool us once with your "drunk" mitten Super Bowl tweets, shame on you. Attempt to fool us a second time with weird real-time typo tweets? Well, shame on you again. 
Soo excuited to tsee whoo wiyns! #Psyche You didn't think we'd be #TweetingWithMittens on #Oscar night, did you? #TypoFree #GoldenMoment — JCPenney (@jcpenney) March 3, 2014
Do your pets watch movies? Proof that no brand is too far off topic for the Oscars:
"You had me at 'meow.'" RT @TidyCats Got a #CatMovieQuote? Tidy wants to hear it. #Oscars — Purina (@Purina) March 3, 2014
This cutie is #redcarpet ready! #Oscars pic.twitter.com/4KYucXmkIh — Petcentric by Purina (@Petcentric) March 2, 2014
Bill Murray keeping is classy on the #Oscars #RedCarpet pic.twitter.com/Y1z8YK7UwM — BarkBox (@barkbox) March 3, 2014
More red carpet ridiculousness. Guess what, KFC, you will win none of these tonight.
Welcome to the #BucketAwards! We're nominating viewers w/ the most memorable tweets of Hollywood's big night. #OTRC pic.twitter.com/DO2Ugp4vn3 — KFC (@kfc) March 3, 2014
Darci and her cats were #treated! Maybe you'll be next! Tweet us pix! RT @DarciPoshka1: Thank you @Friskies!! pic.twitter.com/KF2v0E4Dtx — Friskies (@Friskies) March 3, 2014
Jennifer Lawrence took a stumble … … But it was the brands that fell in love.
Oh, J Law! We #JenniferLawrence just tripped up the #Oscars red carpet and totally laughed it off. #Oscars2014 — ASOS (@ASOS) March 3, 2014
Did anyone else just see Jennifer Lawrence trip on the Red Carpet?! This is why we love her!! #Oscars — Burlington (@Burlington) March 3, 2014
We love JLaw. She never lets anything keep her down. Laugh it off! #twotrips #judgementfree #oscars — Planet Fitness (@PlanetFitness) March 3, 2014
The AARP knows its demographic. One of the most active Oscar bloggers of the evening so far is the AARP. The non-profit interest group and publisher for seniors came out strong online early — possibly because its target demographic will need to be in bed long before the awards show concludes.
Have you taken the kids or grandkids to see Frozen? Everyone is RAVING about it. All I know is Idina Menzel looks classic tonight! #Oscars — AARP (@AARP) March 2, 2014
In fairness to the AARP, they've been particularly adept at social, with a solid understanding of their own brand and a bent for family fare. The group also has a "Movies for Grownups" vertical dedicated to films that are not your typical Tinsel Town claptrap.
Family night on the red carpet! Bruce Dern – nom'd for lead actor for Nebraska – brought his wife & daughter @LauraDern to #Oscars. — AARP (@AARP) March 2, 2014
Of course, they're not above ogling starlets either. Seniors, they're just like us!
Naomi Watts dress is perfect for just about any age. Perfect fit and love the cap sleeve. #Oscars — AARP (@AARP) March 3, 2014
Pre-cooked red carpet tweets continue apace. Expect to see plenty more of the laziest of social media gimmicks: pre-prepared tweets of doctored photos of brands sitting on a "red carpet" somewhere. Macy's, for example, wants its followers to tell them which star was the best dressed. Which means, somewhere, there is a social media manager who has to sift through tweets from Macy's followers sending in their submissions for the evening's nattiest. Let's tip a little bubbly out now for that person.
Loving the red carpet action! Shoot us your best-dressed votes…ready, GO. #Oscars pic.twitter.com/7u4KDWfm1t — Macy's (@Macys) March 3, 2014
Or maybe a little Red Bull! Here's an extremely rudimentary PhotoShop job of a red carpet tweet.
DIY: How to make your own Red Carpet. #Oscars #ilikeRED pic.twitter.com/k2yQac2H7u — Red Bull (@redbull) March 3, 2014
Mmm, hideously sweet energy drink. Just want you need to wash down your Pringles with, maybe?
And the #YouDon'tJustEatEm award goes to … (tell us what flavor gets your vote). #redcarpet #oscars pic.twitter.com/6vadDnDQ6O — Pringles (@Pringles) March 2, 2014
Of course, there's always Dr Pepper if you don't need those Red Bull wings.
Best dressed on the red carpet? pic.twitter.com/tmY3cKryrm — Dr Pepper (@drpepper) March 3, 2014
Chobani's anti-Oscars strategy. An interesting effort to watch is yogurt brand Chobani, which is positioning itself as the defender of real food. The Oscars are an interesting opportunity, since Hollywood is not known for its authenticity exactly. The brand is taking advantage with some sly tweets.
Fruit this delicious needs no special effects. #howmatters pic.twitter.com/2fZHhKbWw8 — Chobani (@Chobani) March 2, 2014
100% only natural ingredients. We like to leave the special effects to the pros. #howmatters pic.twitter.com/dFjA5UsYSN — Chobani (@Chobani) March 2, 2014
Oh, the red carpet. The easy route is to plop your product on the red carpet and pat yourself on the back. This is where the car guys and the booze brand went.
The #redcarpet question: Who are you driving? pic.twitter.com/oKGh0rjRCM — Ford Motor Company (@Ford) March 2, 2014
Ruling the road is no different than running the red carpet. Which car should drive off with the most style points? pic.twitter.com/ProfC2uozZ — Nissan (@NissanUSA) March 2, 2014
Mini Jack. Always dressed for the #RedCarpet. #JackLivesHere pic.twitter.com/mXvJlAMnpI — Jack Daniel's (@JackDaniels_US) March 2, 2014
Delta goes the location route. The space joke was there for the taking. Delta took it.
The locations for #BestPicture noms are worth seeing. We'll get u there-except Space! #Oscars https://t.co/AQnbrrYzqa pic.twitter.com/X651Q9Bvcq — Delta (@Delta) March 2, 2014
NASA is rooting for Gravity. Here's a brand that should be crowing tonight. NASA is fully behind Gravity in its race for best picture. The agency is using Oscars attention to drum up support for its mission.
#Gravity fact: Sandra Bullock called @Astro_Cady Coleman to learn about #ISS life https://t.co/HI0zoABDQq #Oscars2014 pic.twitter.com/cTGtRc5TaT — NASA (@NASA) March 2, 2014
Love the jacket! RT Adam Savage @donttrythis I'd like to thank an academy … #notanoscar #oscars #selfiesunday pic.twitter.com/mjkFvMKP81 — NASA (@NASA) March 2, 2014
More #RealGravity pics as #Gravity is up for awards at #Oscars2014: In the cupola, sideways over Australia at night pic.twitter.com/nWnBDk9JDB — NASA (@NASA) March 2, 2014
Tonight, #Gravity is up for awards at the #Oscars2014 & we're sharing #RealGravity images from real life in space. pic.twitter.com/4Dp6AlBB4s — NASA (@NASA) March 2, 2014
Dubious best taste award. McDonald's isn't waiting for the votes to come in, deciding instead to award itself best taste. There are, needless to say, some dissenters.
@McDonalds #PrettySureNoOneOnThePlanet not employed by $MCD shares that view — gbdavis (@gbdavis1) March 2, 2014
DiGiorno's reports for duty. The frozen pizza brand has created a wise-cracking couch potato personality for its Twitter account. The red carpet is prime time for this pizza.
who are you wearing? *points to pizza sauce stain on your shirt* #Oscars #Fashion #Pizza #Fashionizza? — DiGiorno Pizza (@DiGiornoPizza) March 2, 2014
Lay's is ready.
A note on "real-time marketing." For some, the only thing that counts is quick reactions, like Arby's tweet about Pharell's giant hat during the Grammys. We take a more expansive view, allowing for the inevitable planning brands do to match to real-time events. Lay's has a singing champagne glass animation ready to go, trying mightily to tie the Oscars into new potato chip flavors.
Is your flavor fit for the red carpet? Watch our award winning flavors for inspiration: https://t.co/jwZM0nJGTU. #DoUsAFlavor

— LAY'S (@LAYS) March 2, 2014
Best performance by a DSP in a drama?
Master ad tech marketer Terry Kawaja, who moonlights as an investment banker, has proposed an ad-tech version of the Academy Awards. Considering the posturing in the space, this is an idea that could work.

Here come the war rooms.
You could easily argue the social media "war room" is an idea that's already past its prime. After all, they're often just a bunch of people in front of computers during non-standard work hours. Nonetheless, they exist. Here are some pictures of media war rooms.
Pre-show buzz
Before the sun had even set on Saturday, brands were already hamming it up on social. From Diddy and Ciroc to Dairy Queen to Papa John's to Victoria's Secret, there's already been no shortage of companies vying for the attention of the academy, hoping for a blockbuster tweet of their own.
#Gravity we have, but there's no air in there. #Oscars pic.twitter.com/lavqUJ1Mqp

— Pringles (@Pringles) March 1, 2014
Our favorite so far has to be Greek yogurt company Chobani, though, which gets away with both tweeting about the Oscars and making fun of the evening's artifice at the same time.
Fake is only good in Hollywood. #howmatters #oscars pic.twitter.com/otU7SSBjyR

— Chobani (@Chobani) March 1, 2014
No special effects necessary. #howmatters #oscars pic.twitter.com/nObpaZ4dPS

— Chobani (@Chobani) March 1, 2014
Image via Shutterstock
https://digiday.com/?p=66607
December 8, 2023 • 3 min read
For Atlas Creative, expanding into Roblox is not solely a play to scale up. The company believes there are concrete benefits that will come with having a hand in multiple metaverse platforms.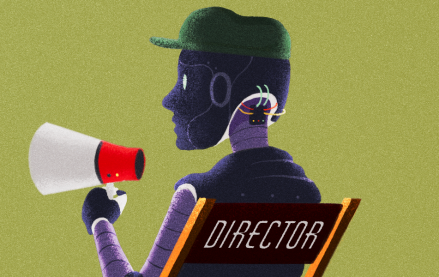 December 8, 2023 • 5 min read
Since ChatGPT became a breakout hit, the names of numerous AI companies and products have entered the cultural vernacular.
December 8, 2023 • 4 min read
Even as linear TV ad spend declines, 23andMe is reinvesting in the channel to boost brand awareness.