'More options and misunderstandings': Media buying on Snapchat confuses advertisers
February 20, 2017 • 7 min read
• By
Digiday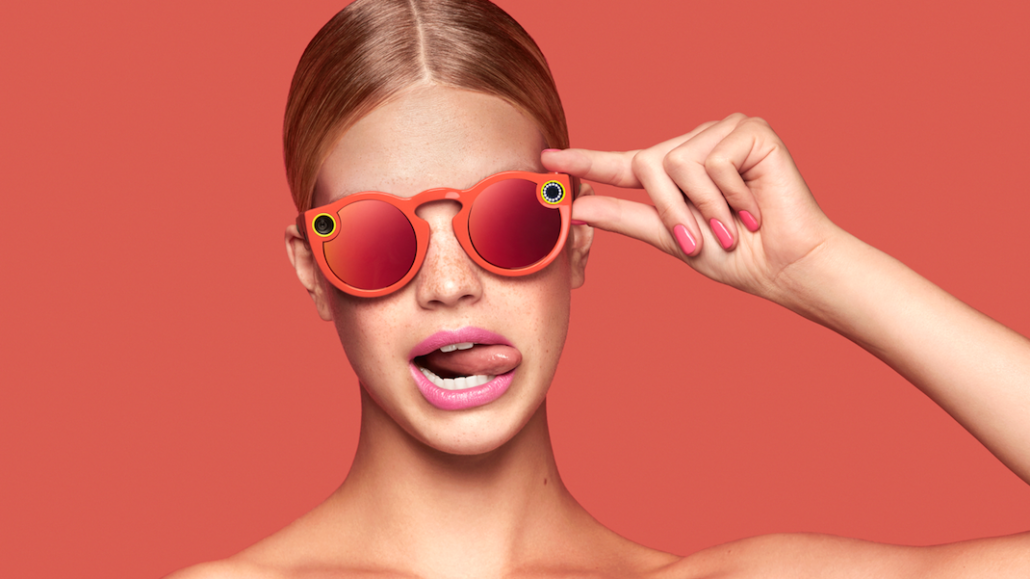 With a focus on retailers and sports brands, Brian Cristiano's agency Bold Worldwide is running a lot of Snapchat geofilter campaigns around games, races and other sporting events for the clients, which total approximately $400,000 in advertising on the platform.
But $400,000 is not enough for Snapchat's parent company Snap Inc. to assign Bold Worldwide an account manager who can provide product education, advise on best practices and relevant ad opportunities.
"There is lots of confusion on Snapchat," said Cristiano, CEO for Bold Worldwide. "There are so many buying variables. But when we want to talk to a Snap rep about data, how other brands are finding success and unique ways to advertise on the platform, we can hardly find anyone."
Cristiano is not alone. Three out of seven media agency executives interviewed for this article think that Snap's lack of agency-focused reps, various pricing models and buying options may trigger confusion around advertising on the platform. Others (mostly from holding group agencies) think that it is simply a natural evolution for Snap, and maturity takes time.
"It is true that at the moment, there are more options on — and misunderstandings of — Snapchat than other social networks," said Jared Belsky, president for Dentsu Aegis-owned agency 360i.
Sales teams are structured by vertical and region
As a young company, Snap takes a page from big players like Google, Facebook and Twitter in organizing its sales teams by vertical, and by country or region. A team of salespeople and account managers collaborate with brands in their assigned industry — like automotive, technology and consumer packaged goods — on ad campaigns.
A company spokesperson said that Snap also built a "significant" in-house global agency team over the course of 2016, which works closely with its sales team. The global agency team is growing, with members assigned to large agency holding companies, said the Snap rep.
For instance, 360i has two reps on the Snap agency partner team: One serves on the agency level, the other on the group level, as Snapchat evangelist and educator, said Belsky. Publicis-owned Team One and SapientRazorfish have their own Snap rep, as well.
Interestingly, independent agency RPA also works with both vertical reps and an agencywide one who is client-agnostic, said Mike Dossett, associate director of digital strategy for RPA. Dossett declined to disclose how much his agency spends on Snap.
But Snap's agency partnership team seems to be operated at a much smaller scale than Facebook, Google and Twitter, according to people interviewed for this story. Many media shops outside of holding groups are not even aware of the Snap agency team's existence.
That means those agencies have to work through their clients' reps at Snap when they place a media buy, according to Tom Buontempo, president for KBS's social media arm Attention.
Buontempo thinks that this type of structure cuts down on agencywide dialogue with Snap, creating an opportunity for misinformation, especially as Snap continues to ramp up ad targeting and asset options.
"I would expect Snap to be investing in an agency relations team, knowing how integral a role agency partners — especially media agencies — play in ad buying for their clients," he said. "And I would expect Snap to get much more aggressive in hiring an internal team post-IPO, when it has more cash flow and wants to scale up quickly to drive ad growth."
Snap declined to share if it plans to assign independent shops agency reps going forward.
Snap offers various pricing models and buying options
Currently, Snap only offers three ad units: lenses, geofilters and Snap ads that are full-screen vertical videos. But there are far more than three pricing models and buying options on the platform, which adds another layer of complexity in media buying. While advertisers can purchase Instagram and Facebook ads in a self-serve Facebook dashboard, Snapchat ads require manual customization most of the time.
Sponsored lenses – that reportedly cost $450,000 each per day Sunday through Thursday, $500,000 for Fridays and Saturdays and over $700,000 for holidays or special events – are perhaps the most challenging ad unit. Agencies have to work closely with the Snap team that develops and codes lenses, and the process can take as long as a couple of months before one is released to the market, per RPA's Dossett.
Geofilters, on the other hand, are static so they can be done in days or weeks. Geofilters that encompass more than 5 million square feet require the involvement of a Snap rep. But if an advertiser purchases less than that, they can use the self-serve platform at Snapchat.com to create a campaign on their own. The Snap team will approve your request between 30 minutes and six hours, according to Bold Worldwide's Cristiano.
But the self-serve platform is not always handy. If an advertiser wants to run a geofilter from 5 a.m. to 7 p.m., Monday through Friday, they need to do everything from scratch each day; and if they want to run a geofilter both in Chicago and New York City, they can't do the two cities in the same media buy.
The cost of a geofilter has a massive range, depending on the size of geofence, length of time, location and population density (if there is an ongoing event, for example), explained Cristiano.
"You can run a filter in a small area for $10 if you want to, and then you can easily spend into the hundreds of thousands of dollars based on those variables," he said.
Compared to lenses and geofilters, Snap ads are the easiest to buy. Advertisers can purchase those vertical video ads either through Snap itself or one of its 14 API partners in an automated fashion. Snap ad CMPs — which approximately run between $20 and $40 — vary depending on where the placement shows up (Discover, Live Stories or between your friends' snaps) and format (swipe up or standard), according to ad executives.
Aside from those standard buying options, Snap also offers ad packages around major sporting or cultural events like Super Bowl, March Madness and Valentine's Day, with a minimum spend requirement ($95,000 for NBA and $150,000 for March Madness, for instance). Those packages can include everything from a lens or a geofilter plus a Snap ad in Live Stories or Discover, to just Snap ads or lenses, according to RPA's Dossett. This mirrors how other social networks and publishers package and sell their high-demand inventory around major cultural moments, he explained.
"Sometimes those may be priced on a flat-fee basis, other times they are on a CPM basis," Dossett noted.
Of course, advertisers can also strike Snap ad deals directly with Discover publishers if they think contextual alignment are critical and they only want to work with one or two preferred media companies. While Discover partners have the flexibility to sell their inventory at any price, they can only sell their own channel – they may not bundle with other publishers, said a Snap spokesperson.
Snapchat is still Wild West
Agency executives think that having so many ways to buy at such an early stage smacks of a lack of standardization or simplicity, and Snap's targeting and measurement capabilities are not keeping up with its ad offerings.
Since Snap's inventory is unique, advertisers can't compare it with other social networks. For instance, you can't say Snapchat geofilters are more successful than Facebook ads because they are apples and oranges, said Carly Costantino, senior media director for SapientRazorfish.
For the time being, Snapchat works well for branding as it offers metrics like reach, video views, engagement and completion rate, but not so much for performance marketing, agency executives noted. They cannot measure conversion or drill Snapchat audience down to household income, for instance.
"We really need to reply on its in-house teams to learn the platform," said Costantino. "Snapchat is so new, so it is not sophisticated in terms of targeting and measurement."
https://digiday.com/?p=223662