Nissan Turns to Second City for Social Content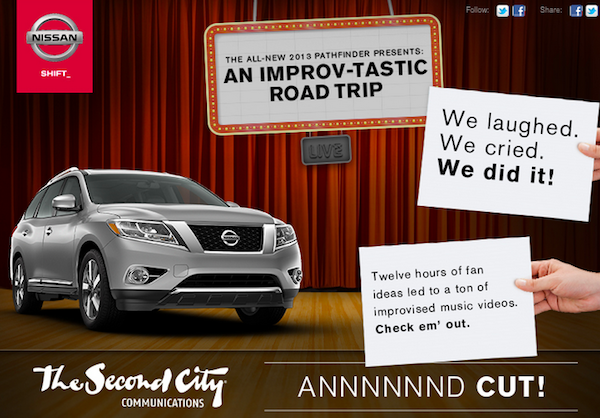 On the hunt for content people will actually want, brands are often bypassing their agencies in favor of artists and publishers with a proven track record of building audiences.
That's why for its fall campaign Nissan tapped renown comedy troupe Second City. On Aug. 20, Second City held a daylong virtual event where Nissan's fans on Facebook could submit suggestions that could be used by the cast and crew to create personalized music videos about the new Pathfinder. Fifty-one videos were made in a number of genres, such as country, rock, hip hop and pop and uploaded to the "Improv-tastic Road Trip" Facebook Tab on the Pathfinder Facebook page as well as on a microsite and on Nissan's YouTube channel. They are now being distributed through the brand's Facebook page.
"Ultimately, we wanted to build awareness for the all-new Pathfinder," said Erich Marx, Nissan's social media chief. "And if we can create a bit of buzz at the same time, that's great. We also want to show that we are a brand that is innovative, fun and exciting, not just our cars, but how we approach the marketing and even the ownership experience."
Nissan promoted this initiative with an announcement video with Second City and doing a small bit of social advertising with a link to it. It also launched a Pathfinder Facebook page on Aug. 1, which grew to just about 20,000 likes to date. According to Marx, the improv video content was key in spurring the community to grow as quickly as it did. Five hundred of the Facebook fans participated in providing suggestions for the videos in the 12-hour period.
The effort resulted in 730 shares across social channels about "Improv-tastic Road Trip" since the launch of the program one week ago. The videos were viewed 30,000 times in total on YouTube in one week. There were more than 2 million total earned impressions to date from media coverage, tweets, retweets, and likes, comments and shares on Facebook posts published on the Nissan and Nissan Pathfinder Facebook pages. There were 29.1 million paid impressions to date, per Nissan. Paid impressions include Facebook and Twitter paid media and video seeding.
"We are very pleased with the participation we had during the 12-hour event," Marx said. "The Second City actors were hilarious as they literally wrote, rehearsed, performed, taped and posted more than 50 personalized Pathfinder songs in one day. The positive reaction from our fans when they got 'their' song sent back to them so quickly was great."
https://digiday.com/?p=20607