A Neiman Marcus dress appeared on the Golden Globes red carpet, and the Internet was delighted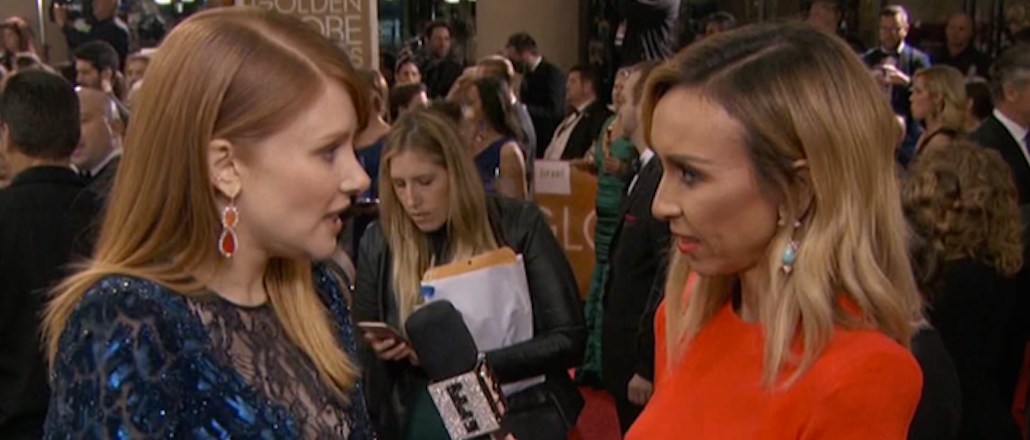 That a celebrity would face the racks of a department store, pluck a dress from the selection, and then wear it to an A-list awards event, is enough to get people talking.
Bryce Dallas Howard shared her story while walking the red carpet before Sunday's 73rd annual Golden Globes, setting off a blaze of online chatter. The "Jurassic World" star told the interview that she had gone to Neiman Marcus and picked out her size 6 gown, which was made by the British designer Jenny Packham. Then, she bought it: an act of asserted normalcy for a movie star, who could have had a custom gown made by any designer.
Howard told Giuliana Rancic during the E! interview: "I like having lots of options for a size six, as opposed to maybe one option. So I always go to department stores for this kind of stuff."
Social media gave a ringing endorsement for the availability of options outside a Hollywood size zero, at Neiman Marcus. Neiman Marcus's Twitter account spent the rest of the evening retweeting posts and photos about Howard.
YES!! #BryceDallasHoward wins the #GoldenGlobes red carpet with this: pic.twitter.com/RTIpM7ORBM

— SheKnows (@SheKnows) January 11, 2016
Another reason to love @BryceDHoward #GoldenGlobes pic.twitter.com/igvFtYPJyv — POPSUGAR Beauty (@POPSUGARBeauty) January 11, 2016
Loving @BryceDHoward !!! Bought her dress from a dept store!! Yay! #regular girls #starsarejustlikeus

— Hoda Kotb (@hodakotb) January 10, 2016
On Instagram, Neiman Marcus shared a photo of Howard in her blue dress, which received 30 comments from followers excited to see a celebrity acting like a regular person: "Neimans = perfection," "What a concept! Hollywood's A-list does her own shopping! And at the store of my choice, yet! She did well, too!"
According to social media data hub Crimson Hexagon, Neiman Marcus got about 1,200 online mentions on Sunday, which is an increase in its usual daily mentions.
In a statement to Digiday, Neiman Marcus said it was "delighted" to have been able to fill the need of Howard, and was "thrilled" by the social media chatter.
This isn't the first time fans felt refreshed by a star wearing something familiar. At the 2015 Met Gala, three celebrities showed up in outfits created by H&M, sparking online excitement.
The 2016 awards season has just begun — meaning there is more chance for normal retailers to win a spot on the red carpet.
https://digiday.com/?p=155348