Can Instagram sell luxury cars to millennials? Mercedes Benz wants to find out.
Mercedes is launching the #GLApacked campaign for its GLA sports utility vehicle scheduled to hit lots this fall. The luxury car company recruited "Instagram influencers" Theron Humphrey, Cubby Graham, Kyle Steed and Brenton Clarke Little and Mercedes brand ambassadors Rickie Fowler (professional golfer) and Pei Ketron (travel photographer) to market the car on their respective Instagram feeds starting June 9.
In the process, Mercedes loaned each of them a GLA for a cross-country excursion and instructed them to document their travels on Instagram. And to kick off their trips, they each took a photo of the items they would bring on a road trip (artfully arranged on Mercedes floormat, natch).
This isn't the first time Mercedes has used Instagram in this manner. Last July through September, Mercedes Benz turned to Instagram to help launch a new lower-cost car model, the CLA, which starts at just $30,000. The "Take the Wheel" campaign from last year was nearly identical to #GLApacked: Mercedes loaned CLAs to popular Instagram users and had them 'gram their journeys. Tapping into these influencers' following was instrumental, as many of them had half a million or more Instagram followers, whereas @mbusa's has 111,000. Competitor Audi has more than 900,000, for comparison.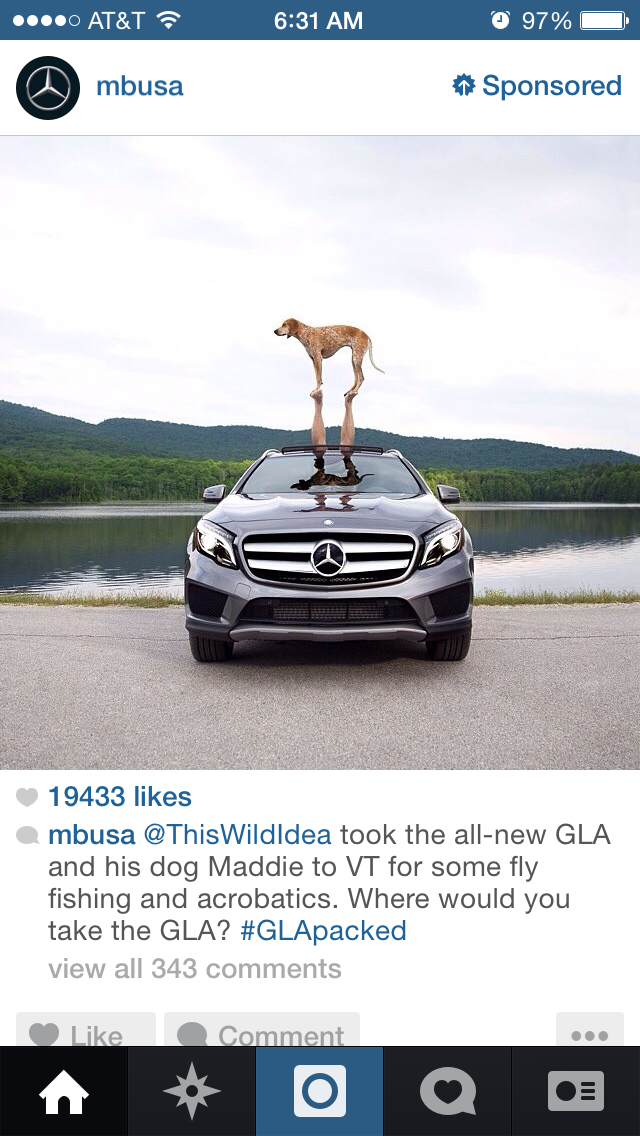 "Take the Wheel" achieved its goal of reaching this demographic. The earlier campaign generated 87 million Instagram impressions and 2 million likes across the pages of the influencers involved and the @mbusa page.
And, most important, young people bought CLAs. CLA owners are "one of the youngest age groups in the history of the brand," according to Mercedes digital marketing manager Mark Aikman. More than half of CLA buyers are Gen-X or Gen-Y, and for 75 percent of them, it was their first Mercedes.
This time around, its marketing effort includes months' worth of Instagram ads — an option that it didn't have with its pre-Instagram ad CLA campaign. And yet, paid ads on Instagram were never part of the new marketing campaign at first, Aikman said. But Facebook, Instagram's parent company, enjoyed the promotion so much that it approached Mercedes about joining the select group of brands advertising on Instagram, an offer Mercedes was happy to take them up on, Aikman said.
The ads are targeted at males and females of a "millennial" age, Aikman said, and will run throughout July.
"We're definitely seeing some millennials buying, just a little later in life," Aikman said.
Millennials significantly differ from older car buyers in how they go about buying a car, Aikman said. Specifically, much of their consideration phase occurs online instead of on the lot.
"They're walking into dealerships ready to buy more so than to kick the tires and determine which model might be right for them," Aikman said.
Instagram is certainly an ideal platform for reaching millennials. More than half (51 percent) of 18- to 34-year-olds are on it, higher than Facebook (36.4 percent), Pinterest (41.3 percent), Tumblr (49.7 percent) and Twitter (40.7 percent), according to comScore.
That's not to say advertising on Instagram does not come with risks. Tracking the effectiveness of an Instagram campaign is difficult since there's no way to direct users to a landing page.
"Any time we test a new advertising vehicle, you realize there are going to be incredible advantages and you're not going to have some of those tried and true things you're used to," Aikman said.
Mercedes will be monitoring the amount of time people spend looking at the ads, the number of likes they receive and the increase in @mbusa fans to gauge #GLApacked's effectiveness, he added. Aikman doesn't anticipate the laying off the gas on Instagram and Facebook anytime soon, though.
"We've realized that visual storytelling through Instagram and Facebook is a really powerful tool for the younger consumer," he said.
Image via Mercedes-Benz
https://digiday.com/?p=80437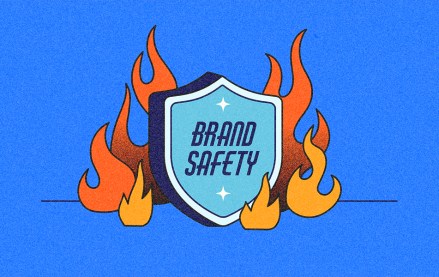 November 28, 2023 • 6 min read
"Major brands' search ads can appear on piracy, pornographic and sanctioned websites," research claims.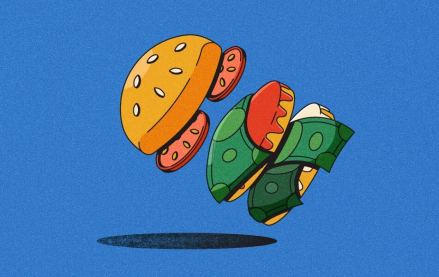 November 28, 2023 • 6 min read
As more influencers look to get into food content creation, brand opportunities are following.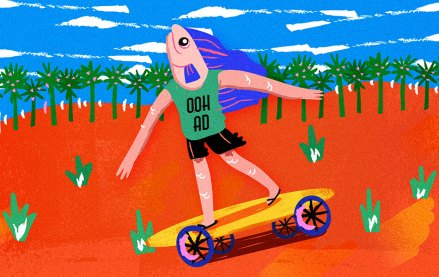 November 28, 2023 • 7 min read
As major marketers like Maybelline experiment with faux OOH, more marketers are open to the idea.