'Making advertising a little bit more entertaining': Why brands like Liberty Mutual, Bushmills and Booking.com are partnering with entertainment on co-marketing efforts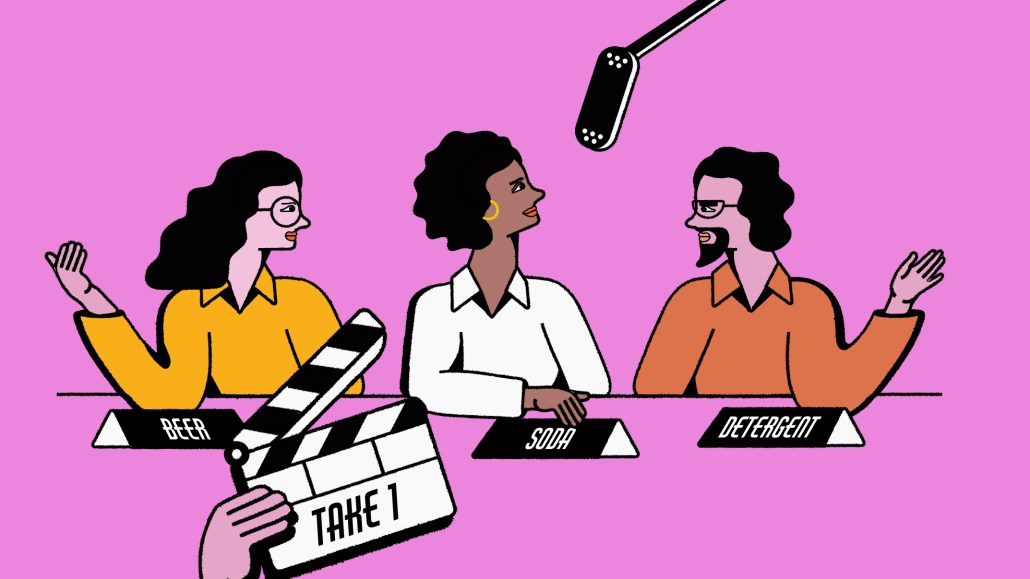 Liberty Mutual's rolling out a new ad this month featuring familiar animated characters: Minions. The insurer is doing so as part of a co-marketing effort to promote the Liberty Mutual's offerings as well as the upcoming Minions movie, Minions: The Rise of Gru.
Liberty Mutual isn't alone in partnering with an entertainment property for advertising. Brands such as Booking.com and Bushmills have recently done this with their launches of promotional campaigns for the month of June. By working with entertainment properties with recognizable characters, marketers believe they can help their brands stand out in an increasingly cluttered, noisy and fragmented ad environment as people feel a connection to the characters they may see in co-marketing efforts.
PRIME PAIRINGS
Liberty Mutual + Minions; Liberty Mutual + Spiderman; Booking.com + "Ultimate Elvis Experience"; Bushmills, BEN Group + Peaky Blinders.
"Consumers are now watching movies with ensemble casts and characters from across one or multiple franchises," said Jenna Lebel, Liberty Mutual chief marketing officer, global retail markets in the U.S. "We feel that consumers are interested in seeing this in their advertising, too, and making advertising a little bit more entertaining and less sort of disruptive to the content that you want to be streaming."
Lebel added that brands must reach out to consumers in new and innovative ways beyond what they have done in the past as the advertising market is oversaturated. "As the advertising landscape becomes more cluttered, video consumption is very fragmented."
Liberty Mutual's spots featuring Minion characters will run across a variety of platforms, including TV, online video and social media, during the eight-week window surrounding the release of Illumination's upcoming movie Minions: The Rise of Gru, in theaters July 1st. It's unclear how much the effort cost or how much the company and movie studio may have saved on advertising as the company declined to share those figures. Liberty Mutual previously worked with Sony on a co-marketing effort for Spiderman: No Way Home's release last year.
Co-marketing efforts aren't always traditional ad spots. Booking.com worked with Warner Bros' Elvis on a co-marketing effort this month as well, offering fans a chance to stay at The Guest House at Graceland in Memphis as the "Ultimate Elvis Experience" in time for the biopic's release in theaters in North America on June 24. And Bushmills and entertainment AI company BEN Group partnered with Peaky Blinders to release a limited edition whiskey product in support of the premiere of the final season of the show on Netflix. An influencer marketing campaign has been developed by BEN to further promote the launch.
Marketers and agency execs believe co-marketing between brands and entertainment properties will continue to grow and evolve as brands look for ways to stand out and get consumers' attention, something that's become more and more difficult in recent years.
Marketers say the drive isn't simply partnering to save ad dollars — they declined to share figures for the partnerships or how much partnering saves on media spending — but to stay top of mind for consumers. "I really see that it's an opportunity and it's a dual strategy for a lot of brands that we work with," said Katy Wolf, senior account director of client services for BEN Group, of partnering with brands for integrating into entertainment properties. "They're going to continue their traditional advertising and their buys there, but they also want to be inside the content as well."
There's just an extreme amount of power in aligning with entertainment and Hollywood.
Lebel believes that there are great opportunities beyond revenue when it comes to these partnerships as the focus should be on how a brand will make a name for themselves. "We weren't looking at how we can save money," said Lebel. "We were looking at how we can make the work most impactful in the market."
To measure the effectiveness of co-marketing efforts, marketers say they track how memorable an ad is, as well as how successfully it delivers the brand message. Allen Adamson, co-founder of Metaforce, believes that these initiatives can set the tone for brands to be remembered in the long run. "[For] Brands [it is] hard to get everyone's attention and they have to be closer to being authentic and entertaining as ever."
BEN Group's Wolf echoed that sentiment. "They're really connecting audiences to the narrative and characters that they already love. And that's really what's driving that social and cultural conversation. So I think there's just an extreme amount of power in aligning with entertainment and Hollywood."
https://digiday.com/?p=450999