If you are a female over the age of 21, then you most likely remember a time when wearing brightly colored terrycloth bum-hugging sweatpants and matching hoodies was not only socially acceptable, it was ubiquitous. Thanks for that, Juicy Couture.
But time marches on, and most girls have grown up and out of that velvety tracksuit phase of the late '90s. This has been challenging for Juicy Couture, which suddenly had to figure out how to grow up with its audience and stay relevant. A big part of that has involved emphasizing the brand's clothing options that aren't tracksuits, like party dresses, denim and accessories.
More important, the company has recognized that the Juicy girl who wore pink tracksuits to middle school everyday 10 years ago is now a young woman who has grown up with Facebook, Twitter and Instagram — and likes taking selfies. That's why over the past few years Juicy Couture invested heavily in its digital and social media strategy.
Michelle Ryan, vp of global digital and social strategy for Juicy Couture recently shared with Digiday about how the Juicy brand has evolved over the years and what the company is doing to keep up with its digitally savvy, young female target audience.
Who is Juicy Couture's target audience today?
Our audience today is that 20-something girl who is addicted to social media and selfies. We use social media analytics to monitor the conversation: her shopping behavior and what she's talking about and identifying trends. When we are talking to our audience, there is always a good sentiment about the brand — everyone remembers their tracksuit they had when they were younger. But that girl kind of grew up, and now we are targeting the 20-something year-old girl who is addicted to social media.
How?
From a digital and social perspective, for us it's always looking at the new platforms and identifying which platforms we need to focus on — digital is at the forefront for us as a brand. It feels like every week there is a new social platform, so we regroup internally and look at these new platforms as a team and consider how it could benefit the Juicy girl and her lifestyle and what kind of audience is there already. We decide which ones are worth moving forward with, and if we are going to go into a new platform, then we are going to do it right and make sure that we are talking to the audience in the right way.
What are some new things Juicy has experimented with this past year on social?
Last year, we focused on the selfie, which was such a big cultural moment for our audience. We had huge success with promoting it with things like Instagram contests. For our Spring 2014 campaign, we used Snapchat to give our fans a behind-the-scenes look at the new collection, which got a lot of attention with that young Snapchat audience. And now we are using Snaps. It's a mobile app that lets us incorporate Juicy-themed overlays into our fans' own photos. With snaps we are able to pull in products, like new watches different bags and the audience is able to take those clothes and virtually wear them using their mobile phones.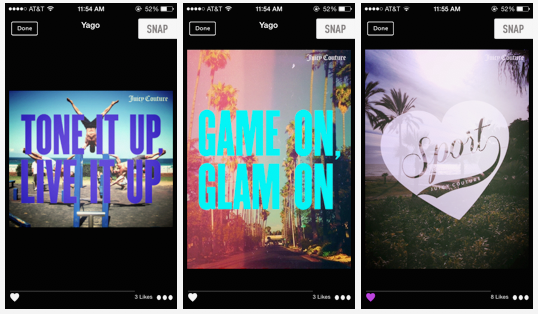 How is Juicy able to stay agile and try out different things on social platforms?
We work really closely with our agency Digital Brand Architects — they are our social media team. It's good for us because as an agency they can help us look at the competitive landscape more broadly than we could internally, and they help bring us new ideas as well. But the brand voice and how to speak to the customer comes from us internally.
ROI when it comes to social is still a really murky area, how does Juicy evaluate its social media efforts?
We had a average of 64 percent growth rate across all social platforms in 2013. As we continue to see growth in traffic and engagement across social, it's not only increasing our SEO, but also driving 20 percent of the traffic to JuicyCouture.com. We strive to look at the ROI as not only a revenue driver, but also PR and marketing value when it comes to exposure — not to mention the development of brand advocacy, which is most valuable.
What digital trends are you keeping an eye on this year?
Augmented reality is something we want to incorporate into our fall campaign. After trying Snaps, we really want to try something on the next level.
https://digiday.com/?p=62076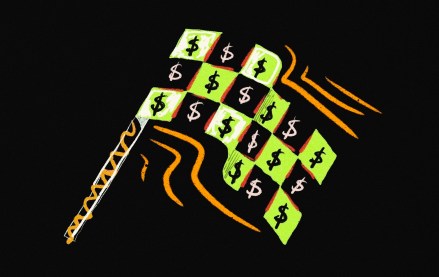 September 26, 2023 • 3 min read
With three Grand Prix races in the U.S. this year – Miami this past May, Austin in October and Las Vegas in November – the interest from U.S. marketers in Formula One has increased this year, according to agency executives, who say they expect that growth to continue next year.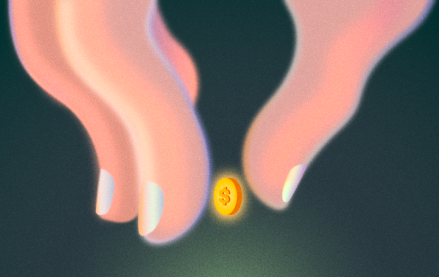 September 26, 2023 • 6 min read
A Digiday+ Research survey found that brands and retailers report using Facebook less over the last few years, all while the platform's value to their revenues and brands has increased.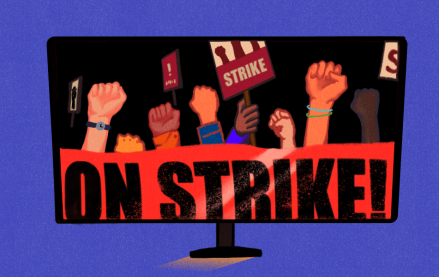 September 26, 2023 • 5 min read
The timeline for a return to business as usual – whatever that may mean now – is yet to be determined.