Like most retailers, JCPenney spent years building up Facebook likes by the hundreds of thousands, imploring customers to "like our page" and paying Facebook for likes, too. The retailer now has more than 4.7 million Facebook likes.
And yet it can no longer bank on reaching many of those fans. Facebook pretty much cut brands off from reaching their Facebook fans, unless of course they paid. This hit home about a year ago, JCPenney director of social and mobile marketing Sean Ryan said Sunday afternoon at the Digiday Retail Summit in Deer Valley, Utah.
"We stopped paying for fans about a year ago because you could see that coming," he said. "It was just that the tools Facebook was providing for paid media were going to be much more ROI positive than just organically throwing stuff out to all of your fans."
The good news for Facebook: There aren't many hard feelings. Facebook now is more like "display ads on steroids," Ryan said, as it has honed its use of data and presentation of ads on mobile and desktop to become a powerful paid advertising option. For JCPenney that means shifting some of the "free media" activities to other platforms, like Twitter. This is a shift that could benefit smaller social platforms that can't compete with Facebook's sheer scale.
"We take a platform-agnostic approach to our content," Ryan said. "Facebook is still a part of how we look at social, but it's one part of social and is moving to the paid-media spectrum. Twitter and Tumblr are more along the lines of what can we do organically."
Take JCPenney's lauded "Tweeting With Mittens" campaign for the Super Bowl. The retailer worked with its agencies EVB and Victors & Spoils to craft a real-time marketing campaign the night of the big game by simply tweeting gibberish.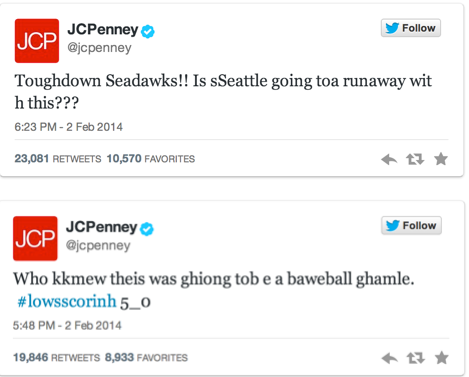 The reaction on Twitter swelled, with more than 50,000 retweets and at least one user wondering if JCPenney's social media manager was high.
The reveal came when JCPenney explained later in the game that it was, in fact, just tweeting with mittens. In the days following the Super Bowl, JCPenney's "Go USA" mitten sales doubled.
Oops…Sorry for the typos. We were #TweetingWithMittens. Wasn't it supposed to be colder? Enjoy the game! #GoTeamUSA pic.twitter.com/e8GvnTiEGl

— JCPenney (@jcpenney) February 3, 2014
"If we did the mittens thing on Facebook, it never would have taken off because the algorithm would have held it down," Ryan said.
Daniel Stein, CEO of EVB, said like brands, creative agencies are adjusting to the new realities of Facebook. Gone are the days when Facebook was the place for creative work that could crow in case studies that they were done with "no paid media spending."
"It feels like in the past year and a half that Facebook feels like a big media platform now," he said. "Their underlying rallying cry used to be 'social by design.' It's not like that anymore. It's about data, paid reach and using the platform in the same way you'd do a big media buy."
Watch the full video Ryan and Stein discussing Facebook's shift: