As the world hurdles into week two of the Olympics, it pays to remain mindful of ongoing Rule 40 crackdowns by the International Olympic Committee.
Ian Schafer, CEO of digital agency Deep Focus, learned this the hard way when he became a target of the IOC's ire this morning. The Olympic governing body disabled a tweet it claimed violated Rule 40 code, which is designed to prevent over-commercialization by unofficial sponsors.
His tweet, which was originally shared on August 14th, contained video of Olympic swimmer Katie Ledecky winning the gold medal in the women's 800-meter freestyle final.
Schafer said he found a GIF of the NBC video on Reddit and converted it to a video before sharing it on his personal account. In the footage, Ledecky is shown beating her competitors by 11.4 seconds, completing the race with no one else in sight. The tweet had been retweeted more than 3,000 times (including by former Olympic gymnast Shannon Miller) before Twitter disabled the video and mandated that the content be removed.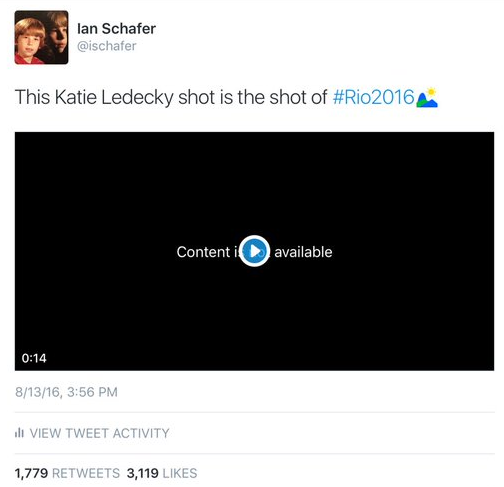 Twitter forwarded Schafer the email they received from the IOC listing the legal breaches this morning. "Your unauthorised display of the Material over the internet … constitutes a clear infringement of the IOC's rights, in particular, intellectual property rights, and causes prejudice to the IOC and to the rights-holding broadcasters who have received exclusive authorization from the IOC to broadcast moving images of the Games," the email states.
While Schafer said he understands the IOC's concern over maintaining distribution and advertising rights over Olympic-related content, he is frustrated about the larger implications of Rule 40.
"[The IOC is] squashing engagement in favor of preserving the scarcity of its product," he said. "From the average consumer's perspective, we live in a world in which content isn't scarce. It's a digital world, product is infinite."
Indeed, even athletes themselves feel bullied into complying, albeit with tongue increasingly planted in cheek:
How amazing is this! It's for that thing 😉 I'm doing this summer 😉 in South America 😉 #Rule40 pic.twitter.com/nJ2cQxPlXG

— Jade Lally (@JadeLallyT69) July 27, 2016
Schafer compared the aggressive enforcement of the IOC's stringent rule to previous legal posturing by the music industry in the Napster era — the Recording Industry Association of America once sued a 12-year-old girl and a dead grandmother for copyright violation. "I'm annoyed that an organization could be that short-sighted to not embrace the fact that people want to talk about their product," said Schafer.
Though he doesn't fault NBC, Schafer noted the missed opportunity for the network to allow viewers to share video clips directly from the network — especially as the Games serve as a veritable "highlight factory" — and urged the importance of not hindering fan engagement.
"[The race] was wonderful. Judging by the number of people that shared that particular tweet, a lot of people felt the same way," he said.
Photo courtesy of NBC Sports
https://digiday.com/?p=193389