Intel's CEO likes frozen PB&J sandwiches, and other things we learned on reddit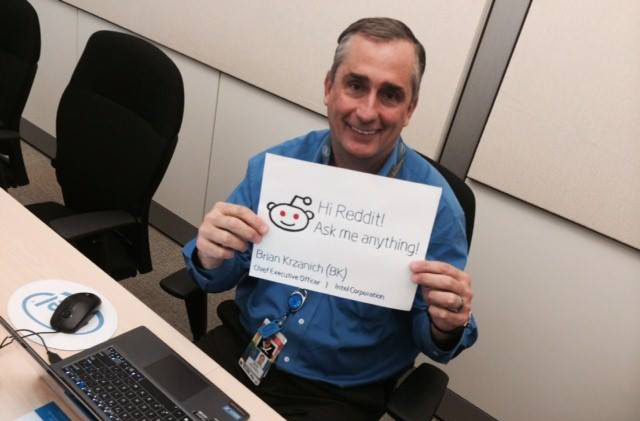 Reddit can be a treacherous place for the uninitiated — worse for the disingenuous. Just ask Morgan Freeman or Woody Harrelson. So you have to hand it to Intel CEO just for agreeing to do an "AMA" or  ask me anything, in which high profile or interesting people agree to field questions from legions of BS-averse redditors.
For about an hour today, Brian Krzanich took to the site for a conversation with redditors. There were a few moments of skepticism on behalf of the redditors followed by some genuine frankness by Krzanich. Here are a few highlights.
At first, redditors suspected Krzanich's answers were being ghostwritten by Intel's PR team:
But then, Krzanich loosened up a little with some self-deprecatory humor about his love of ellipses:

And gave some revealing insight into his sandwich preferences:

Krzanich was surprisingly forthright about Intel's missing the boat on mobile and tablet:

And about the dearth of "coolness" in Intel's marketing:

Krzanich went on to share his thoughts about 3D printing, wearable tech and product experience. Excerpts, with ellipses in tact:
3D printing
"3D printing will change much of the business and innovation world over the next few years… I don't even think we've scratched the surface on how 3D printing will change the way things get made. New materials and capabilities will continue to be developed and be able to be 3D printed."
Wearable tech
"Currently I am using a couple…one that is an internal Intel one I can't tell you about yet… the other is a wrist watch that tracks your biometrics like heart rate, pace steps… It's interesting… I change regularly so I can understand the experience and what would make me want the device to be a part of my life…"
"There are a few companies working on sensors that can be worn to measure several blood parameters including Glucose, PH, Oxygen levels…I think all of these will be available over the next few years."
Product experiences
"It's very clear you can make some great products… with amazing technology.. but it's about experience… and without a great user experience from the un-boxing onwards…you don't have a product…this is where I think Intel has had to make the most change over the last few years."