Digiday's new series "Inside the Agency" showcases agency offices. Think of it as a version of that moment on MTV's "Cribs" when the rocker or rapper escorts the cameraman to the master bedroom suite with ridiculously huge bed, mirrored walls and says, "this is where the magic happens." The idea behind our series is to give you an inside look at where the creative work happens.
Our first agency tour was at Red Antler offices in Brooklyn's DUMBO neighborhood, home to many digital shops. Creative director Simon Endres was kind enough to show us around the space at 20 Jay Street, which boasts amazing views of the Manhattan Bridge. Endres, who has a background in interior design, was in charge of designing the space, which the agency has been in for about 18 months now. "For me, it's a really efficient shell for the work that we do," said Endres.
Red Antler currently has 15 to 17 people in the office (depending on the day), and usually up to three dogs running around, fulfilling a requirement for any Brooklyn-based creative shop. The space is built for about 28, and since the agency more than doubled its size from last year, room for growth is probably a good idea.
"We've tried to cultivate a very open and collaborative culture where everyone is given the latitude and encouragement to do their best work and to step up and take as much responsibility as they want on any given project," said Endres.
Check out the pictures from the tour below.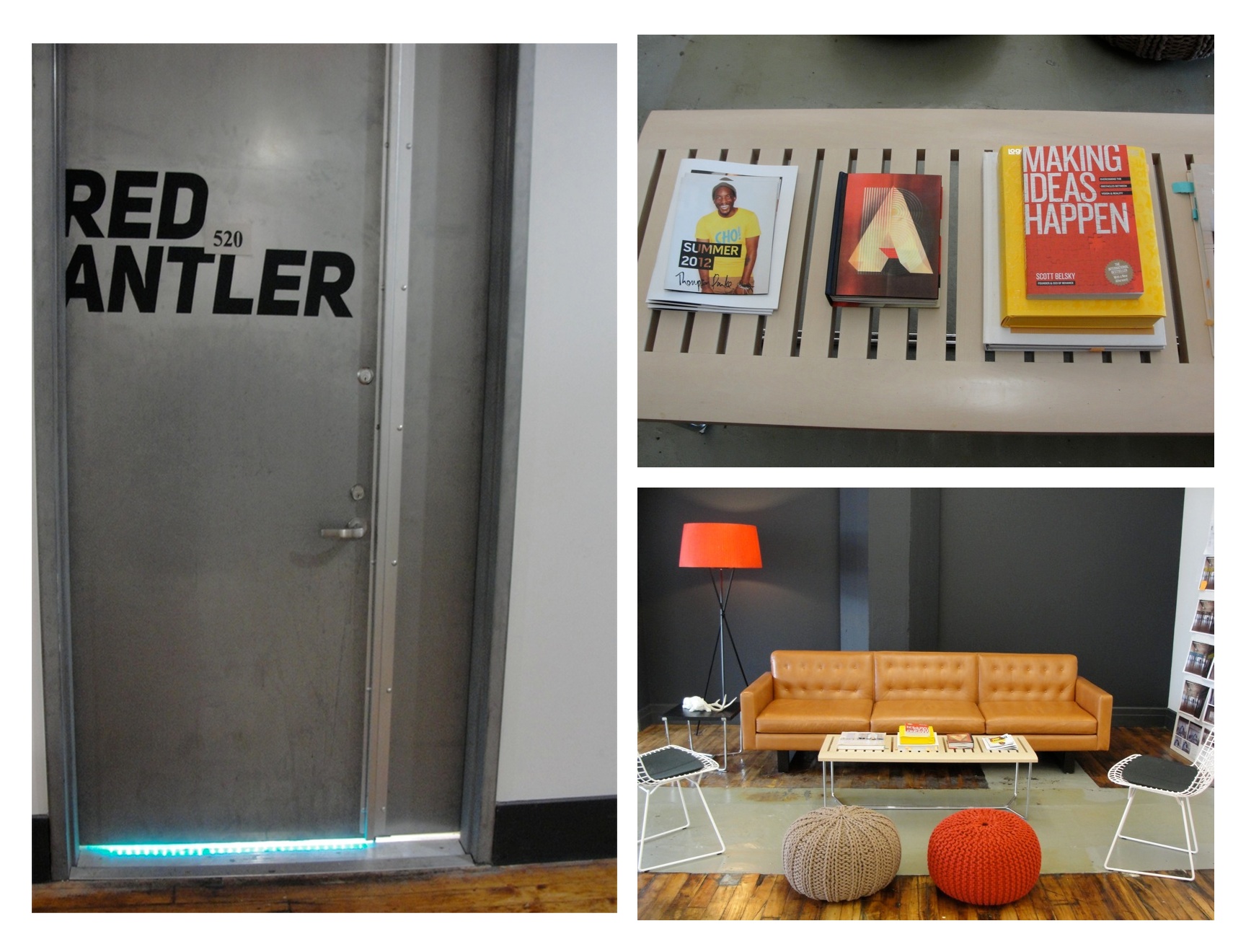 (Entryway and sitting area)
"We decided we wanted a third of our space dedicated to guests, social activities and people gathering," explained Endres, which is why the entryway, sitting area, and conference room make up big part of the space upon entering.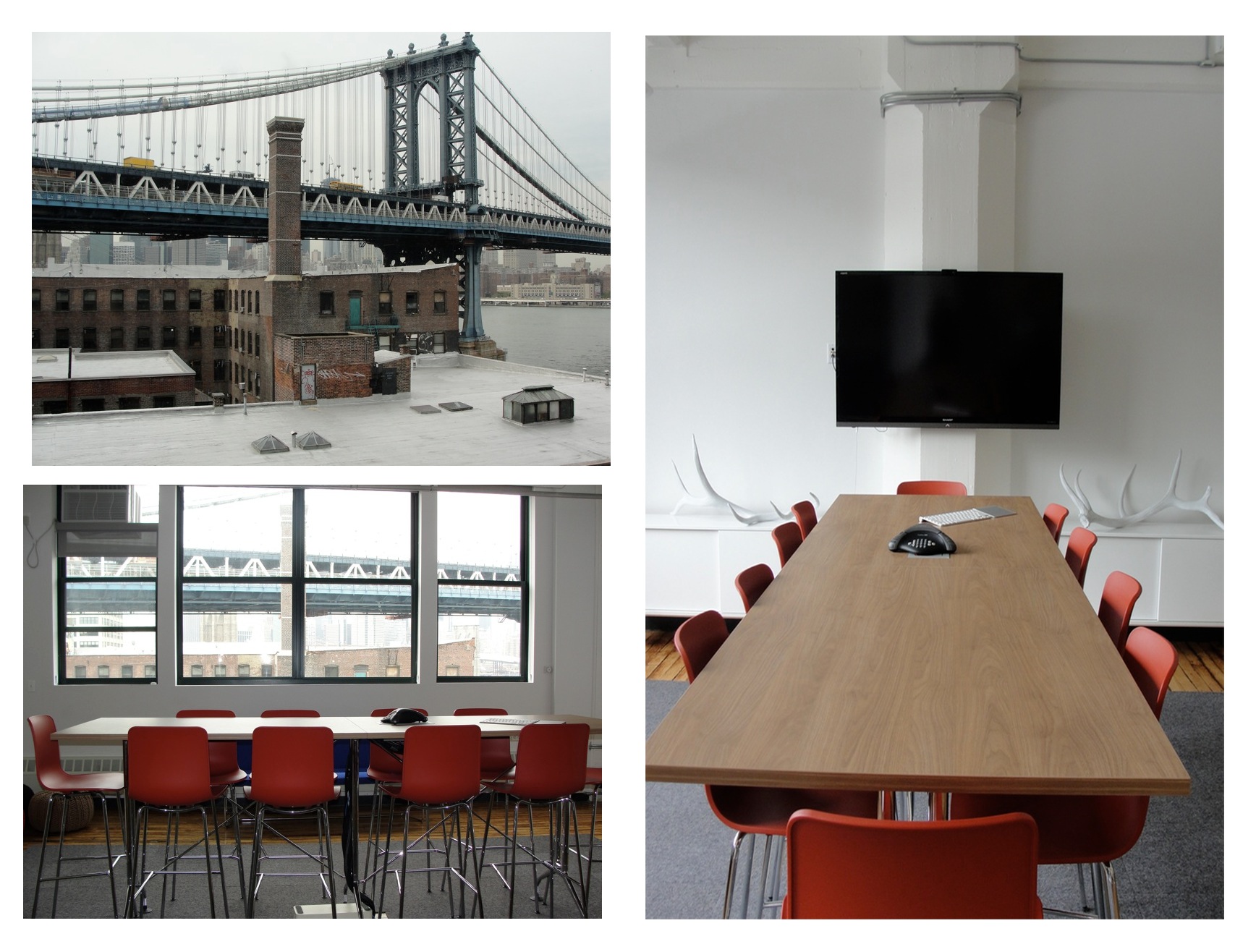 (Conference room and view of the bridge)
Endres explained that they purposely chose such a tall conference room table. The high seats and narrow table encourage people to sit up and be present and engaged during meetings. People can also stand around it for standing meetings.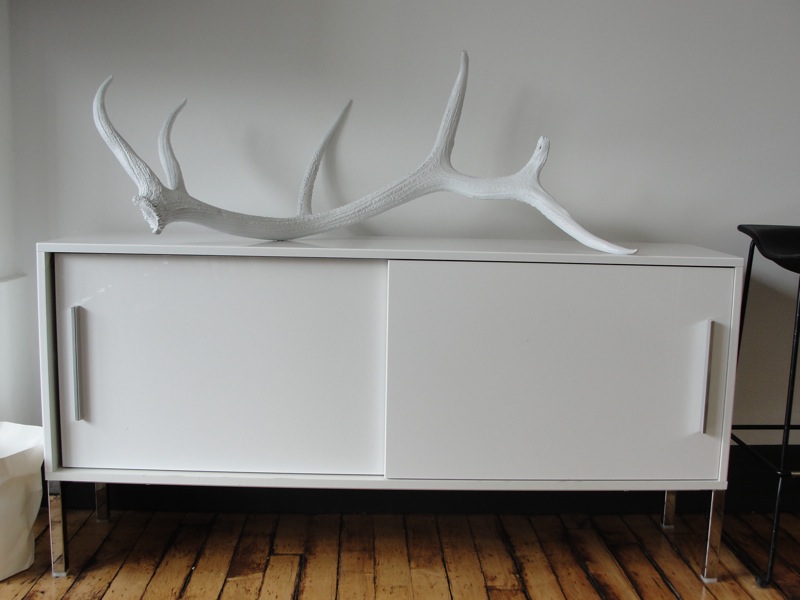 The antler motif is present throughout the office. "The name came about five years ago when my partners Emily Heyward and JB Osborne started the company. They were working with a lot of start-ups and early stage companies so they wanted to find a unique metaphor for growth," explained Endres. "After a lot of research they found that the cell growth of the antler was one of the fastest in nature — up to an inch and half a day. They added red as a active modifier."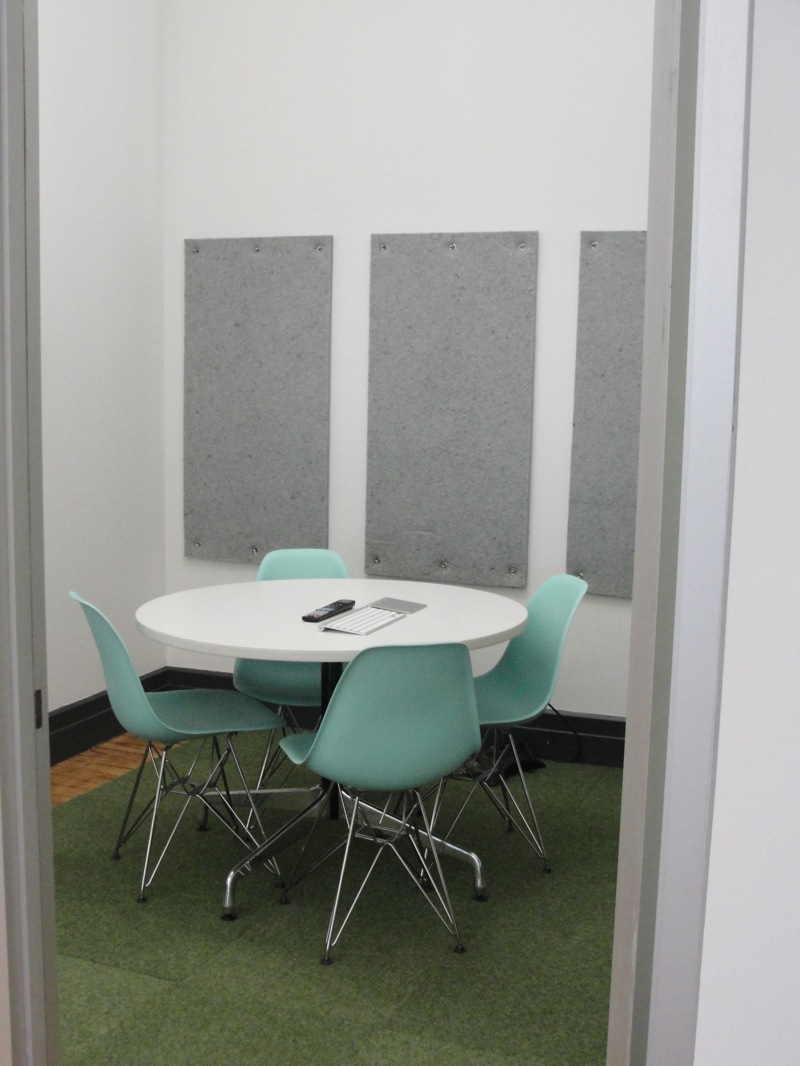 (Phone room/smaller meeting room)
This is a more private space where people can make phone calls away from the open desk area. It has soft sound-proofing panels. "We call this the crying room. Sometimes bad news is delivered in here," quipped Endres.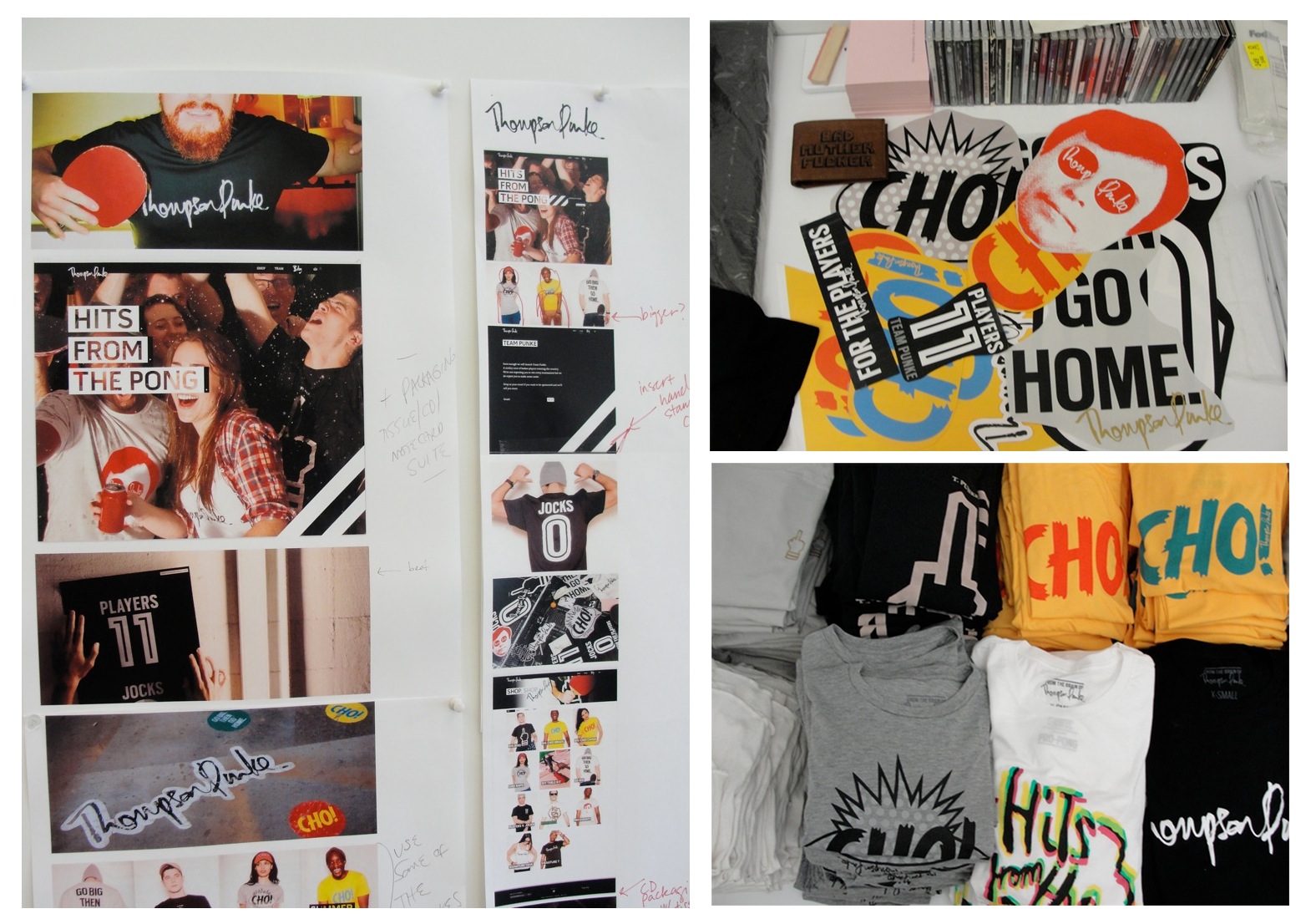 (Thompson Punke designs, stickers, t-shirts)
Thompson Punke is a ping pong clothing brand started by former JWT creative and ping pong enthusiast James Cooper with the help of Red Antler. "The whole RA team has been working on various aspects of the brand from web, packaging, tee graphics and pop-up shop concepts," said Endres. "Initially starting with tees but we'll be moving into more equipment, paddle cases, a DIY table, custom paddles and eventually more performance oriented apparel."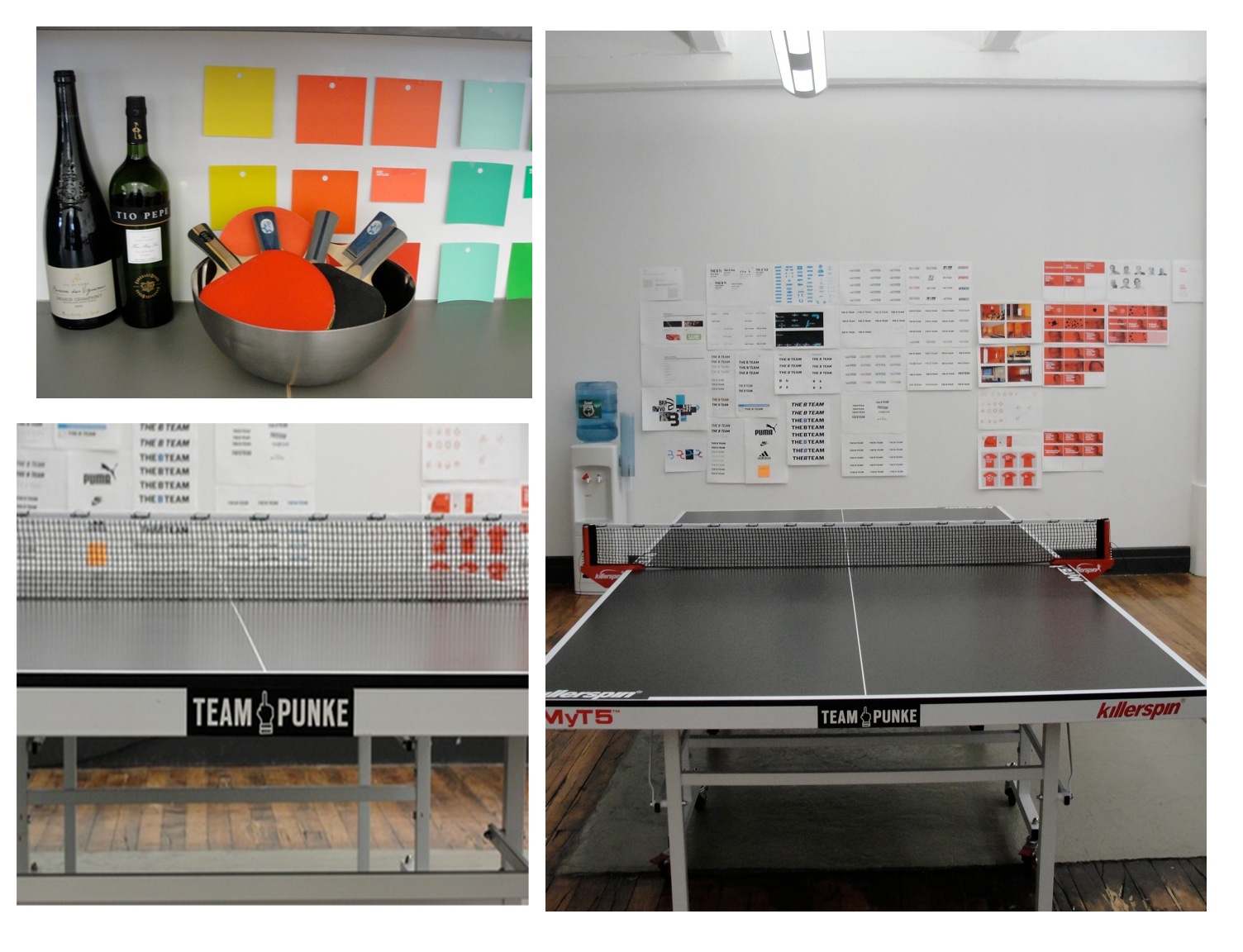 (Ping pong table in work area) 
"The studio is very high energy and intense day to day. We make sure we find times to unwind together whether its cracking a bottle of wine after a tough day or playing table tennis to get the adrenaline flowing, cultivate healthy competition and finesse our smack talk," explained Endres.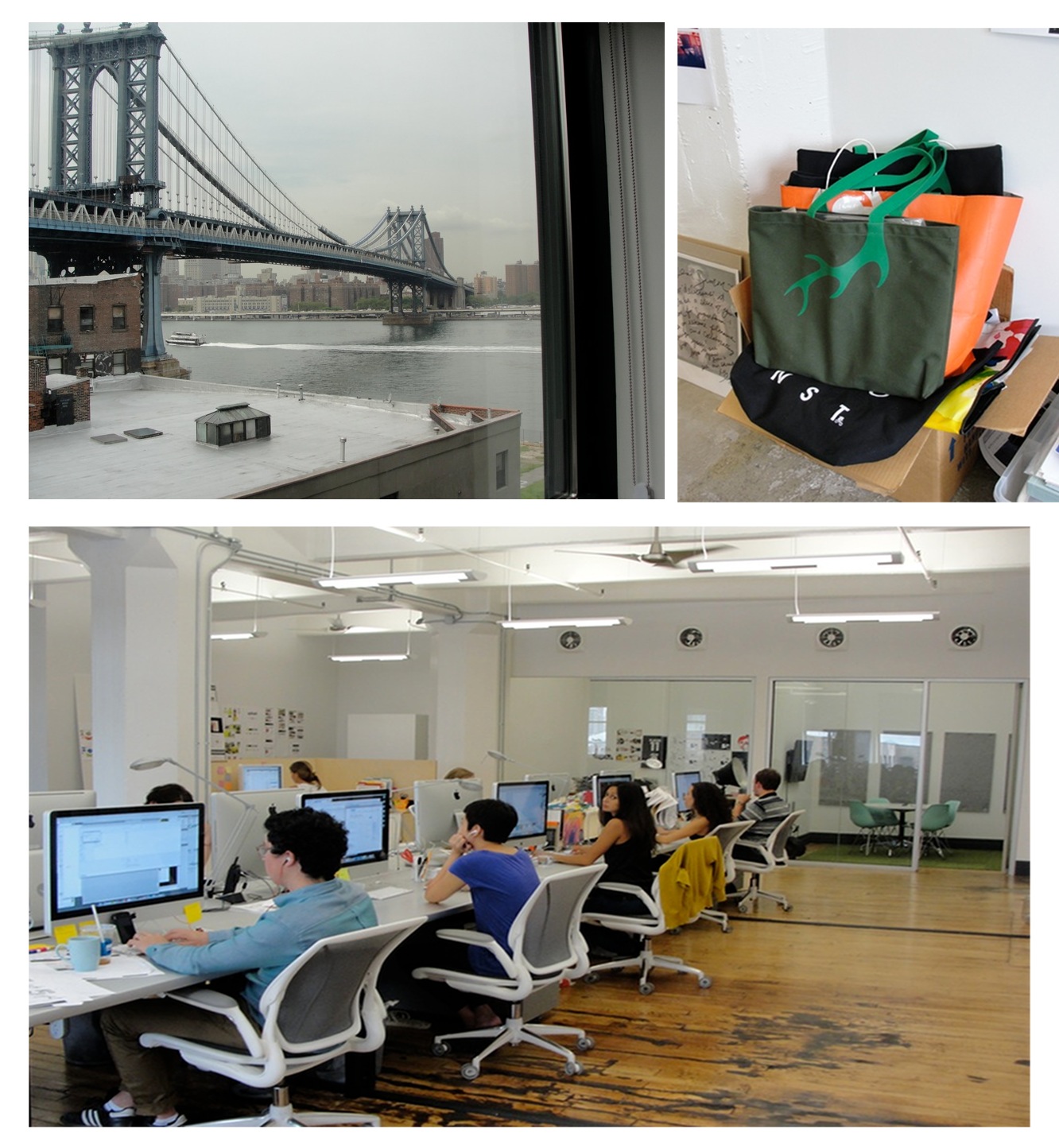 (The view, antler tote bag, workspace)
Endres' wife Julie Maclean, who was a designer at a high-end textile company and now has her own company Goodship designed the antler tote bag as the agency's holiday gift last year. "They were very well received and a couple of our clients started working with her to create custom totes for their companies," said Endres. "We're definitely planning to do more this year in some new color-ways and they'll be on sale on the Goodship site later this year."
https://digiday.com/?p=21221