In the past six years, Brooklyn's Dumbo neighborhood has established itself as a hotbed for digital creativity, housing a plethora of agencies, design firms and innovation shops along its cobbled streets and in the renovated warehouse buildings that tower over them.
Digital agency and design firm Huge has played a major role in the neighborhood's rise to digital prominence. The business started as seven staffers in some cheap office space in 2005 but has grown rapidly to become the largest employer in Dumbo, housing a staff of 400 across multiple floors in a building near the East River waterfront.
"Our original office is now essentially our reception desk," explained CEO Aaron Shapiro, as he showed Digiday around the company's ever expanding home. "As we grew, we took over the spaces next to us until we reached the point we're at now."
According to Shapiro, it's unlikely the agency will ever leave Dumbo now, despite the fact it could easily snap up some space in Soho or Tribeca if it wanted. "It's a part of our DNA," he said.
"We spend a lot of time and effort making this a place that people want to come to work. We want people to be passionate about coming here and the work they do here, and the space is a part of that."
Check out the pictures below of Huge's Dumbo digs.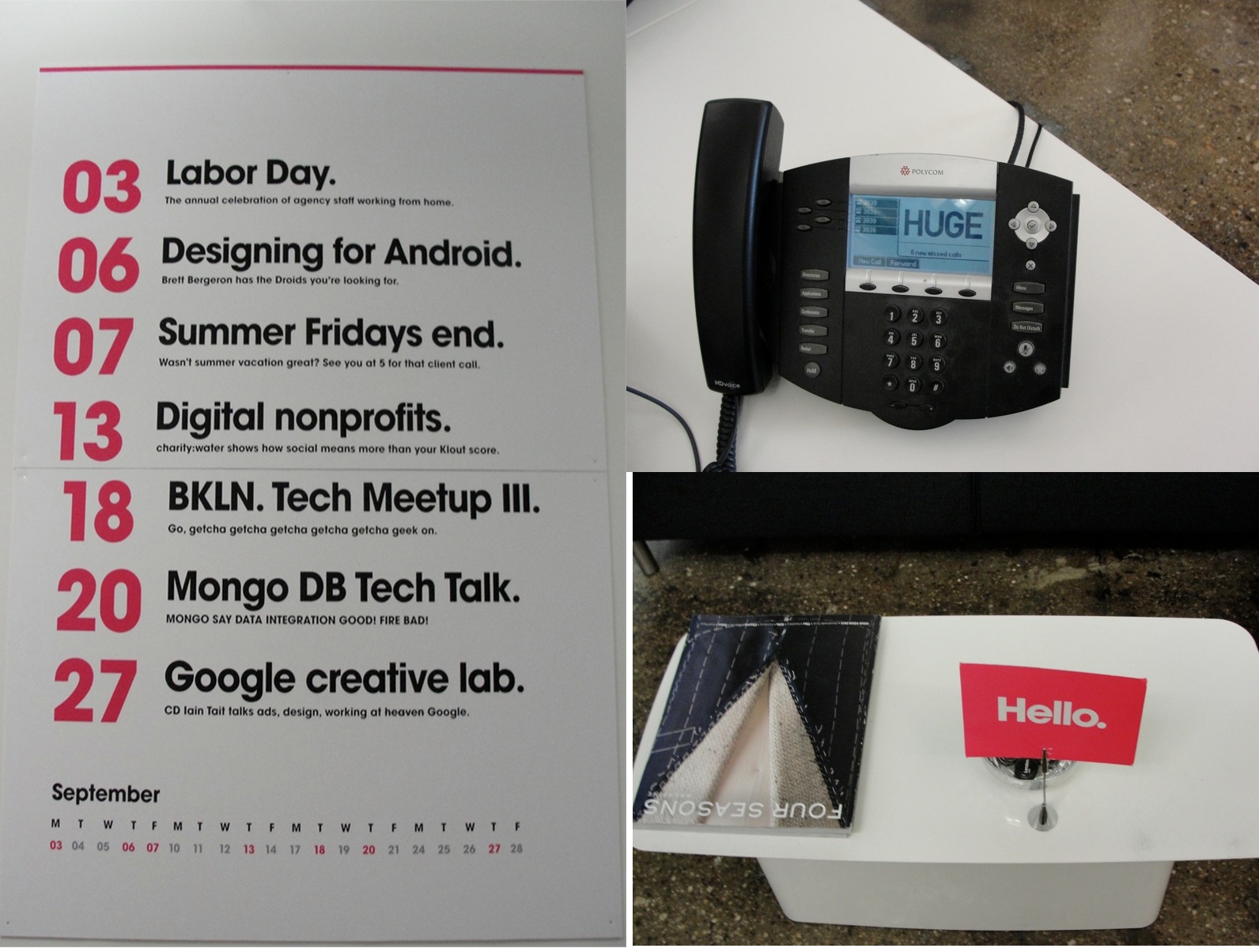 (Events calendar)
"We host a range of optional events for staffers in our common spaces, and this calendar details what we have going on each month," explained Shapiro. "Later this month, we have Ian Tait from Google, for example."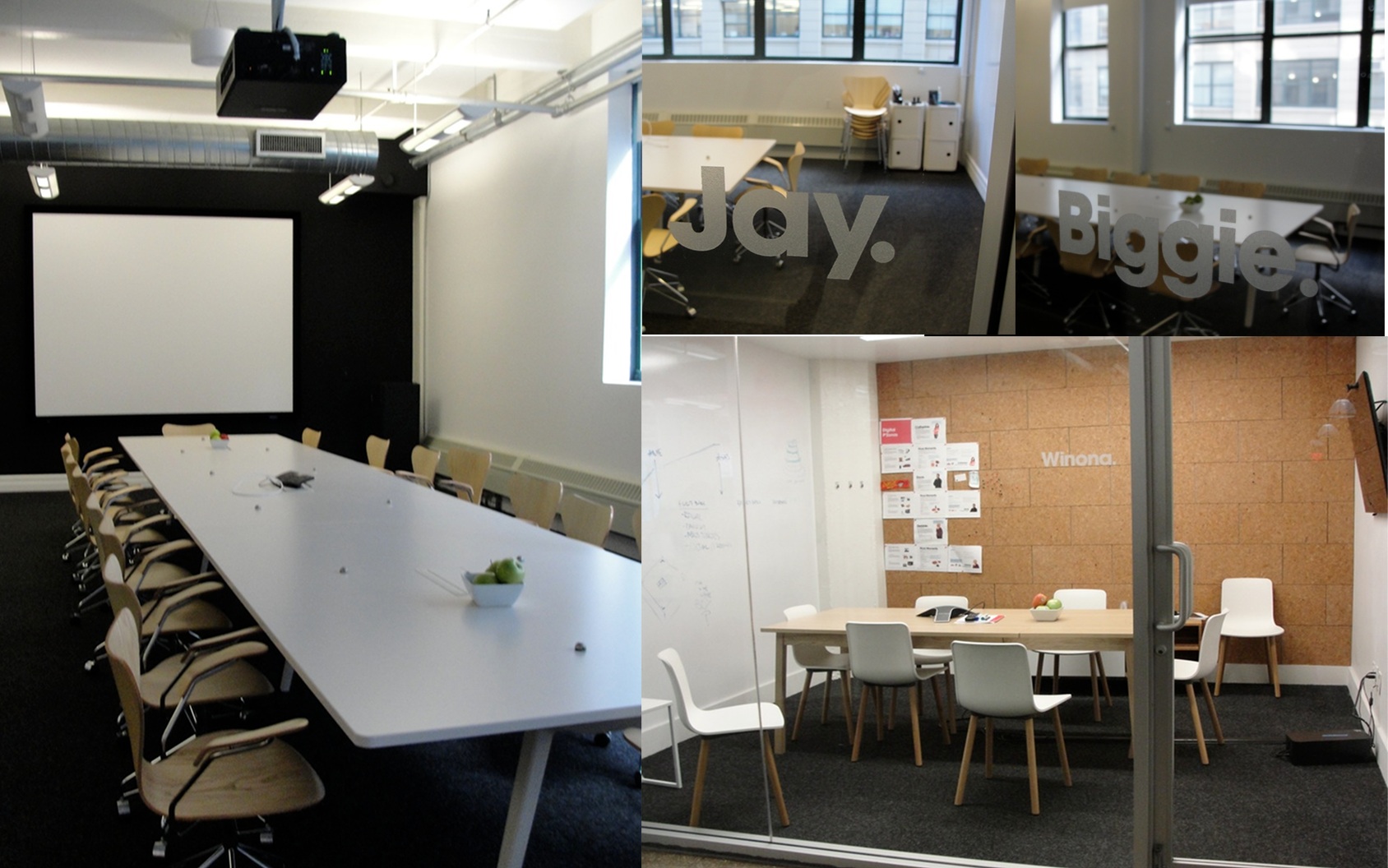 (Conference and meeting rooms)
Huge's conference rooms are arranged in pairs and named accordingly after famous duos. Here's "Jay" and "Biggie," named for New York-based rappers Jay-Z and Notorious B.I.G.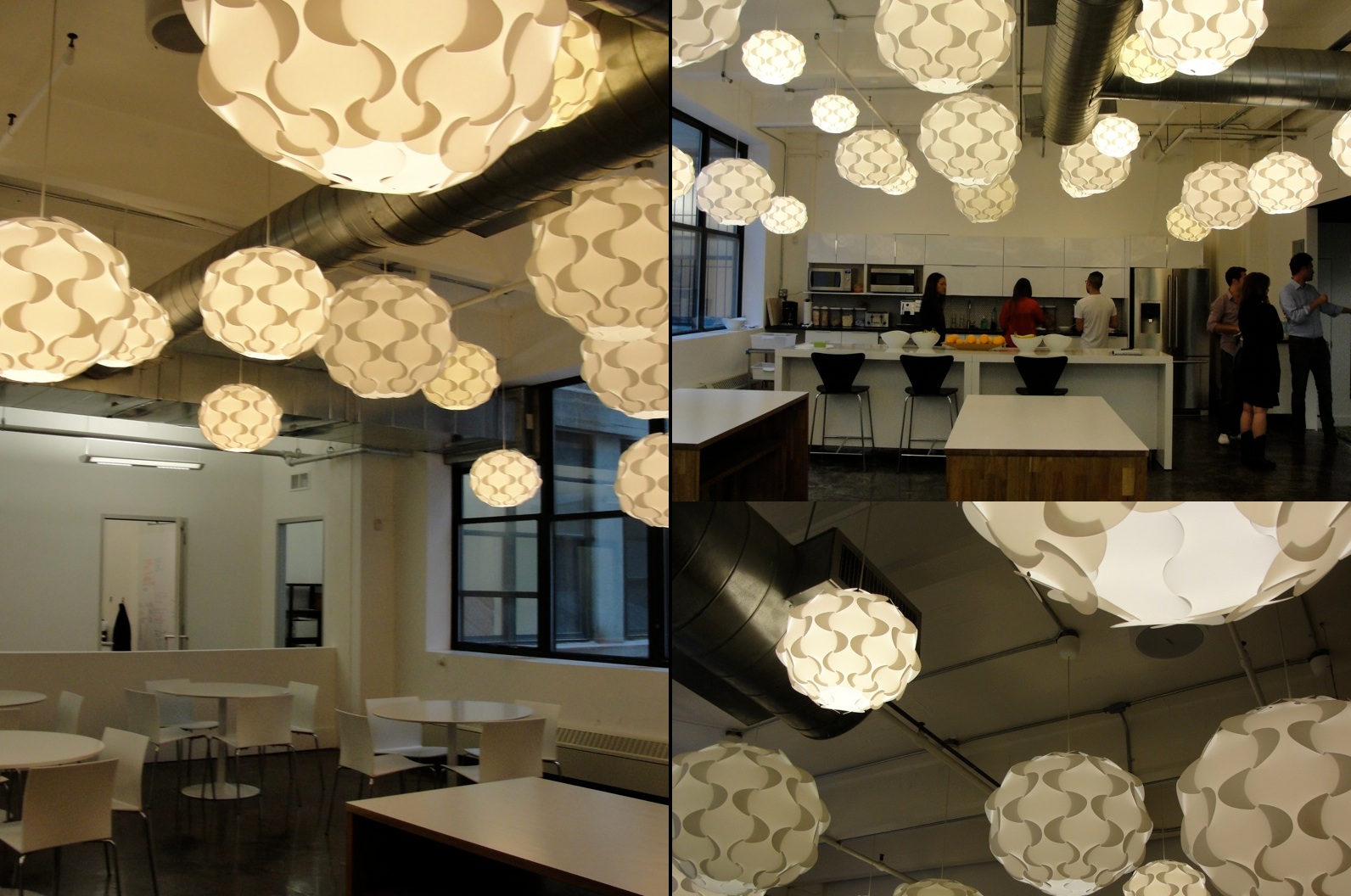 (Kitchen and communal areas)
Huge stocks its fridges with free snacks for employees and also keeps a dedicated beer fridge. The kitchen area spills over into a communal area with couches, rugs, and tables. "We use these spaces a lot for informal meetings. We try to encourage people just to meet informally in these spaces rather than using the conference rooms when possible."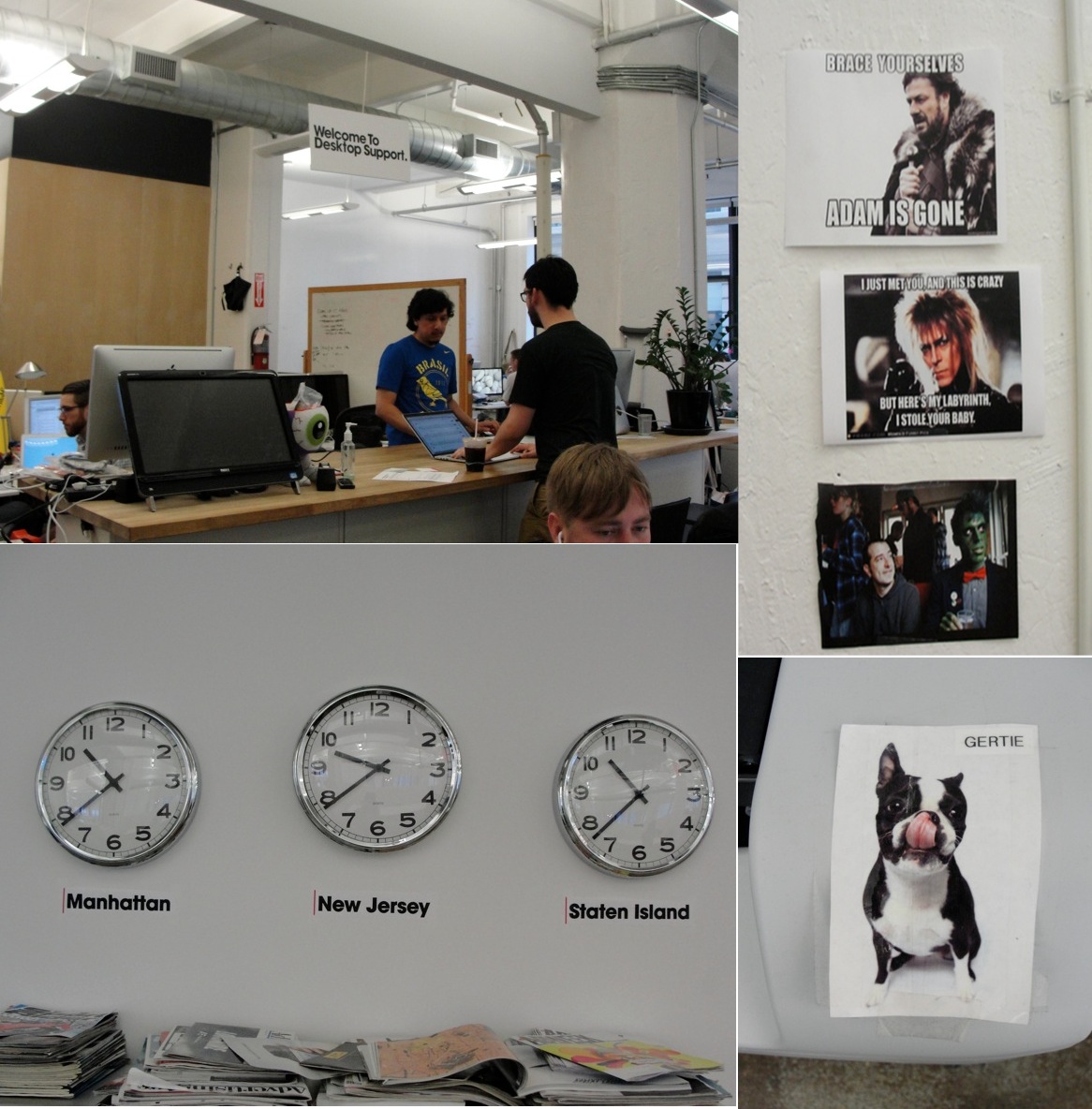 (IT support and office decoration)
The vast majority of Huge's office space is decked out with furniture from Ikea, a former client. They also have their own version of the Apple Genius Bar, "Desktop Support."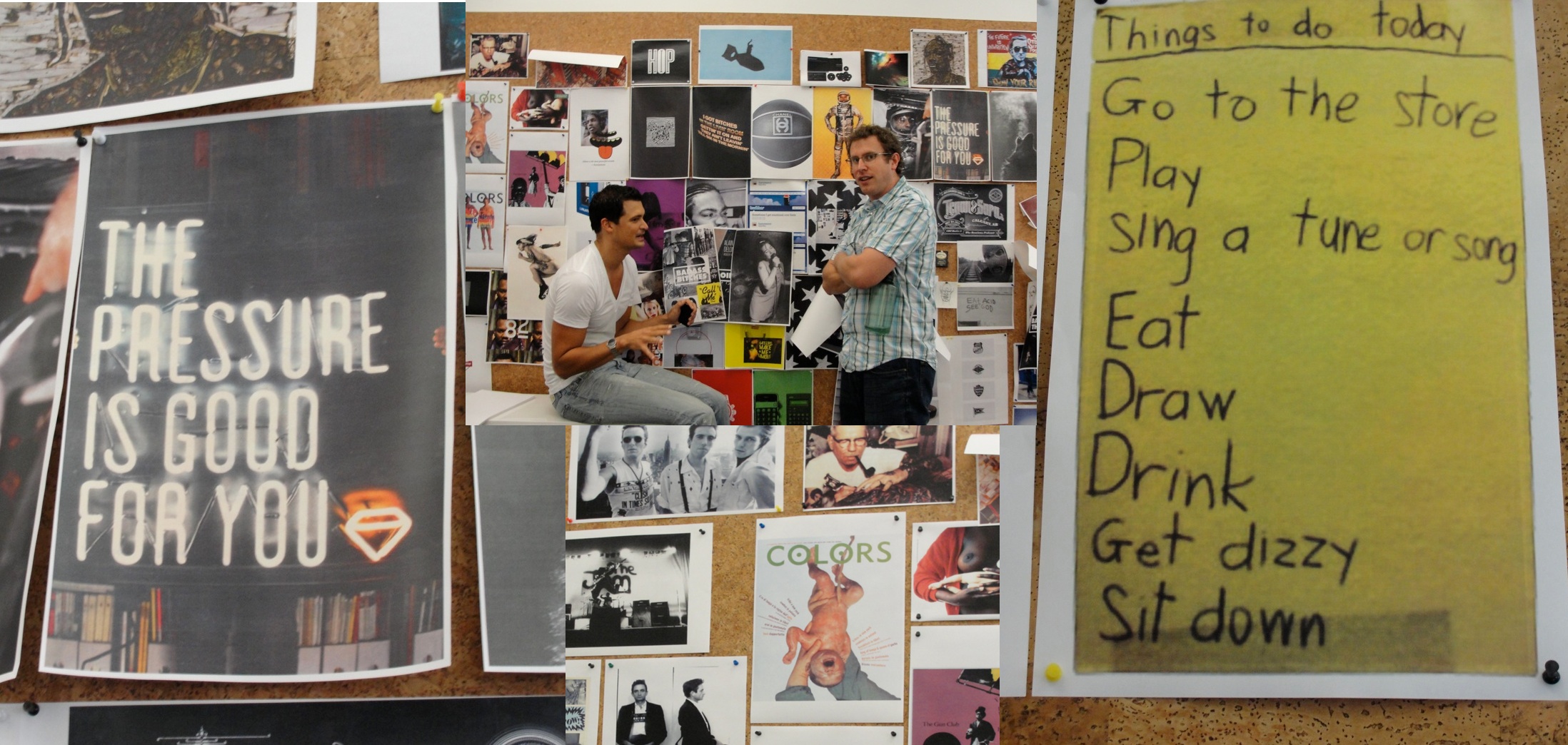 Huge staffers use this cork board as a real-life Pinterest.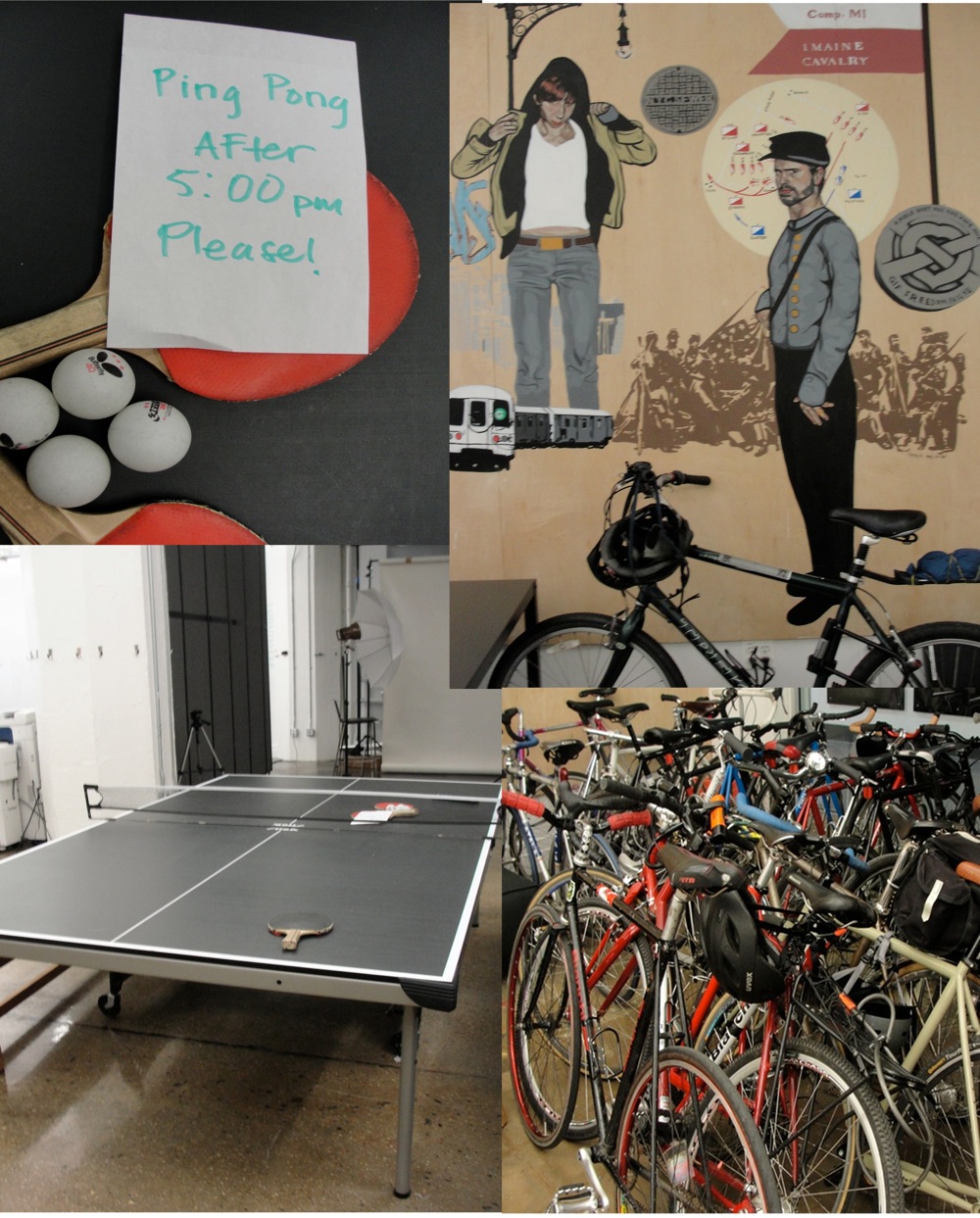 (Ping pong table, mural, reception and bike racks)
"Probably around 100 of our staffers cycle on a regular basis, so the bike racks get pretty full," explained Shapiro, as he meandered through the agency's cluttered reception. "It's a nice day today, so it's a little busier than usual."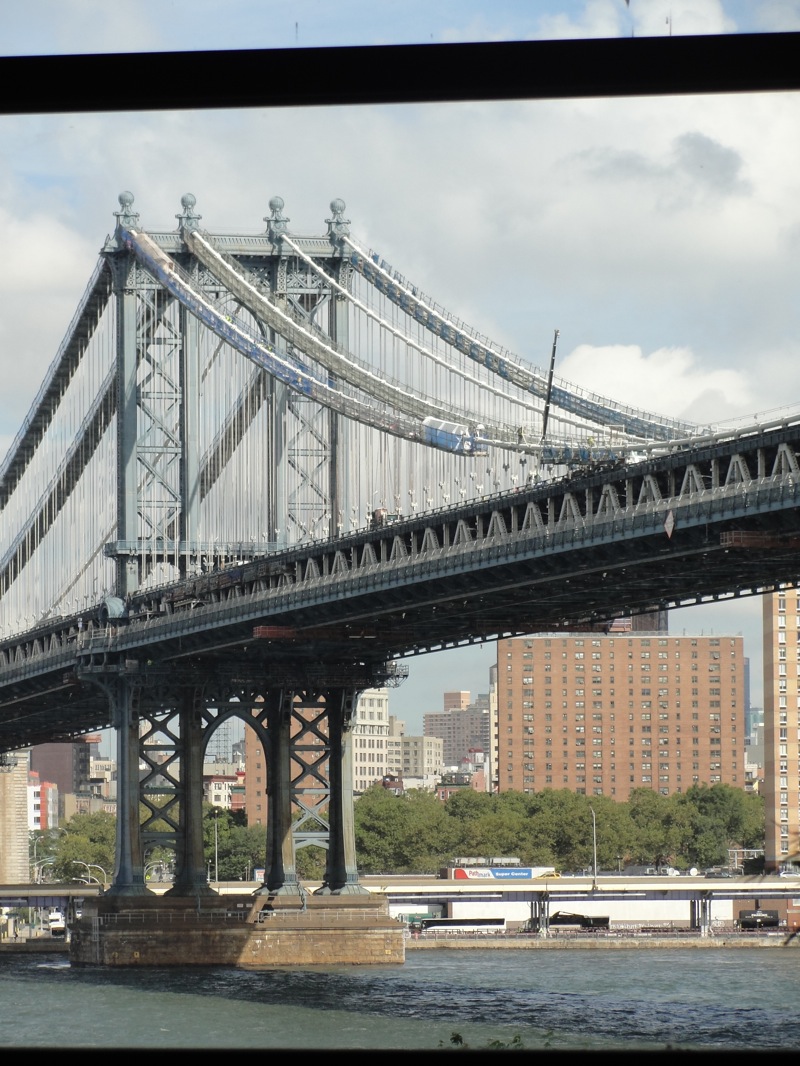 (View of the Manhattan Bridge from the agency's third floor user experience department)
"We find clients like coming out here to Dumbo now; it's like an adventure for them. It's great to be able to take them down to the water to eat some lunch or grab a coffee after a meeting."
https://digiday.com/?p=22279