Nestlé Waters has built a full-time digital lab, stationed in Salesforce's New York offices. With the lab, Nestlé joins an expanding list of companies that have already set up their own internal digital centers, from Mastercard to Marriott.
Aimed at improving personalized communications with its consumers and building an engaged community around its brands, Nestlé Waters' "Consumer Engagement Center," built in partnership with Salesforce, will serve eight Nestlé Waters brands, including Pure Life, Poland Spring, Perrier and S. Pellegrino among others.
"With the way digital is changing consumer's lives, our mission as marketers is also evolving," said Antonio Sciuto, CMO of Nestlé Waters North America. "Marketing today is about providing personalized consumer experiences — so what we're trying to do is not just do brand campaigns, but have two-way conversations, nurture communities and really be a companion to our consumers."
According to Forrester analyst Clement Teo, digital command centers have become an effective way to keep marketing momentum going and evolving in real time. Nestlé Waters' center is manned by a mix of Nestlé and Salesforce employees, including data analysts, social listening analysts and marketing managers. They will  monitor various social and digital channels and listen in on brand conversations, manage online communities and deliver more relevant brand content to consumers — from one centralized location.
For example, the brand's "Heritage" campaign for S. Pellegrino with agency Deep Focus and publisher Tastemade last December was supported by Salesforce. Nestlé used Salesforce technology to track the people who engaged with the campaign to target its media better. The command center will play a central role in managing all digital campaigns ahead, including a Halloween-themed one for its Pure Life brand.
"We really look at the center as a lab," said Rob Begg, vp of product marketing of social products at Salesforce. "It's a lab to try new ideas in digital marketing and how we engage with consumers."
The room is equipped with a range of screens, which constantly sift through and display data from a range of sources: from dashboards with insights on marketing campaigns, to real time Facebook and Twitter feeds and even email and SMS open rates and interactions. One of the screens, for instance, displays what the most popular mentions of the brand are in real time, while another dashboard identifies the top 20 issues — both positive and negative — currently affecting the brand. It also has a Microsoft Surface Hub, which the team can use to have teleconferences and which can also be turned into a whiteboard for brainstorming.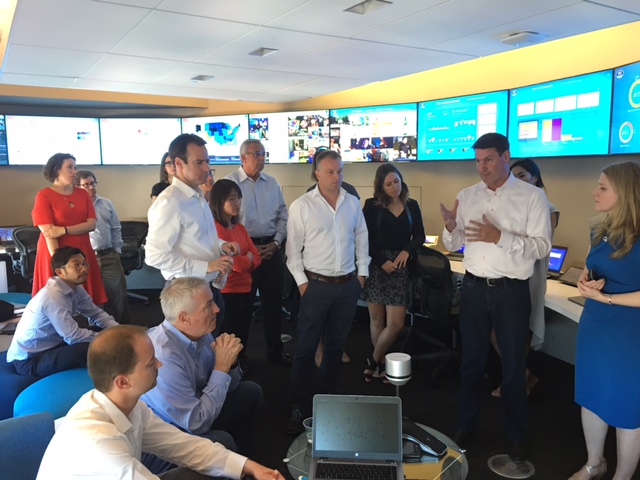 Above all, the center serves as a hub for the brand and its various internal teams, as well as external partners, to collaborate. The space was created so that the brand could strategize with retailers, with agencies and with its cross-functional teams, said Courtney Stacks, group marketing manager, strategy and business development at Nestlé Waters North America.
While the lab provides the brand with actionable insights to improve its marketing and better support its customers, it also helps make the brand faster and more agile. Nestlé continues to work closely with its agency partners, including 360i and Deep Focus, but the digital center allows it to bring social listening and consumer engagement in-house.
"It makes everything easier because it makes everything collected, it's easier because the touch points are not all separated from each other," said Sciuto. "It makes it easier for us to track performance and optimize in real time."
https://digiday.com/?p=190678