A few years ago, a chief marketing officer at a big brand showed Mike Brinker a diagram that depicted all the different marketing partners he worked with. There were creative people, supply-chain and logistics people, a consulting company (or two). In all, there were 75 different spokes and wheels. "It was crazy," said Brinker.
It was the opportunity to simplify that process that drove Brinker, a principal at Deloitte Consulting, to found Deloitte Digital, an agency within the consulting behemoth four years ago. Last year, with the ability to provide everything from strategy to logistics to tax help to agency services, Deloitte Digital did $1.5 billion in revenue.
Now four years old, the agency part of the business has 6,000 people globally and sits squarely within Deloitte Consulting, its parent company ($34.2 billion in revenue last year). It identifies itself as a digital and consulting agency. "Just doing ideation is a dead model," said Brinker. "If you want to have an impact, you need to do high-level strategy." The idea is that Deloitte can deliver on those high-level strategy needs, as well as traditional creative and campaign analytics.
It's a bet plenty of Deloitte's consulting competitors have made, too: Accenture has Accenture Interactive (the third-biggest digital agency network after Deloitte and IBM, according to AdAge DataCenter) while McKinsey has also slowly built an agency arm. Michael Roth, CEO of Interpublic Group, acknowledged the growing competition back in March during an earnings call, saying that these new entrants have made it a "difficult competitive market out there." It also joins tech companies like Adobe and Epsilon, which have added a service component in the form of an agency to their core product offering.
"Deloitte, along with Accenture and IBM and to a lesser degree KMPG and PwC have long been sleeping giants in agency services," said Pivotal analyst Brian Wieser. "If you take a step back, agencies are outsourced marketing departments with specialities in things marketers don't do themselves. So that's what these guys are doing."
The trend is not without its detractors. The most common complaint is that these shops can't provide the creative chops that traditional agencies can. In fact, some traditional agency execs have been known to refer to this new breed of shops as "faux-agencies." They may do so at their own risk. "People who dismiss them as 'that tax company' have a misplaced sense of their role in the universe," said Wieser. The marketer isn't hiring an agency because it's special. It's because they have a job and they need to get it done."
Last week, the agency landed pizza chain Papa Murphy's as a client with an assignment to improve online ordering. That work is at one end of the spectrum for Deloitte Digital, said Brinker, a "pure-play" agency assignment where the agency will redesign a website and refresh the brand. On the other end of the spectrum are projects with Toms, where the agency helped build a new e-commerce platform and called upon its parent company's capabilities with supply-chain and logistics to create a strategy for future business growth. "We pull in tax experts, for example if we need it for an e-commerce project," said Brinker. "It's all becoming a blur."
The agency offers pay-for-performance billing: It gets paid when an agreed-upon business result is achieved, a growing trend but still a rarity in the agency world. "We put our own skin in the game," said Brinker. The consulting companies also compete on scale — they can put hundreds of managers on projects, something standalone digital shops can't envision.
Deloitte has been on something of an acquisition spree: In May, it acquired a digital agency in Sweden called Mobiento. Last year, it was UX shop Flow Interactive. A couple of years ago, it acquired Seattle-based shop Banyan Branch as well as mobile company Ubermind. Last June, it opened doors in London, pledging to create over 4,000 jobs in that city. A month ago, it opened an office in Singapore to service the Southeast Asian market. Also last month, it hired Sapient exec Alan Shulman to head a newly opened content design and product studio in New York, a big move that got many in the industry paying attention.
"Consulting is a global business, and all we do is professional services in that regard. Why not add agency services to that?" said Brinker. "We've already established ourselves and our credibility in helping brands transform."
An earlier version of this story said Deloitte Digital operates purely on pay-for-performance. It offers that as a billing option among others. We regret the error.
https://digiday.com/?p=131295
December 8, 2023 • 3 min read
For Atlas Creative, expanding into Roblox is not solely a play to scale up. The company believes there are concrete benefits that will come with having a hand in multiple metaverse platforms.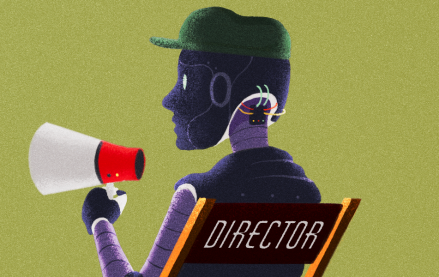 December 8, 2023 • 5 min read
Since ChatGPT became a breakout hit, the names of numerous AI companies and products have entered the cultural vernacular.
December 8, 2023 • 4 min read
Even as linear TV ad spend declines, 23andMe is reinvesting in the channel to boost brand awareness.