Inside American Express' social-content strategy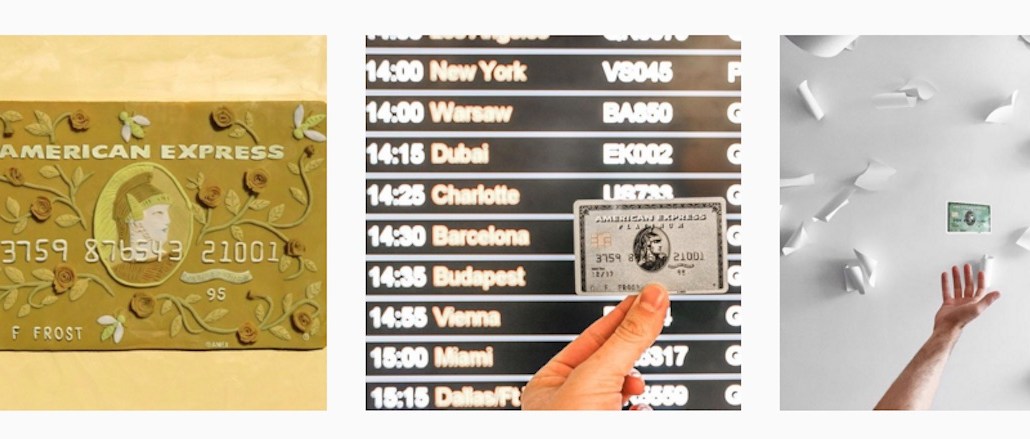 For American Express, it's all hearts for Instagram — and visuals in general on social platforms.
The platform is the company's fastest-growing platform, seeing 18 percent follower growth in the last quarter and double this year to 98,000 followers. And what works? Photos of credit cards — as financially sensitive as that may seem.
The brand's vp of social media communications, Mona Hamouly, told Digiday that she noticed that people really loved posting pictures of their AmEx cards on Instagram. The security team at AmEx had also noticed: They usually reach out to users posting photos of their cards and issue them new ones.
So Hamouly took that insight and applied it to the brand's own Instagram channel. "It's bizarre, but images where the card is included are our highest-performing images," she said.
So AmEx is getting much more visual with its social content in a much more obvious way. The idea across social, said Hamouly, is to not reuse marketing collateral but connect everything more visually with the physical credit card itself.
The brand has also tapped artists to design card images in a series called "Card Art," and those images typically get twice the number of retweets on Twitter and double the likes on Instagram — photos with cards average about 1,000 likes.
The brand, of course, uses generic card numbers owned by "CF Frost," the Ogilvy & Mather ad exec who worked on the brand's account in the 1960s and is now immortalized in the card images the brand uses in its advertising.
Snapchat doesn't have AmEx quite convinced, yet. For American Express, which has long been at the forefront of social media when it comes to customer service and brand messaging, the ephemeral messaging platform doesn't quite appeal, according to Hamouly. "There has been a lot of conversation, and there is interest in it," she said. "But we're always looking for an 'elevated' experience on social and right now, there isn't one with Snapchat."
By "elevated," Hamouly is talking about AmEx's multiple links with social media that have used platforms to connect what she calls the offline experience with the online. While American Express has always positioned itself as an exclusive brand for "cardmembers," social media has allowed it to democratize itself.
For example, it has been one of the few brands to embrace the "couponless deal," asking customers to sync cards with Facebook, Twitter so people could get deals on the brands they liked or followed every time they made a purchase. Tweeting certain hashtags like #AmexWholeFoods gets users credits on purchases made there, for example.
Facebook is "still critical" for AmEx, although the brand has been slowly pushing video on the platform more than other content. It gets exceptionally high measurement numbers, but Hamouly said that that's mostly because of autoplay, which has made comparing video metrics on Facebook versus other platforms messy. "We just stopped comparing numbers from this year with last year," she said. "That's pretty much all we can do at this point."
And on YouTube, AmEx lets members and non-members live stream concerts that cardmembers get "exclusive" access to. This week, Airbnb and Amex launched a tech integration that will let people create an Airbnb account using AmEx credentials, get reward points, checkout and let hosts see "AmEx verified" potential guests in the listings.
"We do a great job talking to cardmembers, but we definitely realize that we need to reach out to different segments," said Hamouly. "There has been a real effort across the company to position ourselves as a brand that's more relatable."