With an influencer advisory board, Clorox is changing up its YouTube advertising strategy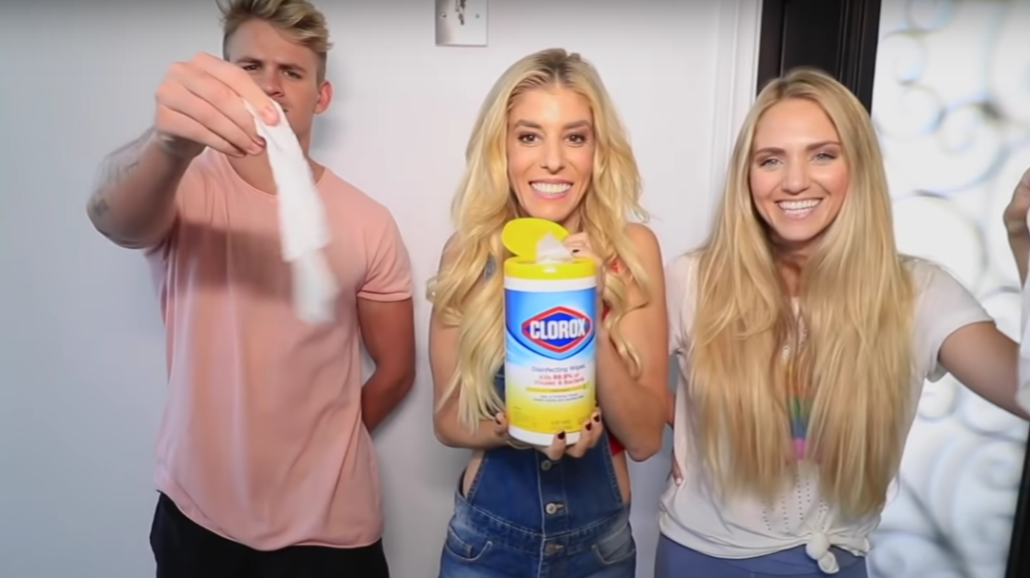 The Clorox Company is building an influencer advisory council.
The company is aiming to use the council, which will be comprised of hundreds of influencers, to help it better understand the type of content that will resonate with such individuals and their audiences. The consumer goods company also wants to fashion a more collaborative content-creation arrangement between these influencers and its organization.
And the Clorox Company has already treating been some influencers almost if they belong to an agency, working with them to "co-create" ads for YouTube. The goal of the new council of social media influencers will be to make sure that its YouTube content, as well as its content in general, is "more human, more authentic and less obvious in our approach towards driving demand," said Magnus Jonsson, U.S. vp of the Clorox Company's cleaning division.
For example, recent YouTube ads for the company feature YouTube influencers like Matt and Rebecca Zamolo (who have 3.68 million subscribers) and the LaBrant family (with 10.8 million subscribers) in spots that resemble content that some YouTubers might create rather than slick brand advertising. In the spots, the YouTubers compete to win a "one-wipe challenge" (likely inspired by the popularity of TikTok challenges) to see who can clean the most space with one Clorox wipe.
"With millennial consumers we're recognizing that they fundamentally do not want to be advertised to, which means we need to develop less obvious advertising," Jonsson said.
From January to September 2019, the company spent $9.6 million on media buys for the Clorox brand, a sharp decline from the $15.2 million it forked out over that stretch in 2018, according to Kantar. (Media spending on social media channels is not measured by Kantar, however.)
The Clorox Company is focusing on YouTube to court millennial consumers for its Clorox brand and offer advertising that seems less obvious, said Jonsson, noting that "consumers don't necessarily know if this is paid advertising."
While working with influencers and creating digital advertising for YouTube is par for the course for many marketers today, this approach is unusual for businesses within the household cleaning category. "Advertising for the household cleaning category has traditionally been incredibly formulaic and boring," said brand consultant Allen Adamson, a co-founder of Metaforce. "This is a ripe category for [advertising] disruption. This is is a way to build relevance and demonstrate the product in a fun, millennial way."
Placing more of an emphasis on the Clorox brand's use of YouTube makes sense to Metric Digital CEO Kevin Simonson. "It's smart for a larger brand like Clorox [that] is focused on branding more than strict e-commerce," wrote Simonson in an email. That said, tracking how well the work is performing will likely be difficult. "'Virality' is a difficult thing to manufacture and the lift in sales, which will mostly come through third parties in their case, will be difficult if not impossible to measure,"  Simonson said.
The push to create more content for the Clorox brand won't only be for the YouTube context. As previously reported by Digiday, last fall the Clorox Company said it will need to increase the amount of content it produces for its brands fivefold in order to fill digital advertising as well as traditional channels. The company is tapping external agency partners, like creative shop FCB for its Clorox brand, as well as its in-house agency, the Electro Creative Workshop, to achieve the uptick in content creation.
Today when all the company's brands are considered, about 60% to 65% of the media spend is allocated to digital channels. But Jonsson explained that the percentage of digital advertising specifically for the Clorox brand isn't quite as high since its TV advertising still delivers a good return. (He declined to elaborate on the Clorox brand's digital allocation.) The company did not share the breakdown of its digital budget for specific channels but did state that it advertises on Facebook, Instagram, Pinterest, Amazon and Walmart's site.
"When we go after nonusers and younger consumers, we need the [Clorox] brand to show up where they are and where they live," Jonsson said. "That requires us on an annual basis to shift more and more of our investment toward the digital media space."
Due to an editing error, this article previously misgendered Magnus Jonsson as a woman. We regret the error.