Every company preaches the need for innovation these days, but it's often easier said than done. Take consumer-package goods companies that have long histories and set ways of doing things in traditional media – and no small track record of success.
In these companies, innovation is a cultural challenge more than anything else, according to Bob Rupczynski, senior director of media and consumer engagement at Kraft Foods and a veteran of consumer goods companies. The best way to push innovation: keep at it, show results and focus initially on small brands that need to be scrappy because they don't have big  budgets to begin with.
"Working in CPG, they're old companies. When you look at the founders pictures, they're all from the 1800s," Rupczynski said in a presentation last week at the Digiday Agency Camp. "Innovation in the CPG world is very tough. People have done things the same way for 60 years. People have been in the same jobs for 30 years."
Rupczynski shared three case studies of Kraft brands that were able to push innovation in novel ways.
Skittles
Skittles had long relied on TV advertising, being known for its hilarious commercials under the "Taste the rainbow" tagline that was in use since 1994. But Rupczynski was convinced that, in order to grow, the brand needed to find ways to connect with 18-24-year olds who were online.
The Skittles team zeroed in on Facebook as the place it could make the biggest impact. It already had 1.7 million fans there when Kraft acquired the brand. In three months, a series of experiments netted the brand another 300,000 fans. Management wasn't impressed, instructing the brand team to return to tried-and-true TV. Rupczynski complied, but continued experiments on the side, eventually hitting on a formula for attracting Facebook fans by creating entertaining content. In the next nine months, Skittles added 10 million Facebook fans.
The lesson: "People will tell you no. if you really believe in it, do it. spend your personal time."
Jello
Compared to top yogurt brands, Jello is a small fry. In fact it is outspent on advertising by 10 to 1. Nothing breeds innovation like necessity. Jello's agency, Crispin Porter + Bogusky, crafted a clever campaign to draft off the Super Bowl while operating on a small budget. The creative idea was to celebrate the losers rather than the winners. CP+B made two TV spots, which consoled the losing city with an offer of free Jello. Without the money for a $3.5 million Super Bowl buy, the brand negotiated 26 separate buys with local stations for the first commercial slot after the game ended. That made the buy affordable.
The lesson: "It was a lot of work. Doing things differently will always take more work."
Grey Poupon
An iconic mustard brand in the 1980s, Grey Poupon's sex appeal waned in the new millennium. Until recently, it had little hope of building sizable social followings like Coke, Red Bull and Starbucks. Grey Poupon agency CP+B decided instead to come up with a dual-track campaign that would update the brand in a fun way while getting it a lot of free media attention. The first part was a Facebook-centered effort to emphasize the exclusivity of the mustard. Rather than grovel for Facebook likes, Grey Poupon made people apply, then scanned their profiles for bad grammar and poor taste. It would reject those not up to snuff. This helped generate buzz in the media.
The next step was a TV spot that ran during the Oscars. It updated the famous Grey Poupon TV spot from the 1980s where one rich guy borrows the Grey Poupon of another guy. That story was left unfinished, so CP+B updated what happened next with a car chase spot. Grey Poupon bought just one commercial spot, banking instead of media buzz. And it worked. With teaser videos and a longer version online, Grey Poupon was able to generate 176 million earned media impressions, 144 million of which came from coverage of the commercial on Good Morning America and other TV outlets. Digital played an important supporting role, but the commercial itself was the star.
The lesson: "TV matters. At the end of the day, there's still nothing like television for one time to get massive reach."
See Rupczynski's full presentation in the video below.
https://digiday.com/?p=42318
December 8, 2023 • 3 min read
For Atlas Creative, expanding into Roblox is not solely a play to scale up. The company believes there are concrete benefits that will come with having a hand in multiple metaverse platforms.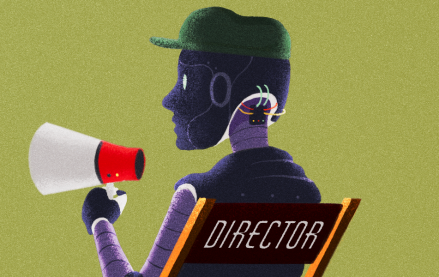 December 8, 2023 • 5 min read
Since ChatGPT became a breakout hit, the names of numerous AI companies and products have entered the cultural vernacular.
December 8, 2023 • 4 min read
Even as linear TV ad spend declines, 23andMe is reinvesting in the channel to boost brand awareness.