Hillary Clinton's line of designer t-shirts debuts to mixed reaction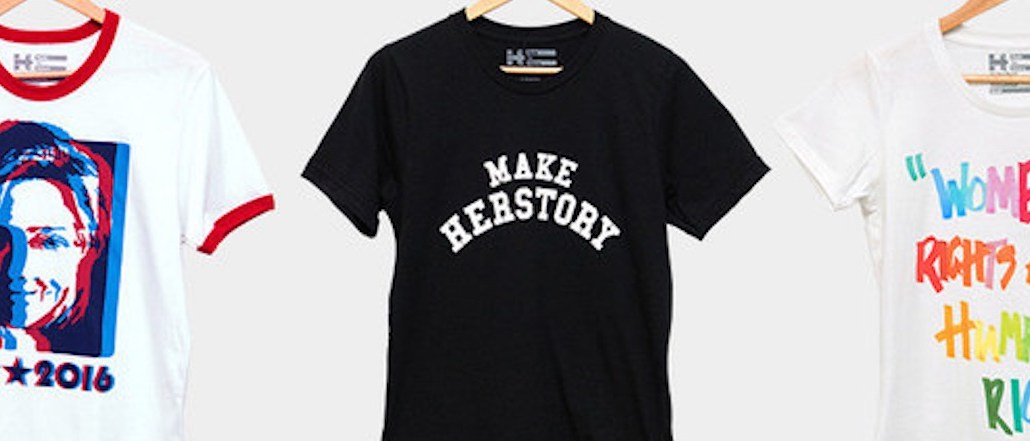 Already there is a Jeb! guacamole bowl and a Marco Rubio logo that says, ugh, "RU(BAE)O." Now you can add designer Hillary Clinton t-shirts to the increasingly bizarre list of campaign swag for sale.
Clinton released yesterday a limited edition line of expensive shirts designed by Marc Jacobs, Tory Burch and Public School called "Made of History." The collection, described as a way "help elect the first woman president of the United States, and Democrats from coast to coast," features three distinct designs.
The shirts comes at a cost: $45 a pop, which is $15 more than the other shirts for sale in the online store. Clinton's campaign told Vogue that the t-shirts are aimed at giving her supporters "an extraordinary new way to show their enthusiasm" for the candidate. They are threatening to release more clothing soon.
While Clinton isn't the first Democratic candidate to roll out a line of designer couture (Barack Obama had a similar line of high-end designer clothes for his 2008 and 2012 campaigns), it might be the collection that induces the most eye rolls.
"My main issue with the t-shirts is simply that they're ugly," Adam Wray, the curator of Fashion ReDef newsletter, told Digiday. He adds that this, in addition to other millennial-pandering items like the "Chillary Clinton" beer koozie, is not going to help her flagging standing among young people.
"Stuff like this makes her seem like a brand saying bae — genuinely out of touch, flailing for relevance. She should stick with the logo tees," he said. "Even the pantsuit tees, though kinda corny, feel authentic, and I think that's the most important target for a politician's election cycle merchandise to hit."
Another detail raising eyebrows is the price. "I'd love to buy this Hillary Clinton, but it's a $45 tee shirt — [probably] not the best strategy #elitist," wrote a downtrodden supporter on Twitter. Another tweeted: "$45 for a shirt, clearly she's the candidate of the people!"
Still, the designer tees did have a few fans. "The new @HillaryClinton "Made for History" shirts are giving me LIFE," a fan tweeted. Even Vogue editor Anna Wintour, who can probably easily afford the shirts,  showed her support:
Anna Wintour in a sequin Hillary 2016 tee at @Marcjacobs #NYFW pic.twitter.com/Q2Ag6j46al

— Vanessa Friedman (@VVFriedman) February 18, 2016
https://digiday.com/?p=162820