Agencies need to do more with less. One way: rely on freelancers.
There are a lot of upsides to this approach — flexibility depending on how the new-business pipeline looks, and the option of highly specialized talent right when you need it, for example — but new data suggests that agencies should think twice before bringing on too much temp talent. Freelancers, in short, are often a pricey, short-term fix.
A case study by agency consultancy AgencyAgile for Digiday looked at 100 projects at a "fast-growing" digital agency over a two-year period. The projects reflected $7.5 million in billings for the agency. Each was at least 100 hours long. The study found that projects using contractors took longer to complete and had a 20 percent lower ROI than projects using agency staff.
The eight largest projects by revenue for this agency used contractors. The average "realized rate" (total dollars received by the agency divided by hours expended) was just $73.20 per hour. Overall, the average realized rate for contract projects was $82 an hour. The average realized rate for projects not using contractors, on the other hand, is $92 per hour. Another finding: Contractors are on average paid about $83 an hour — and that doesn't include the cost of finding them.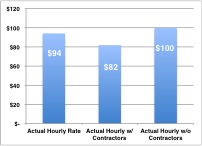 Pete Imwalle, COO at RPA, said he has reservations about bringing on freelance for exactly this reason, but unfortunately, sometimes, there's no way around it. "We hate using freelancers, but the reality is you end up having to," he said.
Firstborn, on the other hand, is one of those shops that doesn't tend to use a ton of freelancer talent, according to president Dan LaCivita. "If you get a big project needing 15 people and you only have three and you freelance the other 12, is your agency even really working on it?" he asked. Quality control and cost are two of the biggest concerns when bringing on freelance talent.
AgencyAgile found that the well-calculated estimation of scope of work — the calculations agencies do before starting any project to figure out budget, staffing requirements and technical resources necessary —  is one way to mitigate increased costs associated with sub-contracting. However, agencies tend to underestimate scope by anywhere between 25 and 35 percent. One reason is that during the pitch process, procurement forces agencies down to the lowest common denominator, meaning they often agree to work with fewer people than they will actually need.
Moreover, agencies rarely go back and do detailed project analysis that crunches the numbers on how well contractors performed after the fact, said Jack Skeels, founder of AgencyAgile. The irony, of course, is that an over-reliance on freelancers doesn't exactly free up the existing agency staff, who routinely will have to spend extra time getting a project done — about 10 hours extra in a 50-hour workweek. As previously reported by Digiday, there is an overwhelming feeling of a general "lack of control" within agencies, one exacerbated by uncertain work hours.
The biggest danger of inefficiencies, other than how much they hurt the agency industry's bottom line, is the existing temptation for agencies to pass off increased costs onto clients, or production partners. "It's dangerous and unethical to push the inefficiencies back onto the clients, but it does happen," said LaCivita. "If an agency is so reliant on contractors it is forced to find another way to make up that money."
Story image via Shutterstock