Great Scott! Doc Brown is on Facebook Messenger to talk about the future
October 21, 2015 • 3 min read
•
•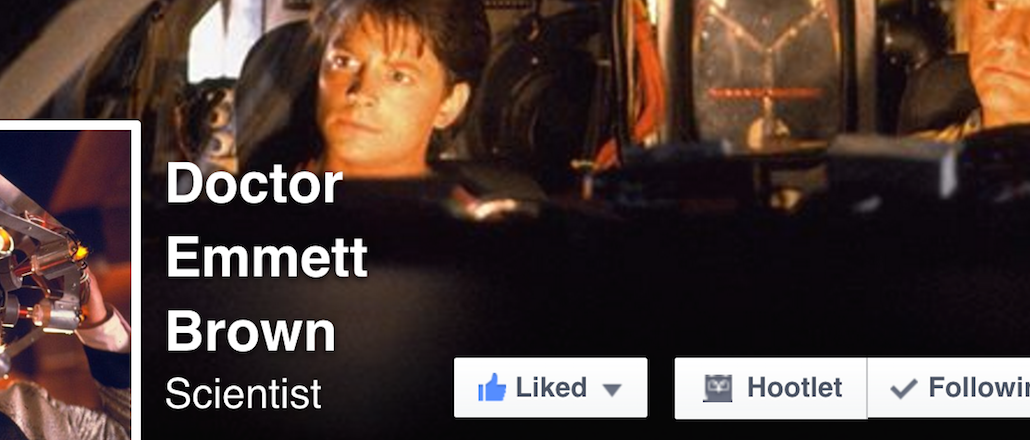 Doc Brown, the crazy, wild-eyed old scientist from the "Back to the Future" trilogy, has discovered Facebook Messenger technology.
The character has been turned into a chat experience for the platform in honor of the day the 1980's film franchise was set in the future: Oct. 21, 2015.
The studio behind the films, Universal, has been on promotional overdrive for this date, with social campaigns on Facebook, Twitter, Tumblr and Instagram. The studio also said it is working closely with brands from the movies like Calvin Klein and Pepsi.
On Facebook, Universal will stick emojis of DeLoreans and Hoverboards on posts from people discussing the movies. DeLorean, of course, is the time machine car from the movie and hoverboards are the Mattel-imagined levitating skateboards.
"Facebook has made custom emojis for us when people mention any of the Back to the Future movies," Eric Brodsky, vp of digital marketing at Universal Studios Home Entertainment, said in an e-mail.
The studio will get 100 percent reach to the movie's Facebook fans with a message notifying all 7.5 million of them that it is "Back to the Future" Day, Brodsky said.
Perhaps the most futuristic promotion will be this chat technology available through Facebook Messenger.
Messaging has been a tough medium to crack for brands even though it is one of the most important daily activities for mobile consumers. Just last week, comScore said Facebook Messenger has 104 million monthly U.S. users.
Facebook has been developing the app alongside WhatsApp, which it also owns, to facilitate more publishing potential, brand interactions and sales capabilities.
Promoted messaging and chat bots are finding their way to other popular messaging apps, as well. Kik also has run texting simulations featuring movie characters.
The "Back to the Future" chat, created by the startup Imperson, will be sponsored through posts on Facebook, and users will be able to do a quick messaging exchange with a simulated Doc Brown.
The story that drives the messaging: Doc Brown comes to Oct. 21, 2015, but discovers that it is not like it was when he visited in the movie — no flying cars.
"He just arrived in the future and wants to share his concern. He's a bit confused," said Eyal Pfeifel, CTO of Imperson, describing the scenario in the chat.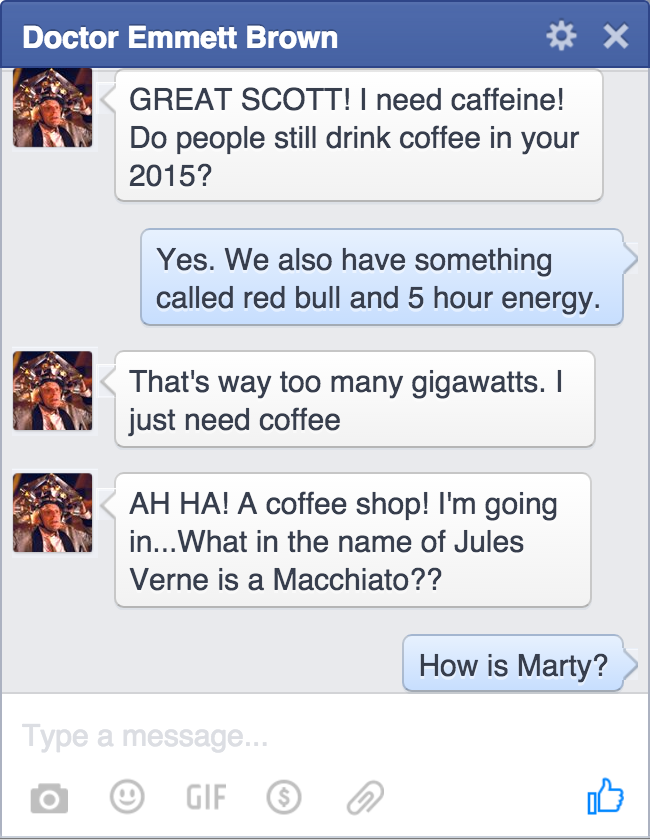 Ever since the trilogy's second installment went to the future, fans have been wondering what technology it would predict correctly. The movie nailed virtual reality goggles and the love of 3D movies. It could still get the Cubs winning the World Series right. It had a very Donald Trump-like villain.
But fans will get to discuss why the future is different with this version of Doc Brown, which was created with the help of Bob Gale, the writer of original movie.
Gale helped "find Doc's voice," Brodsky said.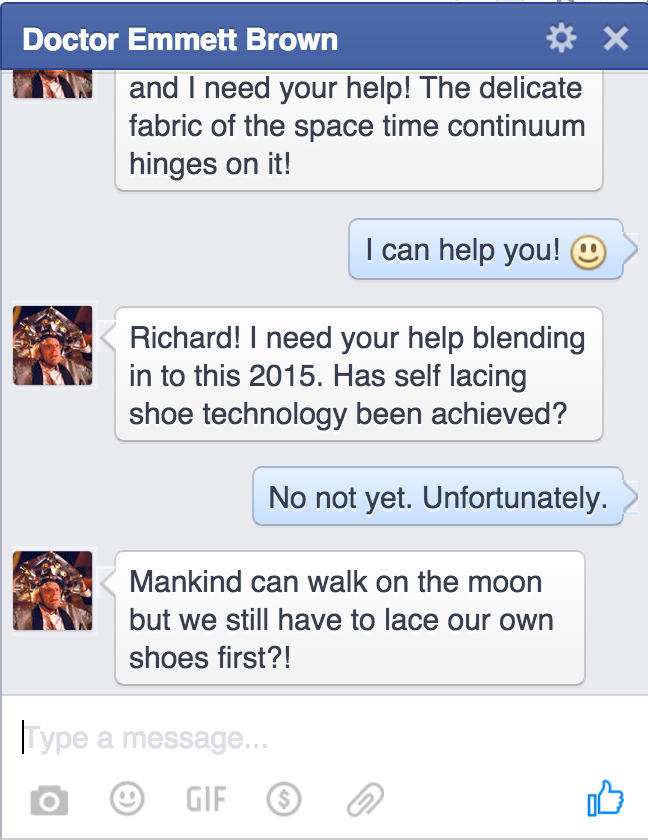 Also, just like the movie, there will be some product placement in the messaging.
"That's the most effective form of advertising and promotion," Pfeifel said. "The user wants to speak with Doc Brown and hear what Doc Brown has to say."
The character will mention Pepsi, which earlier this month even released special edition bottles that look like the futuristic ones from the movie.
Imperson built a similar chat campaign for Universal Studio's scary movie "Unfriended" earlier this year. That one, almost exclusively for teens, got 50,000 people to message with the main haunted character.
On average, users kept with the experience for more than 30 hours, with back-and-forth texting that was spread out over time, Pfeifel said.
Doc Brown is meant to be a much quicker exchange, about 10 minutes, and has to appeal to an older audience of fans raised on the films 30 years ago, Pfeifel said.
The chat launched in limited availability earlier this week, and it will get some promotional help from Universal on Facebook proper.
Pfeifel said Imperson could build chats for any platform, like Twitter, Snapchat or Line, but Facebook is a natural fit because of its built-in audience and easy sharing.
"Facebook has additional value allowing this to be shared virally," Pfeifel said.
Miss Piggy, from Disney's "The Muppets," will be the next character they turn into a chat, Pfeifel said.
https://digiday.com/?p=141840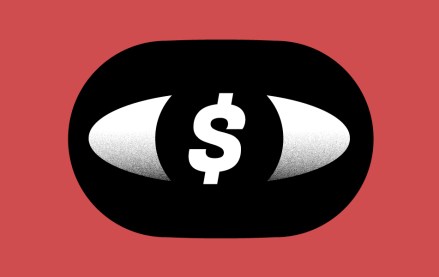 December 5, 2023 • 3 min read
The latest edition of the ANA's programmatic transparency report claims $22 billion can be saved by drastically cutting the ad tech bloat.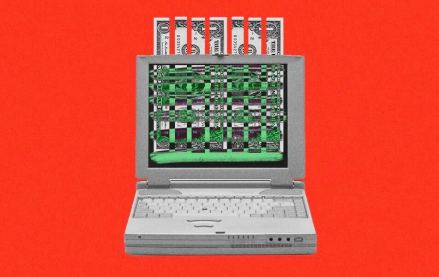 December 5, 2023 • 5 min read
Agency clients still see programmatic as an important part of their marketing budgets. But, overall, the uncertainty around programmatic could be causing them to lose confidence in online display ads as a marketing channel, and, as a result, agency clients are investing less in online display.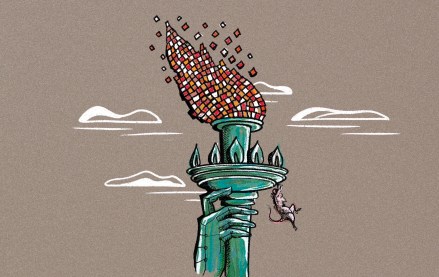 December 5, 2023 • 3 min read
There's a global AI race and different regulations in different countries might be slowing down – or speeding up – innovation. Here is a breakout of how regulations are being shaped on both sides of the Atlantic.