Mark your calendars. It's looking like Monday, January 20, will be a good day after all.
A crowdfunded campaign known as the 'Good Day Blimp' is petitioning Goodyear to fly its iconic blimp with the words "ICE CUBE'S A PIMP" running along its side. The phrase, of course, is a famous line from Ice Cube's classic 1992 song, "It Was A Good Day":
Even saw the lights of the Goodyear Blimp
And it read "Ice Cube's a Pimp"
The song's agreeable narrative takes place on January 20 — and also happens fall on Martin Luther King, Jr. Day this year. More importantly, the campaign is generating donations for the charity A Place Called Home, a non-profit youth center in South Central LA, where Ice Cube first gained fame as a member of the groundbreaking rap outfit NWA.
Goodyear, which initially demurred from making a categorical response, has proposed a counter-offer.
The blimp will not run the lines, "ICE CUBE'S A PIMP" across its aerial marquee, but it has come up with an alternative: "It's A Good Day" — which is still a win for the brand, the charity and for Ice Cube himself.
Goodyear also has some fun in store for the youth of A Place Called Home.
"We're going to have the children from the charity ride in the blimp," said Paul Fitzhenry, Goodyear's svp of global communications. "It was a unique offer and it caught our attention, and we decided to take Ice Cube up on his offer."
Below is the letter from Goodyear: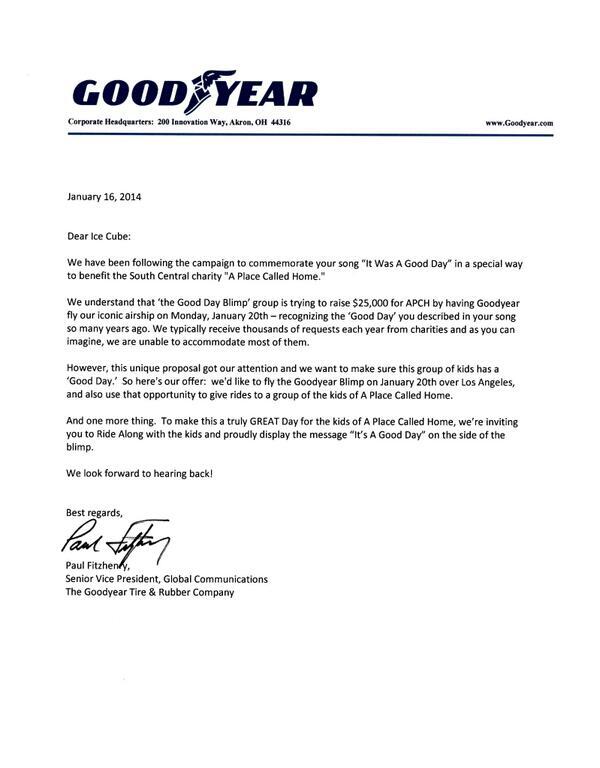 Goodyear also tweeted it out earlier this morning: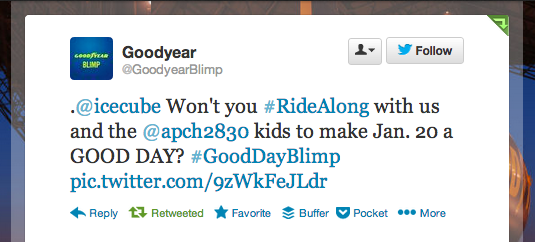 If you're in Los Angeles on January 20, be sure to leave your AK-47 at home, look up and smile.
https://digiday.com/?p=61353