Get your fake Yeezys: Counterfeit ads are all over Instagram
July 12, 2017 • 4 min read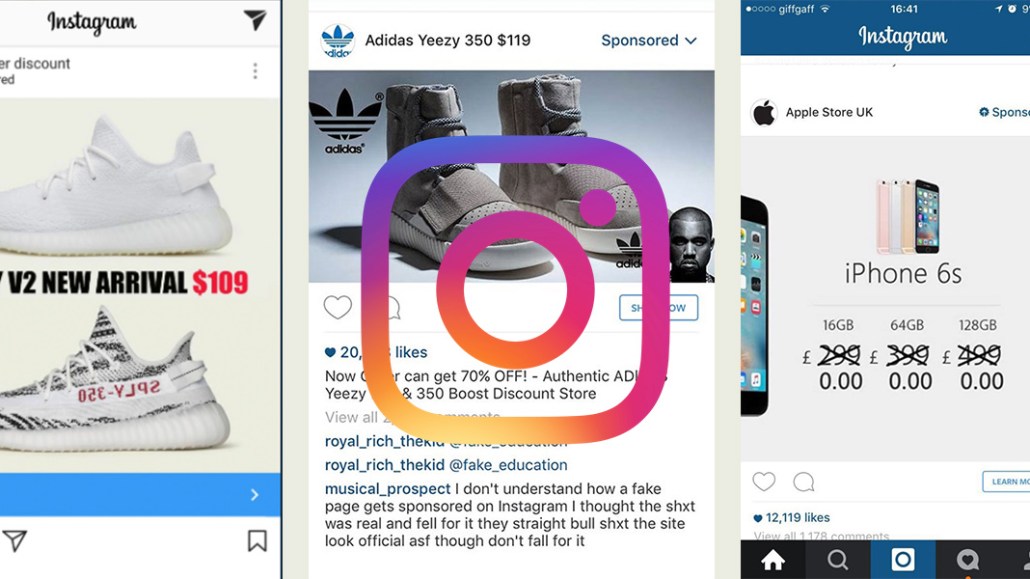 Long gone are the days when Instagram co-founder Kevin Systrom vetted every ad on the platform. Now, ads for fake shoes, clothes, electronics and even real estate are proliferating on Instagram.
What makes these ads even more egregious is that some of them, like one claiming to sell Adidas' Yeezy sneakers for $109, feature doctored brand logos, which raises concerns about reputation both for the brands and Instagram.
For example, this ad, a sponsored post by "Summer discount" with a "Shop Now" link, features the Adidas logo as its profile image.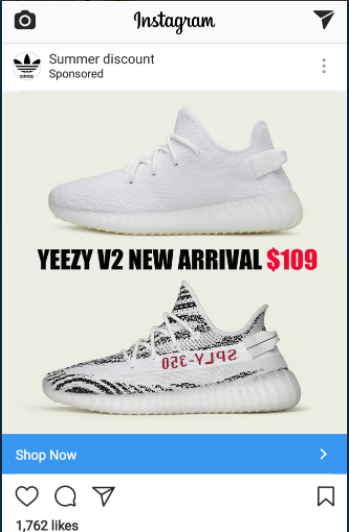 Blake Ricciardi, founder and CEO of streetwear retailer Popular Demand and a brand consultant, said he's seen a number of these types of ads.
"I'm in the industry and knowledgeable enough to know that these are bootleg sneakers, but unfortunately, most consumers won't be able to tell the difference," he said. "Most consumers will assume this advertising is legitimate because it's on Instagram, in your feed and has an Adidas logo. This is very harmful to the Adidas brand."
Another ad, spotted by Engadget, also featured the Adidas logo and claims to sell Yeezy Boost 750s and 350s for "70 percent off."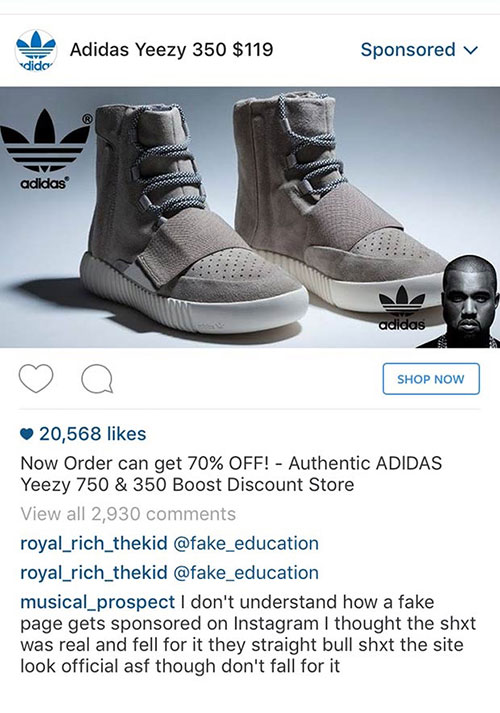 These ads typically lead to sites like ShoesoffSale.US or classicboost.com, which sell fake shoes and are usually flagged as being unsafe.
An ad from earlier in the year that appeared in the U.K. had a similar M.O.: An account named Apple Store UK ran a sweepstakes to win an iPhone. The ad got attention from ISBA, the trade body in the U.K. representing advertisers; it was eventually pulled.
Instagram pitches a brand-safe environment as a high-end, visual platform that boasts beautiful photos and visuals. Displaying criminal ads runs counter to that. A raft of straight direct-response ads from brands in the dating app, virtual gambling and game promotion world hit the platform right after it opened its application programming interface.
Instagram ads, both on Stories and in the feed, are bought via the company's self-serve function. The scale advantages of automation are clear — Instagram boasts over 1 million advertisers — but the downsides in loss of control are just as apparent.
"This isn't the first time I've seen that," said Chris Harihar, director at Crenshaw Communications and a self-professed sneakerhead who said he gets targeted with ads like this all the time. "The branding of the ad itself is disingenuous — you know Yeezys aren't sold for that price. It feels like a violation."
Julie Zerbo, a lawyer and the founder of The Fashion Law, wrote about the issue of counterfeits sold on platforms in a post on her site. She said that according to federal law, website operators like Instagram that do post counterfeit items can be liable, but providers that take steps to remove copyright infringements are protected, even if that happens on an ad hoc basis.
"We do not allow counterfeit goods to be sold on Instagram. When we catch this type of activity, we move quickly to stop it and remove the violating account," an Instagram spokesperson said. Instagram reviews millions of ads per week, but it is a game of whack-a-mole and difficult to police.
Having retailers sell directly on the platform is important for Instagram. With 700 million monthly users, the platform's magazine-style layout makes it a natural for retail as long as it's done right and not too overtly. The issue of counterfeit is a big one, particularly in the sneaker world, where coveted lines are common and counterfeit products are everywhere. Nike, which two weeks ago said it would sell directly on Amazon in an effort to grow sales and remove counterfeit Nike items from the retail giant's site, also now plans to sell directly on Instagram.
Bad ads appear on Facebook, Twitter and most other platforms. Even on Snapchat, the opening of self-serve led to a rash of new advertisers that couldn't be properly vetted, resulting in in-Story ads from companies like LowerMyBills.com.
"Instagram is essentially validating [the ads] by featuring [them] in consumers' feeds," said Ricciardi. "Just like Facebook has to get a better handle on fake news, Instagram needs to get a better handle on advertisement of fake products."
https://digiday.com/?p=245295
September 27, 2023 • 10 min read
Digiday+ Research assesses how brands and influencers are using Shorts to reach new audiences and what types of Shorts videos create the most buzz for marketers.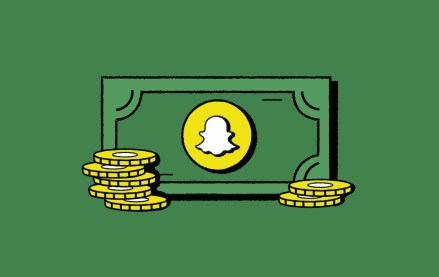 September 27, 2023 • 4 min read
Yesterday, Snapchat marked its return to in-person agency roadshows, sending company representatives to Horizon Media's Manhattan office to showcase a Snap-designed video game intended to capture the essence of what it's like to work at an agency — and how Snapchat can be part of the process.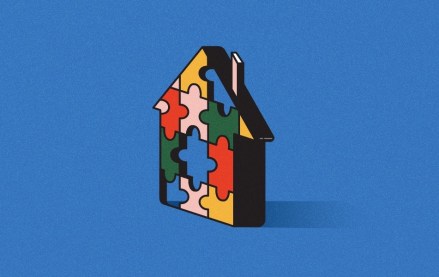 September 27, 2023 • 5 min read
As in-housing settles in as a mainstay, some marketers push for complete control.