There are any number of pessimists when it comes to the future of advertising and creativity. It can seem like the robots are taking over sometimes.
Alas, all hope is not lost. Look no further than a spate of student projects over the past month that are showing the way forward for digitally native creativity, using technology as an enabler rather than as an interruptor. These projects aren't ads, but that's sort of the point. Here are five recent projects we were particularly impressed with.
Cue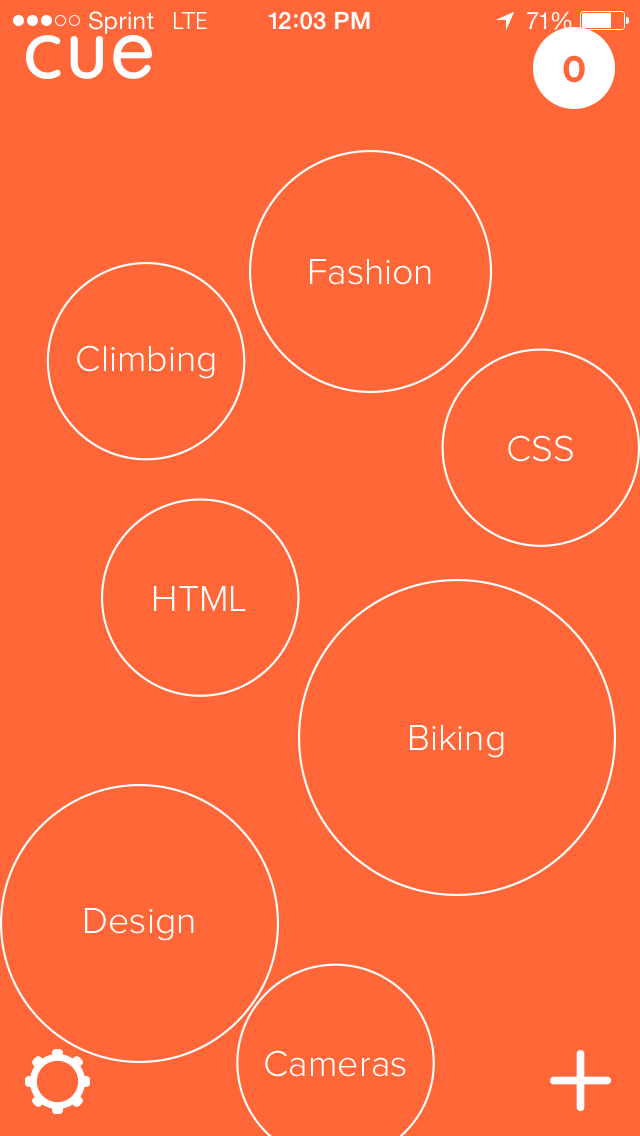 Started by four graduates of University of Colorado, Cue is an app that connects locals who share interests. If it sounds like a marriage between Tinder and Pinterest, that's exactly how it functions too. Optimizing a relatively new version of Bluetooth, it allows users to match with others close by who have with similar interests by using tags or typing their own tags. The beta version, which Digiday checked out, is sleek. "People want to be able to have a certain amount of control and a certain amount of anonymity but also be able to be spontaneous. Cue lets them do that," said Adam Noffisnger, one of the co-founders. He sees it being especially useful for meet-up groups and college freshmen. The app is expected to be launched late fall.
Passion for Power
Adam Radi and Mathias Trads of the School of Communication Art 2.0 in London developed this project, which was one of the winners of the AKQA Future Lions prize in Cannes last month. They envisioned using the stomping feet of soccer fans to generate power for favelas in Rio de Janeiro, by using vibrational energy sheets on stadium floors during the World Cup. "I think what made the judges choose ours as a winner is because it's not interruptive in any way," said Radi. "To engage with the idea, people just had to continue having fun watching football" and contribute to a good cause in the process. Radi and Trads plan to pitch it to several kinetic energy companies. 
Donate By Update
Yet another Future Lions winner, this project was created by Tim Blaney Davidson and Bastian Lievers from the Willem de Kooning Academy in the Netherlands, with Bono's charity (Red) specifically in mind. The charity has partnerships with several brands that donate a part of their earnings toward fighting AIDS in Africa, including Apple. But Davidson and Lievers are trying to make consumers'  lives easier. Instead of users having to buy new Apple products, the way the app works is rather ingenious: All they propose the users do is simply update Apple's operating system on their smartphones on World AIDS Day in December. Donate by Update is "powerful because it's such a simple and smart idea that can reach millions with a tiny update," said Davidson, who along with his partner is currently in talks with (Red) to actually push through the idea with Apple.
Only For Mark
Did you know the Facebook logo is blue because Mark Zuckerburg cannot see red or green? This simple fact led to this project by a group of 20 students of Buenos Aires's Underground Ad School, who built an entire website for the colorblind, just to get the Facebook founder's attention. Only people with Zuckerberg's particular strain of colorblindness can decipher the images on the screen. The point, according to the team, is to innovatively showcase what they'd learned at school with the hope that, eventually, they'd get the chance to meet — and learn from — Zuckerburg himself.
Heart Me

Our last pick, also a Cannes Future Lions winner, is this project by Anne Walde and Nicole Schurz of the Miami Ad School of Europe, that sought to help the 1 million kids around the world with heart abnormalities. They came up with "Heart Me," wearable technology in the form of an "undershirt" that serves as a mobile electrocardiogram. Nanofibers in the shirt around the heart measure the electrical signals and send regular updates. "Childhood is precious," Schurz told Digiday. "Children are supposed to play with other children their age and live as normal as possible." Who doesn't love a little project with lot of heart?
https://digiday.com/?p=80409