5 Best Advertising Week Tweets From Day Two
Our coverage of Advertising Week is brought to you by Dstillery, the former Media6Degrees. Dstillery is at the forefront of advertising technology, pioneering new ways to create brand value for marketers by extracting signals from the complete customer journey and activating them across all screens.
---
Congrats. You've now made it through two days of Advertising Week. Stay strong. Here are some of our favorite tweets from Tuesday's participants and players. No inspirational panel quotes allowed.
On AWX tweeting:
Carlos Riveroll, @CarlosRiveroll
What the hell is up w/ people who NEVER tweet anything and then they go batshit nuts during AWX or SXSW tweeting conference buzz quotes.

— Carlos Riveroll (@CarlosRiveroll) September 24, 2013
On Kardashian mère at AWX:
Gabriel, @capri_rl
Really? Kris Jenner at #AWX? A whole hour for her? No. Nope. No.

— gabriel (@capi_rl) September 24, 2013
On one perk of leaving agency world:
Nathan Manou, @nathanmanou
The joys of not working for an ad agency anymore means no #advertisingweek

— Nathan Manou (@nathmanou) September 24, 2013
On that perennial AWX hot topic, millennials:
Faith Latiffya, @FLutfiyya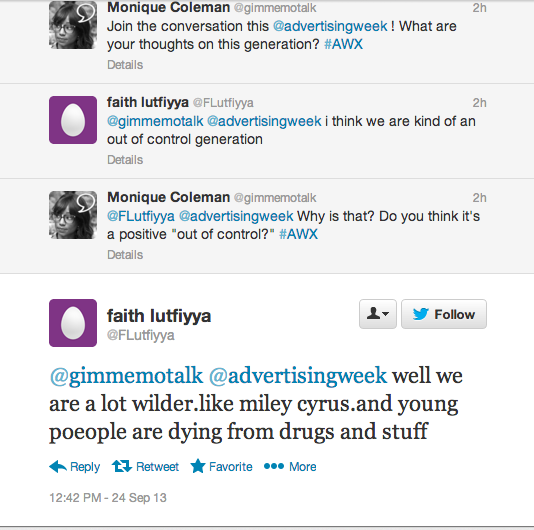 On AWX chatter:
Robbie Whiting, @robbiew
echo chamber echo chamber advertising week make it stop

— Robbie Whiting (@robbiew) September 24, 2013
*BONUS
On the Iranian president's favorite online publication, maybe:
Fake Jeff Jarvis, @ProfJeffJarvis
"I love Gawker" — Hassad Rouhani #AdvertisingWeek

— FakeJeffJarvis (@ProfJeffJarvis) September 24, 2013
https://digiday.com/?p=50480