Dove finds the perils of influencer marketing
June 15, 2017 • 2 min read
• By
Digiday
An MTV-host-turned agency owner, Coltrane Curtis built Team Epiphany by creating promotional content with social stars for brands. But Curtis — who has over 24,000 followers on Instagram — has no interest in becoming an influencer and running endorsement deals himself, especially when a request comes from one of his competitors.
Curtis often posts pictures of his 5-year-old son, Ellington, on Instagram with the hashtag #thelayup. On Monday, Curtis noticed a comment from VaynerMedia on one of his #thelayup posts, asking if he would be interested in a Father's Day promotion for Dove Men+Care. Curtis said VaynerMedia has sent him multiple requests with the same copy in the past week. The only difference: This most recent message is labeled "Time Sensitive" at the end.
"[VaynerMedia] sent me the same influencer request three days in a row across multiple posts featuring my son. It is a troll," said Curtis. "I work for brands and work my butt off to make money to support my son. I really don't like the connotation that the relationship with my son was for sale."
Bombarded with recruiting comments from VaynerMedia, Curtis took a screenshot of his reply to the agency and posted it to his Instagram account on Tuesday.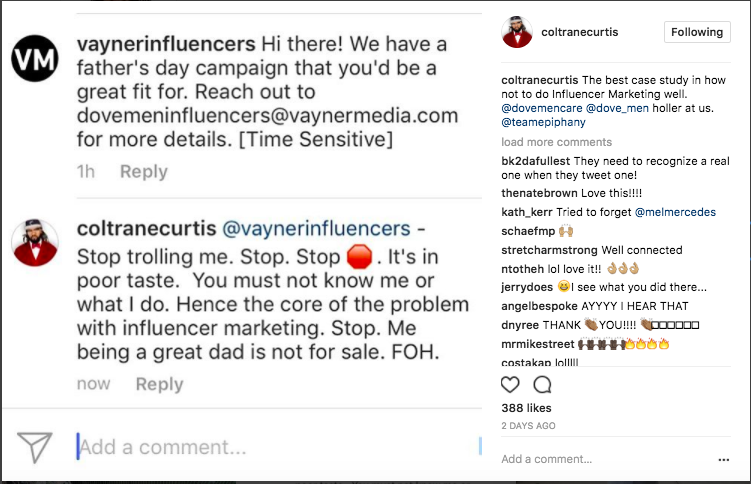 "The first copy [of my reply] was way more colorful than this. This is the edited, edited and edited version of what I wanted to say," said Curtis. "I run an influencer marketing agency, so I'd probably be the last person you want to reach out to for endorsing a brand. And the reality is, I love men skin care products, but I use very high-end men skin care products."
VaynerMedia didn't reply to an email seeking comment.
Curtis thinks the core problem with influencer marketing is the pay-to-play model where the brand-influencer relationship is transactional. Of course, social stars get paid in some form to promote a product or service, but there are two ways to look at this compensated relationship: Brands can either pay social stars to co-create something that influencers choose to amplify because they have the skin in the game, or brands can pay social stars as amplifiers of messaging regardless of whether they are the right people to do this or not. The former is the right way to go, he said.
"Influencers are real people, but many look at them as media outlets," Curtis said. "They are bigger than their followers."