Dolce & Gabbana tried selling a $2,400 'slave' sandal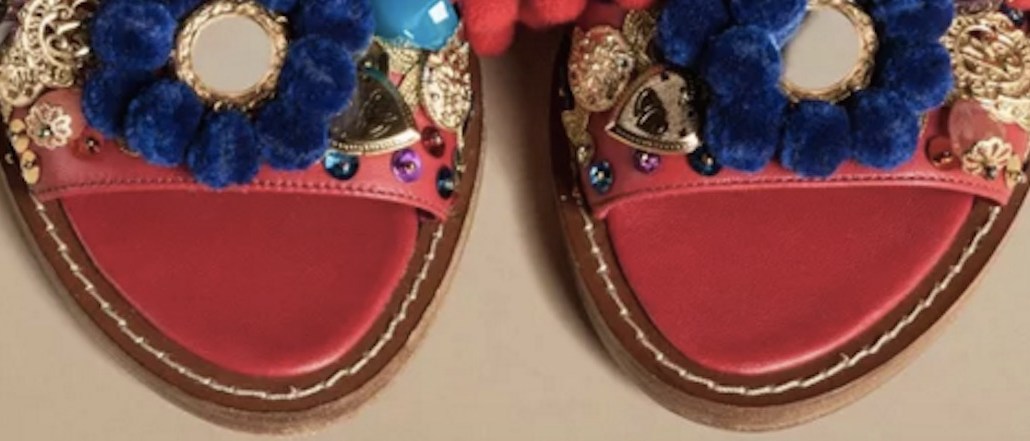 Dolce & Gabbana is just now learning that slavery is bad.
The realization was triggered by a gladiator-like sandal it was selling online called the "Slave Sandal in Napa Leather with PomPoms" — for $2,400.
Technically, as Footwear News points out, the word slave is an actual shoe term: It is, apparently, a "description for a particular lace-up shoe silhouette." But the term has fallen out of favor, taking a back seat to the phrase "gladiator sandals" for glaringly obvious reasons. Also, it only takes an ounce of common sense to know avoiding the word is smart marketing.
The listing, which has been edited, still lives on in screenshots:
Other brands, including Saks and Moda Operandi, have smartly left out the word "slave" from their descriptions although the term appears in Lyst's URL, Racked points out.
Not surprisingly, people on Twitter were mortified. "I'm sorry, but WTF is wrong with people?!," one person tweeted. Another added: "Okay but how did D&G think it was okay to name some sandals 'slave sandal' wow."
Italian Vogue could have warned them against the moniker: In 2011 the publisher was heavily lashed online for featuring "slave earrings" on its website before apologizing. But then again, Dolce & Gabbana has a habit of courting controversy: Last year Domenico Dolce and Stefano Gabbana publicly criticized in vitro fertilization.
The designer hasn't responded for comment. Upon further inspection, perhaps the sandal's design is worth apologizing over too.