Reality check: The proposed Do Not Track legislation won't kill online advertising. It may hamper innovation and cause financial hardship for businesses that thrive on online consumer-data tracking, but it won't kill a $31 billion industry.
Not all see it this way, of course. 33Across CMO Allie Kline recently called on marketers to "fight [the] anti-tracking forces." It's a call to action growing with increasing alarm in the digital media and online publishing industries.
That argument, which my MediaWhiz colleagues and I respect, comes about 10 years too late. Some form of anti-tracking legislation is inevitable given the industry's size and influence. How marketers, publishers and advertisers respond to this legislation will determine whether the industry retains its sizable influence on consumers' purchasing habits.
Despite my above statements, I am against anti-tracking legislation. It will create numerous barriers for advertisers, brands and agencies. The ability to track consumers' online purchasing habits and deliver targeted ads based on data collected is a cornerstone of e-commerce.
DNT legislation will make online ads less relevant, forcing potentially unforeseeable changes — not to mention increased costs — in the digital ecosystem. This will adversely affect consumers' online experiences in ways few proponents are willing to admit. Despite these glaring issues, the enactment of DNT legislation will not destroy online advertising.
While I do not wish to see legislation enacted, I believe it would force marketers to be more creative in their campaigns. It may foster the development of closer connections and opt-ins between brands and consumers. This, in turn, will deliver more detailed customer data and more successful purchase paths. There are just two reasons why DNT won't kill online advertising. The first has to do with the industry's continual innovation. The second requires marketers to take a hard look at their own actions.
Numerous products and services exist that help agencies and advertisers target consumers and collect publicly available data. If DNT legislation is passed — compelling advertisers and publishers to collect consumer information offline — those capabilities will remain.
The current titans of online advertising — Google and Facebook — offer examples of how DNT legislation could imperil future growth and innovation of online advertising but won't dampen the industry's prospects. Google's bread and butter of search and its emerging display network are being augmented by new forms of digital media integration. The search giant's goal of combining publicly available consumer data from its Google Plus social network with users' search terms to deliver more targeted and relevant searches is delivering a richer user experience that benefits consumers. Likewise, Facebook Exchange, the company's nascent ad exchange, thrives on data collected from its 995 million users and is an integral part of its future revenue stream.
These companies have built their businesses and are planning for growth, around the ability to track consumers' online behaviors. It is unlikely they will sit idle while legislators try to rewire online advertising.
If DNT legislation is passed, the focus of online marketing will shift to consumers' direct and personal interactions with brands. It will require a reassessment by brands and publishers of their online marketing efforts, but it won't kill online advertising. New technology will emerge, enabling marketers to better target consumers with or without online tracking capabilities.
Innovations in technology and ad delivery will continue whether DNT legislation is enacted or not. But stronger self-regulation by advertisers and marketers would forestall any long-term threat from DNT to online advertising's future. Organizations like the IAB, Digital Advertising Alliance and the Performance Marketing Association have done an admirable job pushing for stronger industry self-regulation to ward off anti-tracking regulations. These efforts should continue. They require ardent buy-in from advertisers and marketers, not a cry to fight anti-tracking forces. The former ensures continual freedom for growth and innovation in online marketing; the latter is a battle marketers are likely to lose. It is a battle that will damage the industry's credibility with brands and its reputation with consumers.
The argument that DNT will destroy online advertising may generate bold headlines but does little to move the debate over online data tracking forward. If marketers don't want their online ad tracking efforts regulated, they should embrace self-regulation and find creative ways to work with consumers — not against them.
Peter Klein is senior vice president of media services at MediaWhiz, an integrated digital media agency.
https://digiday.com/?p=22868
December 8, 2023 • 3 min read
For Atlas Creative, expanding into Roblox is not solely a play to scale up. The company believes there are concrete benefits that will come with having a hand in multiple metaverse platforms.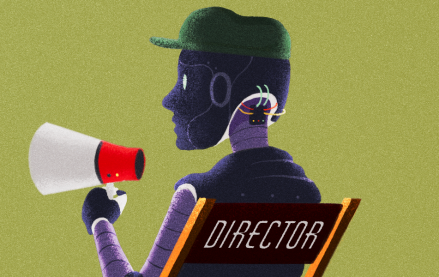 December 8, 2023 • 5 min read
Since ChatGPT became a breakout hit, the names of numerous AI companies and products have entered the cultural vernacular.
December 8, 2023 • 4 min read
Even as linear TV ad spend declines, 23andMe is reinvesting in the channel to boost brand awareness.