The Digiday Vitriol-o-meter: What were we outraged about this week?

Welcome to the second installment of the Digiday Vitriol-o-Meter. The idea is simple: a look back at the week's top media and marketing stories through the lens of how much outrage (warranted or not) they generated.
Here's how to read it: The Y-axis charts the level of outrage in the Internet zeitgeist generated by a given event — from "meh" (the shruggy emoticon at the bottom) all the way up to full blown rage. The X-axis measures how important we feel the topic is, how worthy of our outrage it really is, from "Vapid" to "Valid." (Yes, this is an homage to "New York" magazine's Approval Matrix. Don't get too outraged.)
With that in mind, here is the week in rage that was:
1. Layoffs at "The New Republic"
Media Twitter was aghast that Franklin Foer and Leon Wieseltier (pictured), the top two editors at The New Republic, resigned due to issues with Chris Hughes, the Facebook co-founder who has owned the magazine since 2012. That prompted a horde of New Republic staffers to resign in protest and countless outsiders to bemoan the death of a once-respectable publication. People born after 1985 meanwhile asked "Wait, what's The New Republic?"
It would appear Rolling Stone could use some of those editors now leaving The New Republic. — Neil King (@NKingofDC) December 5, 2014
2. "Star Wars" trailer
No one wants to be on the dark side of Star Wars fandom. But when the teaser trailer for "Star Wars: The Force Awakens" dropped this week, some Star Wars fanboys took a second from wiping the tears from their eyes to push back against the inclusion of British actor John Boyega, who appeared in a stormtrooper uniform. Their question: Why is there a black stormtrooper? Ours: You can't be serious, can you?
I have a feeling the new Star Wars is going to be filled with PC, SJW trash.

— Reactionary Radec (@T_S_Blackwell) November 28, 2014
Others were offended that the film's likely villain wielded a three-pronged lightsaber a la a sword with a hilt, prompting Stephen Colbert to devote an entire segment to refuting their ill-advised outrage.
3. Rolling Stone's questionable sourcing Last month Rolling Stone ran a shocking story about a premeditated gang rape at a University of Virginia fraternity house. The problem: writer Sabrina Rubin Erdely failed to corroborate information given to her by Jackie, the victim of the alleged rape. On Friday the magazine published a note indicating that it no longer stands behind its piece. But the note, written in a passive voice that placed more blame than it accepted, did little to quell anger at the magazine.
Shorter Rolling Stone note: We misreported Jackie's story. We published it without checking it. We blame her for telling it to us. — Philip Gourevitch (@PGourevitch) December 5, 2014
4. Uber Valuation
$40 billion? Billion? WITH A B?!
5. Cops on social media
In a good faith effort to help quell unrest after a Staten Island grand jury saw nothing potentially criminal in Officer Daniel Pantaleo's fatal and illegal choke hold on Eric Garner, the NYPD's chief of community affairs tweeted that the department was aware of the public's frustration. Unfortunately she added the hashtag #wehearyou, which was rapidly hijacked.
The #NYPD is committed to rebuilding public trust. #Wehearyou — Chief Joanne Jaffe (@NYPDCommAffairs) December 3, 2014
Elsewhere on cop social media, the St. Louis County Police Department was forced to apologize for an offensive social media message it sent about Tamir Rice, a 12-year-old boy who was killed by a Cleveland police officer over a fake gun. "Kids will be kids?" the tweet read, linking to more information about Rice, who was shot by a white police officer last month who thought the weapon was real. Rice was black.
6. Stuart Elliott tweet storm Stuart Elliott, the New York Times' longest-serving advertising columnist, announced this week he will be "taking part in the (generous) buyout offer the Times has made to longtime employees." His last day will be Dec. 19. He held the job for more than 23 years, so you can hardly blame him for going on a full-bore social media rampage, retweeting every compliment, salutation and congratulation sent his way the days following the announcement. (And you can hardly blame us for muting him. With respect.)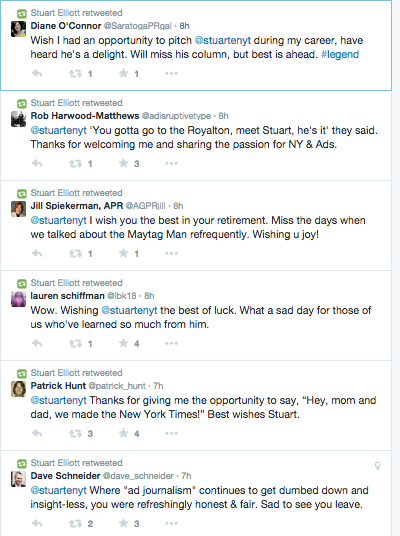 7. People hate-tweeting "Peter Pan Live" Few hate-watchers could resist the pull of Peter Pan Live, NBC's second attempt at live musicals after last year's "The Sound of Music", which many tweeted in real time. The consensus: People loved Christopher Walken, hated the CGI Tinkerbell. Call us out of touch, but we preferred the unabashed sentimentalism of Poynter's Roy Peter Clark. 

Am I only 66-year-old straight man who believes in fairies and clapped my hands loud last night to save Tinkerbell from dying from poison? — Roy Peter Clark (@RoyPeterClark) December 5, 2014
8. Sony gets hacked, maybe by North Korea Allegedly getting hacked by North Korea was the best "The Interview" marketing campaign Sony Pictures Entertainment never asked for. Unknown hackers attacked the company last week, stealing copies of unreleased Sony films, exposing sensitive employee information and even forcing Sony to shut down its internal network. And while North Korea denied the claims that it was responsible, the hack has probably already given Sony executives the plot for The Interview 2. There were admittedly larger social issues making headlines this week, but the security breach kicked up surprisingly little outrage out there.
https://digiday.com/?p=98350