Digiday Research: Retail is feeling the 'Amazon Effect'
August 14, 2017 • 4 min read
•
•
This research is based on unique data collected from our proprietary audience of publisher, agency, brand and tech insiders. It's available to Digiday+ members. More from the series →
Last month, we gathered executives from retailers large and small in Napa, California, for the Digiday Retail Summit, which focused on the changing state of retail.
During the summit, we asked speakers and attendees from retail brands including Tiffany & Co., Macy's and M.Gemi their views on Amazon as a retail partner, a current competitor and a threat to retail's future. The following research is based off a pool of more than 100 respondents.
Frenemy relations
Amazon's growing impact on the industry proved a main theme of the week, coming up repeatedly in speaker sessions, small-group meetings and town hall discussions. On partnering with the juggernaut, many said they've succumbed to an if-you-can't-beat-them-join-them mindset, selling on the site as a means of survival and meeting their shoppers where they are.
For months, Amazon has made a play for fashion shoppers, launching Prime Wardrobe, a try-on-at-home service that resembles Stitch Fix, as well as Echo Look, a voice-activated personal "stylist" that saves #OOTD (outfit of the day) images and serves up style recommendations.
In addition, Amazon has slowly won over brands, including Michael Kors, Calvin Klein and Nike, the latter of which signed on as a wholesale partner to control its image on the site and compete with its unlicensed dealers.
"With brands like Nike now selling on Amazon, it's almost impossible for fashion brands not to cave," one attendee said.
Thirty-eight percent revealed they've signed on with Amazon as a wholesale or marketplace partner. In fact, 10 percent said a majority of their sales are made through Amazon or another third-party e-commerce retailer.
"We call Amazon a 'frenemy,'" a retail executive said. "We sell through our own site and through Amazon, and our customer prefers to shop our products through Amazon. That's their choice, and that's OK."
The exceptions were the luxury retailers, who said they have no plans to work with Amazon, as its price-driven model, "emotionless" user experience and subpar customer service conflict with their objectives. It is also a common belief that selling alongside lower-end brands threatens a luxury brand's cachet. Amazon has been working to woo them by developing private labels with a high-fashion feel and aligning itself with major fashion events, including London Fashion Week.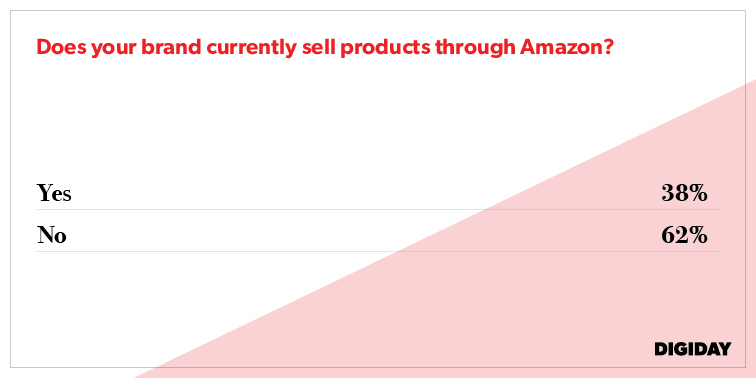 The Amazon Effect, realized
Amazon's prices, selection and speed cannot be ignored. To compete, a majority of retailers said they're rethinking their processes and rewriting their strategies.
Thanks to Amazon Prime, two-day delivery — its slowest shipping option — is now standard. To meet customer expectations, 53 percent of retailers polled said they've picked up the pace by revamping their manufacturing and/or fulfillment processes.
"When I hear 'store of the future,' I think Amazon and retailers that have evolved to be like Amazon," an attendee said. "Customers know they can usually count on Amazon for next-day delivery, and they don't know that about other retailers. They will even pay more for that instant gratification."
In addition, marketers are now spending more time discussing how to keep up with Amazon than how to work with influencers: Forty-three percent called Amazon the biggest influencer on their strategy, versus 27 percent who named influencer marketing. While Amazon is gaining momentum, influencer marketing seems to be losing its luster, as an overwhelming number of brands bring influencers into marketing plans and rates for effective influencers skyrocket.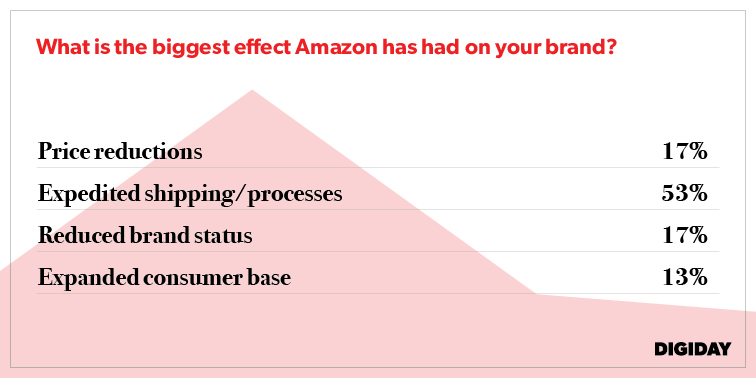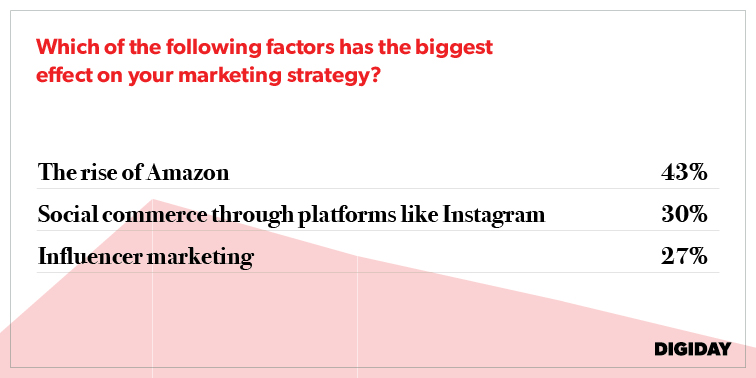 Trust issues
Whether or not Amazon will emerge as a retail monopoly was debated.
Some with firsthand accounts of foul play by the giant expressed their opposition to its expansion: "If you partner with Amazon, they're going to use you to learn everything they can," one founder said. "I did, and they built a private brand much like mine, using the same factory."
Still, at least 74 percent of respondents said they believe Amazon to be at least somewhat trustworthy.
Thoughts on whether its effects on brick-and-mortar retail will prove detrimental were less one-sided: Forty-nine percent claimed they are only somewhat worried or not worried at all, compared to 51 percent who said they're at least somewhat worried.
According to one retail executive, "Amazon only does what it does for Amazon, and that's the problem with Amazon."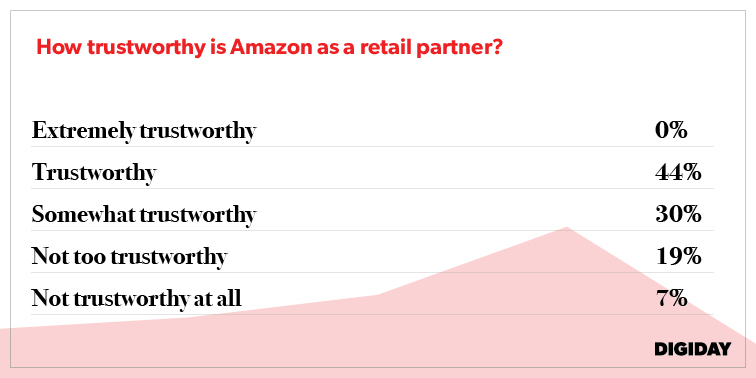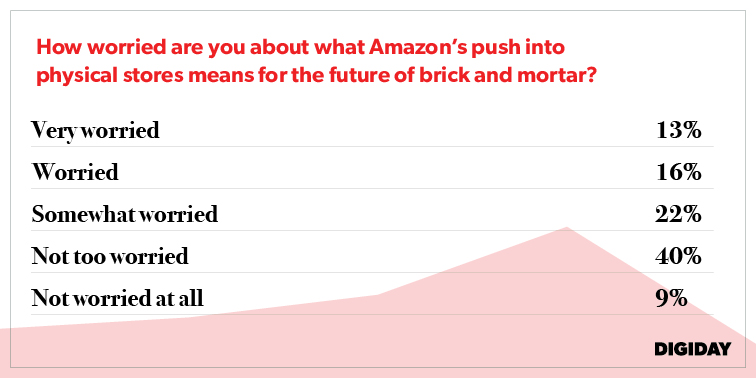 https://digiday.com/?p=249003
October 4, 2023 • 7 min read
•
•
There are still those who believe that AR has a place in the marketing funnel, however big or small right now.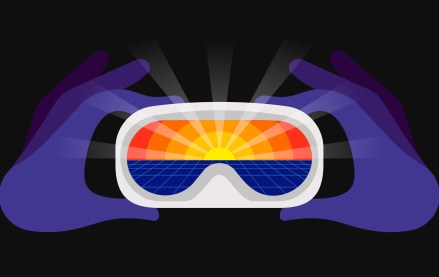 October 4, 2023 • 3 min read
•
•
With Pokémon Go revenues falling year-over-year, Niantic, its developer, is looking beyond its popular augmented reality game to generate profits.
October 3, 2023 • 2 min read
•
•
In episode four of the "Is This The Metaverse?" narrative podcast, Glossy international fashion reporter Zofia Zwiegliska spotlights the brand opportunity when it comes to fashion in the metaverse.