Digiday Research: How companies fund emerging tech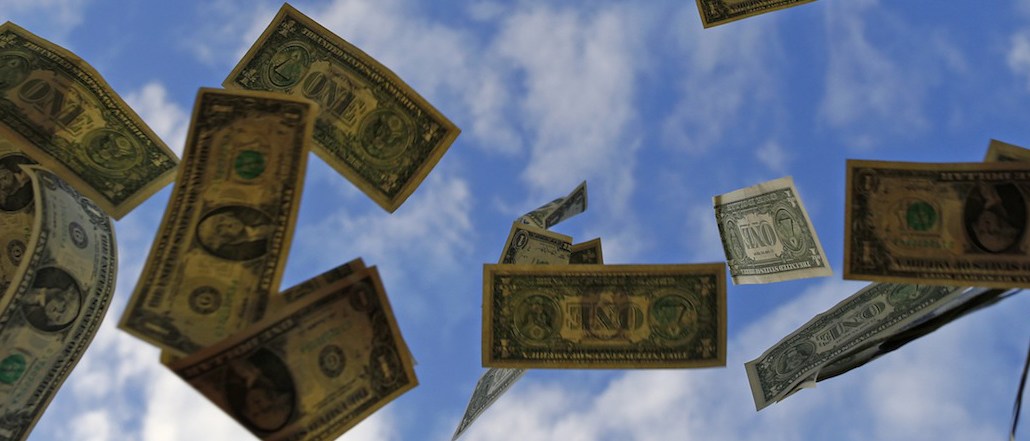 This is the fifth and final part of a research series on a set of emerging technologies in media and marketing. Read our other reports on virtual reality, augmented reality, chatbots and personalization.
When the web changed the game in the mid-'90s, it caught the entire industry by surprise. In many ways, the media landscape is still recovering. With a new set of technologies on the horizon, publishers refuse to be left in the dust again.
"As an industry, we let the internet happen to us and have done basically nothing to help shape the experience," said Marc Lavallee, executive director of The New York Times' Story[X] innovation division. "When you think about the missions of journalistic organizations, that borders on negligence."
But just because something can be done doesn't mean it always should be. Determining which tech innovations to pursue and which to ignore isn't easy, especially amid the deafening industry buzz that accompanies each new launch. So we surveyed 172 publishers and marketers about their innovation budgets and had them compare VR, AR, chatbots and personalization technology across key attributes. Some top-line findings:
The clearest winner across all measured attributes was personalization technology.
The clearest loser: virtual reality.
Forty-four percent of publishers and 38 percent of marketers have budgets dedicated to emerging tech.
Despite this, many can only dedicate less than 5 percent of overall company budgets, though that number is expected to grow.
Marketers pull their resources most often from marketing portions of budgets.
Publishers are more likely to dip into R&D/innovation budgets.
Here's how they stack up:


For both publishers and marketers, the clear winner on all fronts was content personalization. The most familiar of the four technologies (many media and marketing companies are already doing some form of personalization today), its low cost (chatbots were the only technology perceived as less expensive) and high ability to scale are particularly attractive.
On the other hand, VR has the cards stacked against it, even suffering low marks in user engagement, a category in which its immersiveness was expected to give it an advantage.
Interestingly, in the case of both publishers and marketers, ratings for the ability of a technology to scale strongly correlated with the level of user engagement for that technology. If something was viewed as less scalable, it was also seen as less engaging.
An exception: chatbots. While generally viewed as less engaging (due to the stilted conversational potential), they're actually ranked the second most scalable. As more and more personal assistants infiltrate our many devices and the underlying machine learning improves, we can expect its position to appreciate.


Following the money
When industry professionals think innovation, they think Google. Its parent company, Alphabet, allocates about 20 percent of development resources (both time and money) to researching and deploying new technologies. Most media and marketing companies don't have that luxury.
About 44 percent of publishers and 38 percent of marketers have specific budgets for innovation and research and development involving emerging media technologies.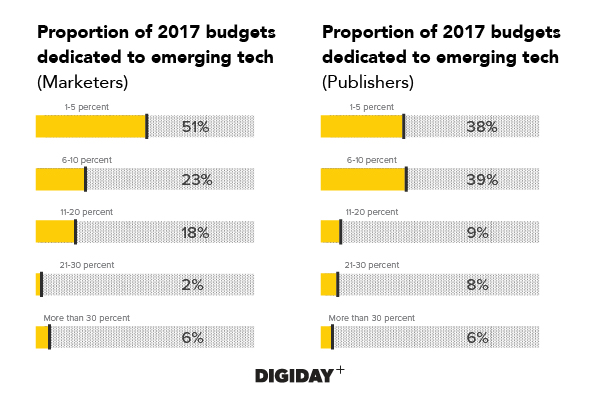 However, these budgets are fairly modest: 50 percent of marketers and 38 percent of media companies are only able to dedicate less than 5 percent of their company's overall budget to keeping things on the cutting edge.
"You have to be prudent in the types of risks you take," said Michael Lebowitz, CEO of Big Spaceship. "We're building credibility and making sure that we're not perceived as boosting a technology because it's going to be fun for us. Would we love to do another VR project? Sure, but we couldn't in good conscience recommend it for most of our clients."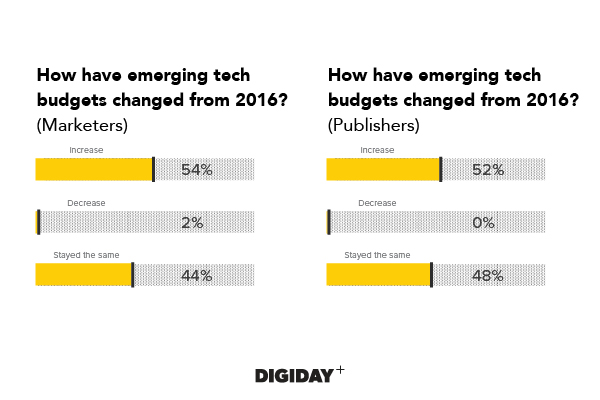 Despite the air of caution, these innovation/R&D budgets are an increase from similar 2016 budgets for 54 percent of brands and 52 percent of publishers, likely due to a rise in high-profile emerging tech.
Of course, R&D departments aren't the only places media and marketing companies are trying new things. For marketers, most of the emerging technologies considered in this report come most often from marketing budgets: content personalization (42 percent), chatbots (21 percent) and augmented reality (16 percent); virtual reality is most often financed through a production budget.
This reliance on marketing budgets may be linked to the rise of the chief marketing officer in most brand organizations.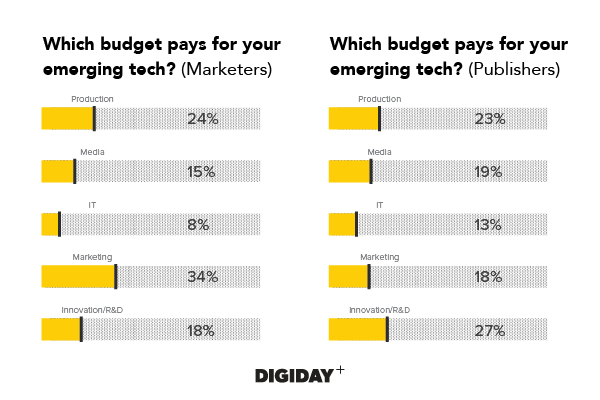 According to the 2016-17 Gartner CMO Spend Survey, CMO technology spending is on track to exceed chief information officers' technology spending this year. And more and more often, marketing departments are incorporating functions like sales, IT, innovation and customer experience. It makes sense: These flashy technologies can be used to get attention, both from consumers and the press, resulting in a surplus of earned media.
Publishers, however, are much more likely to dip into R&D and innovation budgets for most emerging technologies than any other budget, though 21 percent pay for content personalization through either a marketing or production budget.
But publishers have another option: sponsorship. To bring a big idea to life, they can often find a partner with aligned interests capable of bankrolling production.
"We have an interest in advancing 360 video, and Samsung has the ability and interest in that as well," said Lavallee. "And in that case, it's really easy for them to give us a couple of hundred 360 cameras that we can send around the world to folks on the ground. So, that provides access to things that would otherwise be completely out of reach or just [acts as] an accelerator, probably somewhere in between those or both."
https://digiday.com/?p=252494