Digiday Research: Cannes Lions attendees still find value on the Croissette
June 18, 2019 • 3 min read
• By
Digiday
Sign up for the Cannes Briefing for daily updates on what Digiday is doing this year at Cannes delivered every morning.
Cannes is now awash with thousands of marketing and media executives attending "most creative week of the year" at the Cannes Lions festival.
But at a time when agencies, marketers, publishers, platforms and vendors alike are facing a growing list of challenges across their businesses — including brand-safety scandals, persistent transparency concerns and growing calls to greater protect consumers' privacy — some in the industry are starting to question whether such an industry celebration is appropriate.
Others argue the festival has deviated too far from its roots as a "festival of creativity" as technology companies, vendors and consultancies continue to grow their presence there and to further dilute the presence of the agency creatives the festival was originally intended to celebrate.
After agencies and vendors sent smaller delegates to Cannes last year, Digiday surveyed 218 Cannes attendees in May to gauge their attitudes to the festival as it stands.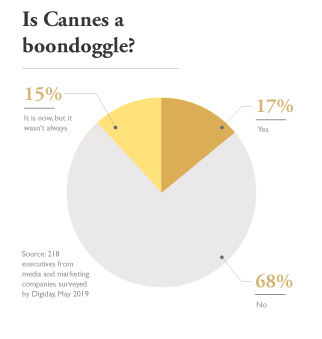 Despite suggestions the festival has descended into a "boondoggle" in recent years, roughly 70% of previous and current attendees maintained that the festival holds legitimate business value. Fifteen percent said the festival used to hold more value than it does today.
Most respondents acknowledged the changing nature of the festival, however. When asked whether Cannes Lions is still about celebrating creative work in advertising, only 48% said yes. In fact, 44% said that while Cannes Lions used to promote creativity, that's no longer its main draw.
Instead of recognizing and attempting to inspire creative work, Cannes Lions has morphed instead into a critical opportunity for business development. Attendees were asked to rate how important certain components of Cannes Lions were to them, and meetings with old, existing, and potential clients was respondents' biggest priorities.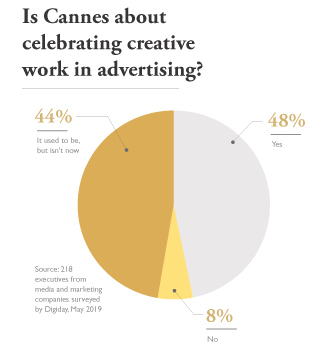 With the festival itself no longer central to most attendees' experience in Cannes it's no surprise that half of those going opt not to purchase conference passes. Eleven percent of respondents said that they used to buy conference passes but have since stopped doing so and continue to attend anyway. And of those that are purchasing tickets, the vast majority indicated that they only do so because it's their employer footing the bill.
Digiday's respondents were also asked if they attended Mobile World Congress, Dmexco and SXSW, and if so, what were the two main reasons why the went.
For every conference, meetings and sales/deals occupied the top two reasons why people went. Only at SWSW did the parties matter to some people. A full 36% of people going to SXSW say the parties were a top reason why. Multiples higher than the other two conferences.
https://digiday.com/?p=336398