'The cultural Super Bowl': How ComplexCon tapped into the allure of streetwear culture
November 9, 2018 • 9 min read
•
•
The doors to this year's ComplexCon opened at 11 a.m. on Nov. 3, and within two hours, one of the hundreds of brands selling merchandise in the Long Beach Convention Center had to close its booth.
More than 100 attendees at media company Complex's annual Comic-Con for streetwear aficionados had gathered around Atmos's booth to get their hands on the limited-edition sneakers made with brands like Nike, Timberland and Asics that the boutique sneaker brand was releasing throughout the two-day event. By 12:40, several Atmos employees stood above the rest and shouted that the booth was closed and would reopen at 2 p.m., leaving many hopefuls empty-handed. By 5:45 p.m., Atmos had closed its booth early again.
"It got too crazy. The walls were about to fall down. We couldn't sell the shoes," said one of the people working the booth.
'The cultural Super Bowl'
It was typical of ComplexCon, throngs of sneakerheads clamoring for exclusive product they could show off to their friends or resell online, and a distilled version of the scenes at malls around the country where people line up at 6 a.m. on a Saturday to be one of the first to cop the limited-edition merchandise being dropped by Nike or Adidas.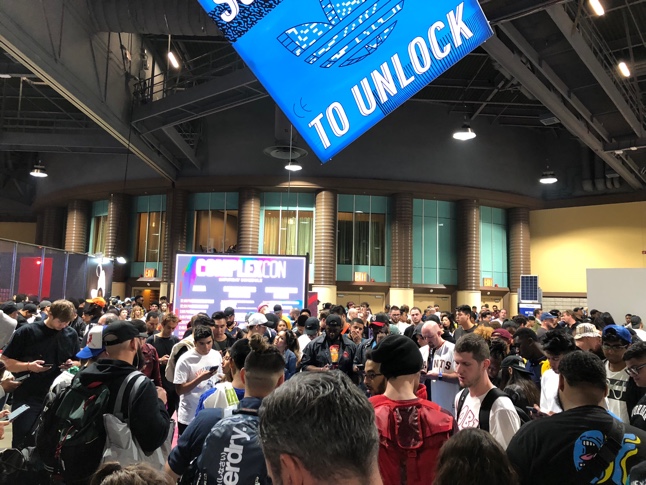 For this crowd, branded merchandise is currency, and obtaining limited-edition items, especially one stemming from collaborations between big-name fashion brands and beloved artists and designers, is like buying Bitcoin circa 2012. It's why some people had lined up at 9:30 p.m. on Nov. 2 to be among the first inside when ComplexCon opened at 11 a.m. the following day. It's why they read Complex's articles covering what Air Jordans are slated to be released next month and watch Complex's shows like "Sneaker Shopping" and "Sole Origins." And it's why Complex created ComplexCon in 2016.
"We felt like the marketplace was finally ready," said Complex CEO Rich Antoniello of the decision to form ComplexCon with Pharrell Williams and his company, i am OTHER. "If we tried to do it 10 years ago, I don't know if the sneaker consumer or the hip-hop consumer was ready for something this diversified."
Over the past decade, streetwear culture has firmly established itself as part of mainstream culture. Supreme, one of the preeminent streetwear clothing brands, is reportedly worth $1 billion, while Adidas has given streetwear a boost by collaborating with Kanye West and others.
"A lot of folks talk about streetwear like it has a subculture to it. But I think of it as contemporary culture," said Steven Harrington, an artist who designed shirts, sweatshirts and a sculpture for Aape By A Bathing Ape, a brand from Japanese streetwear company A Bathing Ape.
ComplexCon has grown into more than a trade show for streetwear brands and their fans. In addition to visiting the 160 booths in the main marketplace, attendees could catch musical performances by rappers like Future, Action Bronson and Rae Sremmurd and exhibits showcasing artists including Takashi Murakami, ComplexCon's founding host committee member. They could drop in on panels with celebrities, such as Lena Waithe and Issa Rae, and designers, like Virgil Abloh and Tommy Hilfiger; live tapings of Complex shows like its weekly talk show "Open Late With Pete Rosenberg;" and take in the "First We Feast" Lagoon, an outdoor food festival with 43 food stands and two food trucks promoting Complex's food-and-drink property, First We Feast. It's why ComplexCon is the envy of publishing companies that are striving to extend their brands to events to offset their dependence on advertising. Antoniello calls it "the cultural Super Bowl."
Good for business
Like the Super Bowl, it's a big business. People pay $55 for single-day tickets and up to $300 for the VIP package, which entitles pass holders access to early entry and special restrooms. Complex also sells its own merchandise at the event. But the event's main moneymaker is the booth space and sponsorships that Complex sells, which can be specific to ComplexCon or part of broader advertising deals across Complex's media properties. Antoniello wouldn't say how much revenue ComplexCon generates for the media company but said the event is profitable and accounts for 8 to 9 percent of Complex's annual revenue.
ComplexCon makes money for Complex, but it also serves to show brands the value of Complex's media properties in reaching an elusive, skeptical audience outside a single weekend in November.
"ComplexCon really helps to cement our position when helping clients understand the millennial and Gen Z market," said Complex CRO Edgar Hernandez.
Take Timex, which came to the event for the first time this year, reasoning that if the 165-year-old company wants to stick around for another 165, it couldn't afford to not be at ComplexCon, said Silvio Leonardi, svp of Timex's boutique business unit. "I believe that we as an industry lost the touch with this kind of consumer and this kind of environment," he said.
To reintroduce itself to the ComplexCon crowd, Timex worked with streetwear brand Chinatown Market to design a watch sporting Chinatown Market's smiley face logo and was the centerpiece of Timex's booth. Timex's booth wasn't the biggest, but considering the importance of the ComplexCon audience, the $50,000 to $60,000 that the company spent on its booth was an easy investment, "a fraction of what we invest in marketing," said Leonardi.
More than marketing
For brands like Timex and sportswear brand Kappa, ComplexCon was more than a marketing and sales opportunity. Last year, after adding up the product it sold and subtracting the cost of the booth, Kappa lost money on ComplexCon, said Dre Hayes, brand architect and co-founder of The Foundation, which handles U.S. branding, sales and distribution for Kappa. But the brand still spent $100,000 for an even bigger booth at this year's ComplexCon. Hayes hoped to make that money back by the time the event was over, but he wasn't worried if it didn't. In addition to raising the 51-year-old Italian brand's profile among American consumers, ComplexCon was a chance to push its direct-to-consumer business. After ComplexCon ended, the jackets and sweatpants that Kappa was selling at the event would only be available in the U.S. through the brand's e-commerce site.
ComplexCon also served as an R&D lab for brands. Using Shopify to manage the purchases at their booths, many could track top sellers, data that could inform which products to sell later on their sites. Some brands also instructed their booth workers to gauge customer's ages and add that information while processing the purchase.
Timex's Leonardi planned to spend a third of his time at ComplexCon walking the convention center to see what clothes and colors the attendees were wearing, which could be used to inform future watch design decisions.
Given the value that Leonardi saw he could reap from the relatively minor investment Timex made in ComplexCon this year, it was "not even a question" that Timex will return to ComplexCon in 2019, he said. "Maybe next year we'll do something bigger and better, but we want to be cautious. It's not just about investing the money but how you invest the money. Having a million-dollar booth and doing the wrong thing can do more harm than good."
Pitfalls of a bad booth
As host of the party, Complex tries to balance serving both brands and attendees. As ComplexCon has grown in popularity with attendees and brands, Complex has become even more discerning with its booth space. Prospective vendors have to provide a plan for their booths before Complex decides how much, if any, space to give them. "You can't just get the biggest booth and show sneakers," said Antoniello. "We've definitely trimmed down and said no to certain people who didn't bring it."
For companies like Atmos and Timex, it was enough to bring was their product, as long as it reflected the ComplexCon vibe. Others like HBO, Netflix, Lucky Charms and McDonald's had to prove they weren't trying to co-opt the streetwear culture.
Instead of a traditional booth, HBO built a replica barber shop to promote its show "The Shop," the series it made with LeBron James' company Uninterrupted. It hosted sneaker drops, had barbers providing free fades and touch-ups to attendees and people cleaning attendees' footwear. "We knew we had to come here and do something that was obviously going to be engaging for those consumers and in a way that was really authentic to this audience," said Jackie Gagne, vp of multicultural marketing at HBO.
Cool by association and assimilation
But how receptive were ComplexCon attendees to these brands that weren't an obvious fit for streetwear's premier event?
Torez, a 37-year-old sneakerhead from Minnesota who was attending his second ComplexCon, appeared to be the archetypal attendee. He wore a Golden Bear red varsity jacket with the iconic "Coca-Cola" script across the back and matching Converse sneakers. Both items were a collaboration between Coke and clothing brand-slash-retailer Kith, founded by sneaker designer Ronnie Fieg. Torez knew that Fieg had also collaborated with Lucky Charms, which had a booth selling $50 hoodies with its mascot on the back. Having Lucky Charms at ComplexCon reinforces the cultural significance of streetwear, said Torez.
Attendees like Torez appreciated how brands like Lucky Charms and HBO made an effort to assimilate themselves into the culture of ComplexCon and to associate themselves with the art and culture at its heart. That appreciation was on display at the line of people outside Netflix's booth where the streaming service screen-printed designs from artist Maria Qamar onto shirts to promote its show "Patriot Act With Hasan Minhaj."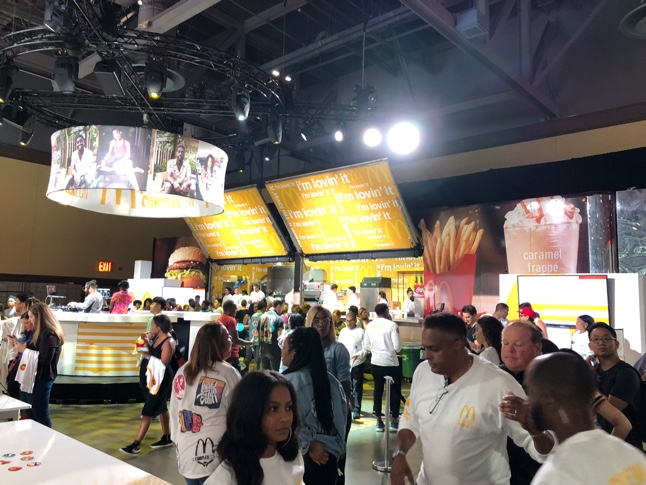 McDonald's had merchandise that prominently displayed the brand's logo and a rotating DJ booth. By late afternoon, the line to enter the McDonald's booth had stretched so long that it had to be divided into sections of 50 people. To make the wait more tolerable, employees handed out fries, nuggets and sodas to those in line. But the real draw was the limited-edition merchandise bearing patches by artists like Elise Swopes that might as well have been from Atmos or Adidas or any of the fashion brands in attendance. It worked because McDonald's didn't try to appropriate the culture but adapted to it.
One of the people waiting in line was 22-year-old Aaron. He had recently gotten into streetwear and had come to ComplexCon with his girlfriend after finding out about the event on Instagram (he is not a Complex reader but expects that to change as a result of the event). He was eager to learn about the streetwear culture and snag exclusive clothes and shoes to show off to his friends who didn't make it there. "There's an exclusivity, to say you got it at ComplexCon," he said.
https://digiday.com/?p=311234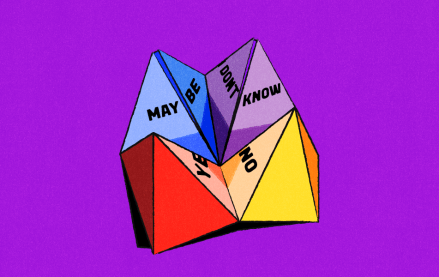 October 3, 2023 • 5 min read
•
•
Overall there's more due diligence from marketers when it comes to influencer marketing efforts now, according to marketers and agency execs, who say that there's been more rigor over the last year, and especially over the last six months.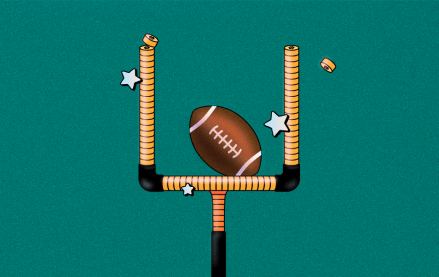 October 3, 2023 • 3 min read
•
•
The collaboration between the Los Angeles Rams and Snapchat goes back to 2020 as the Rams made became the first NFL team to conceive a Snapchat AR experience, affording fans the opportunity to virtually wear the team's recently unveiled uniform.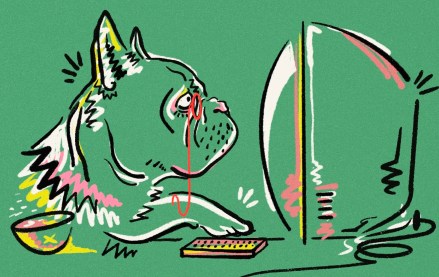 October 2, 2023 • 7 min read
•
•
When it comes to agencies, both of Meta's older sibling social media platforms may be past their primes.