Comeback story: Inside Polaroid's digital revival
March 29, 2017 • 7 min read
• By
Digiday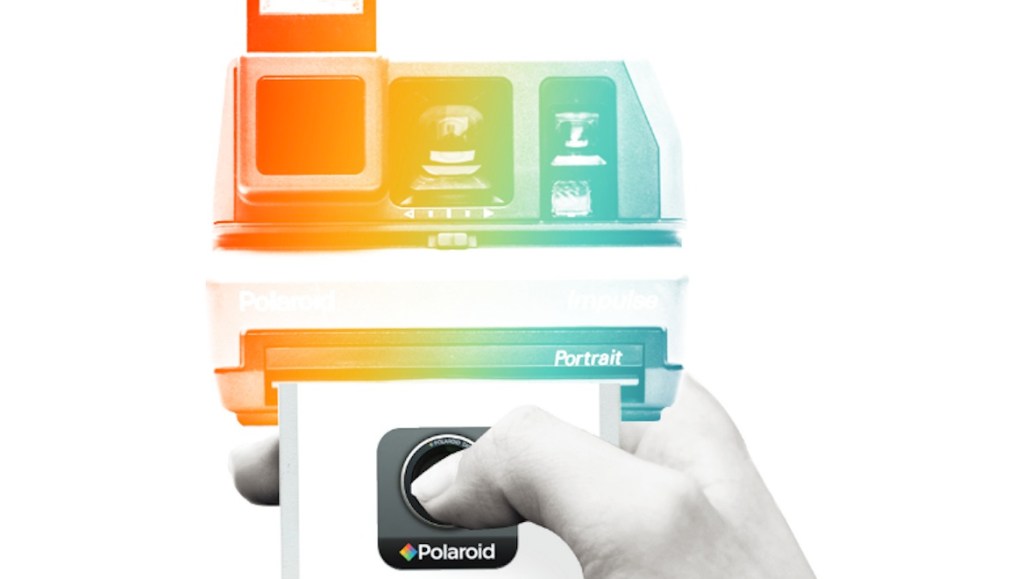 This story first appeared in the spring issue of Digiday magazine, available exclusively to Digiday Pulse members.  Join the community and receive the full magazine here.
When Jason McCann got married in Brooklyn Heights last fall, he and his fiancée decided to ditch the photobooth. Instead, they settled for five Polaroid Instant cameras and three Polaroid Cubes to snap pictures of their guests and festivities for their wedding reception.
"To us, it was a much more personal and a deeper connective tissue than the photo booths all over the place these days that people line up for," says McCann, the executive creative director at Red Peak Branding. "Not only was it unique, but it was also this instant nostalgia that brought people together."
In an era of selfies and smartphone cameras, retro mechanical cameras that churn out low-res photos on a black square in a literal flash are making a comeback: Lomography Lomo'Instant cameras have won the hearts of hipsters; Fujifilm's Instax cameras topped year-end lists across the board. But it was the very name "Polaroid" that these types of cameras were once synonymous with, and the company wants in on the nostalgia gold rush.
The iconic heritage brand has seen its fair share of ups and downs in its 80-year history — more downs than ups, lately. The advent of digital cameras forced the brand to file for bankruptcy twice between 2001 and 2009, and go through a roster of six CEOs between 2005 and 2009.
But things are improving for the brand. While the privately held company declined to share revenue figures, it says it has benefited from rising sales of instant print cameras, whose unit sales grew 166 percent in the 12 months ending September 2016, with more than 3.5 million units sold, according to NPD Research Group.
That's not to say the brand is without its challenges. The cameras aren't necessarily cheap, Polaroid trails behind Fujifilm, the leader in instant print camera sales, and experts say the brand risks losing its brand equity if it continues to enter into partnership deals with licensees for everything from digital still cameras to high-definition TVs.
Still, Polaroid sees an opportunity: The brand is walking a line between a nostalgia play and an investment in technology and innovation, both on the product and marketing side.
"It's about celebrating our heritage and bringing it forward through our products and brand promise," says Aaron Paine, director of social media and digital strategy at C&A Marketing, the brand's licensee for the camera market. "It's about being present, and making our brand relevant, in life's various moments."
Beyond cameras
When C&A Marketing took over Polaroid's instant film camera products in 2009, it focused on innovating in modern product categories, like digital printers and sports cameras, while still retaining the essence of the Polaroid brand.
In recent years, the brand has unveiled a new suite of products that tie into everything from iPhone photography, consumer 3D printing and camera drones to fun cameras that produce on-the-spot prints. (Outside of the C&A deal, the brand has also expanded into tablets, televisions and other digital media through a range of strategic license agreements and partnerships.)
"We're really curators of innovation," Scott Hardy, Polaroid's CEO said at the Consumer Electronics Show in Las Vegas in 2015.
And so the Polaroid Pic-300, a modern spin on the classic Polaroid camera, instantly prints wallet-size photographs. The Polaroid Z2300 successfully merged analog and digital photography, letting users instantly print photographs as well as save them as digital files. These products have allowed Polaroid to stay relevant by balancing the retro vibe with modern technology in today's marketplace.
On the innovation side, there is the Cube, an entry-level GoPro-like action camera introduced in 2015, which C&A called a "calculated risk." The Polaroid Zip, an instant inkless mobile printer, produces two-by-three inch, sticky-back prints of smartphone snaps. Its newest instant digital camera is the Polaroid Pop, which combines modern digital technology with the classic 3×4" Polaroid instant print format reminiscent of the brand's iconic legacy cameras.
The approach is simple: Remain true to the hands-on fun and engaging spirit of the initial Polaroid while pushing the boundaries of innovation with a diversified approach.
"Diversification is a wonderful principle, whether it's for product planning or for financial management — you want to have a diverse set of customers and a diverse set of categories you're competing in," Hardy said in a Marketplace interview in November 2016. "We are not relying on any single category for all of our future growth and that is a very healthy position to be in."
Still, there is no shortcut to instant success. Its new fleet of digitally-savvy devices may be a draw for some, but it comes with a hefty price tag — the Zip, for instance, costs $129 and the paper runs $20 for a stack of 30 sheets. It is also in an increasingly competitive space, with the likes of GoPro dominating the action camera market and Japanese camera company Fujifilm experiencing quite the sales boom for its instant cameras, with an estimate of at least 6.5 million devices sold in 2016.
Ultimately, Polaroid will also have to focus in on certain primary categories, or it risks diluting its brand, said Madeleine Kronovet, senior strategist at Red Peak Branding.
"If they are seeing continued business success by having fun and being who they are, it should continue to resonate with their audience," she says. "But they risk diluting themselves if they extend themselves too much in too many categories."
Social DNA
When the Polaroid instant camera came out in the 1940s, it was in many ways the first social network: Shoot, shake and share with friends. So it is unsurprising that Polaroid wants to work its way back into the cultural zeitgeist through a digital and social media strategy.
Aside from the nostalgia play, the brand's strategy today is hinged on influencer marketing. The brand works closely with Social Native, a platform with 14 million independent content creators that create premium user-generated content for brands. And Instagram is squarely at the center of this strategy.
"The idea was to tap into what our target audience was already doing," says C&A Marketing's Paine, who was brought on board in late 2015 to overhaul its social strategy. "Polaroid has always been about instant sharing, it's in our brand DNA. And Instagram is the perfect marriage of both the film and digital medium."
It also made sense from an audience and a budget perspective: By 2015, over a million Instagram posts were being tagged with the hashtag #polaroid, without the brand lifting a finger. Once Polaroid joined Instagram, the platform proved to be a great playground for testing and learning, a cost-effective way of pushing out content organically before putting paid support behind it on Facebook, Twitter and Google ads.
The brand did this by experimenting with a wide array of content, from micro-campaigns such as its 2016 holiday initiative called #PRINTitFORWARD, which encouraged fans to share their holiday Polaroid, to content series partnerships with other brands like Pabst Blue Ribbon around experiential events.
Polaroid saw a jump of 152,000 followers between July 2015 and this January, with an average of 8,000 new followers being added per month, according to data crunched by Socialbakers. Its engagement in the same time period also saw a bump, with posts getting an average of 192,000 interactions a month.
For Rob Henzi, vp of cultural strategy at Sparks & Honey, Polaroid's comeback can be attributed to people's newfound penchant for reviving and iterating on past media, content, and products — be it the success of the Nintendo Mini Classic console or vinyl records.
"People have a hunger for classic products and experiences," he says. "And the Polaroid brand has had an opportunity to tap into that mindset."
https://digiday.com/?p=229628