Crowdsourcing has become all the rage over the past few years. Coke has already dabbled in crowdsourcing—remember its crowdsourced Super Bowl ad? The brand is once again giving its fans a say as part of its "Perfect Harmony" program.
Coke, in partnership with Fox's "American Idol," has gotten pop star Carly Rae Jepsen, of "Call Me Maybe"-fame, to write a song for "Perfect Harmony." The catch is that fans can vote on their favorite lyrics and instruments.
The song is tentatively called "Take a Picture." Each week fans can vote on which lyrics they want to see end up in different stanzas of the song. The voting works through a Facebook integration. Once users have cast a vote they are given access to special content like clips of the song and videos of Jepsen. By casting votes, fans also get entered for the chance to win a trip to the "American Idol" season finale performance or other Coca-Cola and "American Idol" prizes.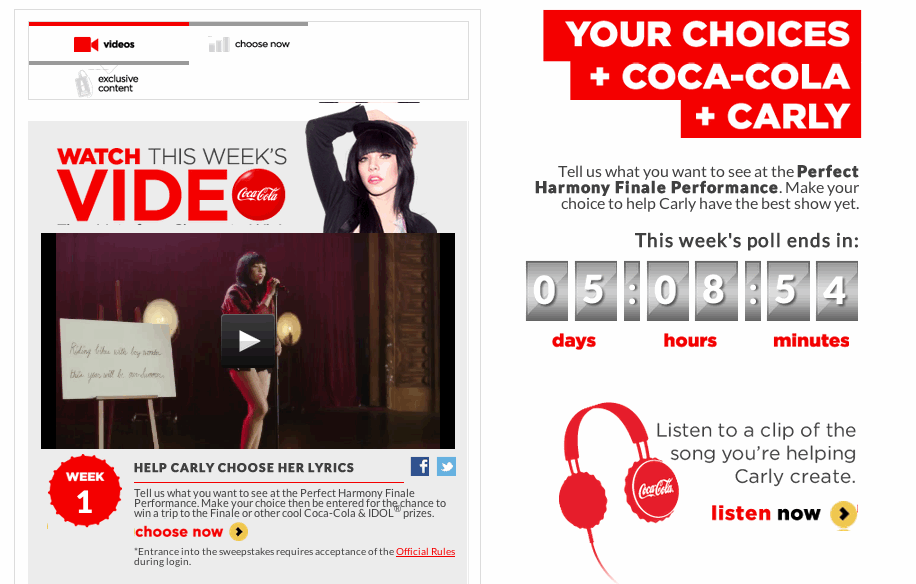 https://digiday.com/?p=34767