Challenge Board Confessions: When programmatic gets problematic
May 26, 2016 • 2 min read
• By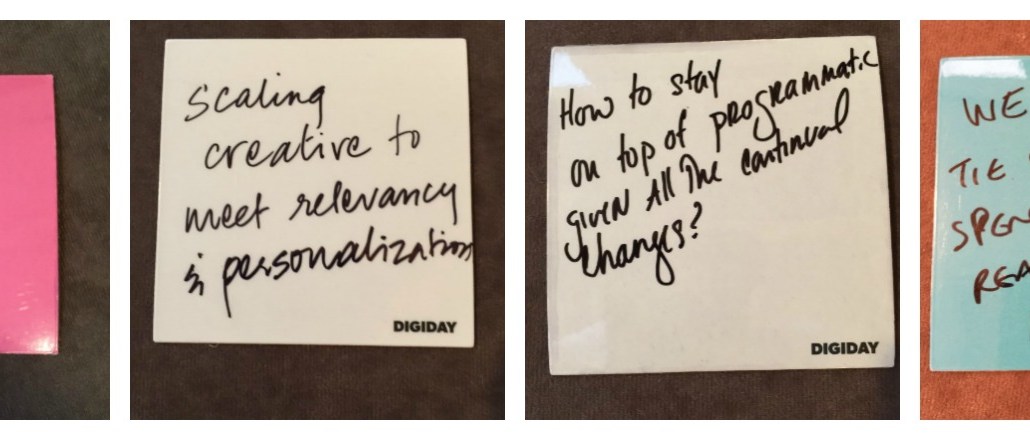 Sometimes programmatic can be problematic.
At the Digiday Programmatic Summit this week in New Orleans, we asked top brands to anonymously write their biggest challenges with programmatic advertising and place them on the Digiday Challenge Board.
Here's a sampling of what brands submitted anonymously, with their explanation of the challenge.
"We don't have a great handle on how to steer our media in real time. There's a lot latency in action and insight. We spend money and don't know what's happening. We'd like to bring all our media in-house but a big step forward would be knowing what happened, connecting real-time spend to real-time insights."
"When we're using Google's bid manager platform, we're able to see how the user converts. But once we set ads to devices, there's no way of connecting these ads with acquisition. Even if we see conversion in the end, we cannot track that to a device. We don't know if it helps or not. We cannot 100 percent validate it."
"It's not something I live and breathe day in and day out. I rely on my agency to do the due diligence for me. From a brand perspective, it's the education and keeping up with the changes and then owning the data and mining the data."
"One of the challenges with programmatic is reaching the right audiences. Do we know we are? Are we producing relevant and contextual creative — and enough of it? Scaling creative is a problem. Having enough resources to continually produce it is a problem."
"Getting everyone up to speed with what programmatic is and how it can be used for their strategies is hard. In the beginning, everyone had different levels of knowledge. It's one of those things where people thought programmatic was junk sites. It was educating about the premium inventory available."
"Everyone has a baseline probability to convert regardless of marketing. Marketing data tends to confuse correlation with causation. You're wasting your money. You're paying for someone you would have gotten anyway. Every single algorithm is this way. They don't take into account whether this person is truly incremental. These algorithms need to change to bid for incrementality rather than just bid for the conversion or click."