This is the second installment in the "Social Retailer" series exploring how retailers are engaging with social platforms. This series is sponsored by Celtra, provider of the first cross-screen HTML5 technology for brand advertising. 
---
As a 91-year-old retailer, Barneys New York is proving to be rather spry.
Late last month, it released its iPad App, its first ever. Created in conjunction with the design firm Fueled, the app includes an innovative personal shopping scheduling tool — linking the store's online and offline presence — as well as original content from the Window, the Barneys.com editorial site division.
The Window, as it happens, last week hired its first ever in-house editorial director, Marissa Rosenblum, formerly of Refinery29. Some of the Window's recent content, in conjunction with the launch of the app, has included exclusive interviews with the Olsen twins, the child actors-turned designers, on the evolution of the handbag. Actress Elizabeth Moss picks her favorite looks for Spring (and dishes on Peggy, the character she plays on Mad Men).
"This app sets a new standard for omnichannel luxury on the iPad," Matthew Woolsey, executive vice president for digital at Barneys New York recently told Digiday. He chatted about the brand's content push and what to expect next in the digital space from the retailer.
This is your first iPad app. Why now?
From a merging of product and story, it made sense to do an iPad app. It wasn't something we wanted to do for its own sake. Our goal is making sure every customer coming to the website is interacting with content in some way.
It sounds like content is at the center of your whole strategy right now.
Content is really at the core of our brand. When you look at the industry as a whole, everyone is in this mad rush to say they're using content and creating as much as possible. Not all content is created equal. Some brands have a bit more of a story to tell. Our brand is at heart a storytelling brand. Stories matter to our shoppers and the people interested in fashion and luxury.
But you're a retailer. Why create content?
Customers who are engaged with our content are converting at rates much higher than the average customers. We're starting to see that with our iPad app. It's designed to be a portal to our brand storytelling and shopping through story.
What are some of your engagement numbers?
Engagement is off the charts for the content piece. We don't usually publicize engagement statistics. And the iPad app has only been in market a week and a half. More than half the people using the app are spending 10 minutes inside the app. The customer is no longer making the distinction between the fashion and the storytelling element.
Why do you think that is?
It really validates a lot of our customers, wanting to be behind the scenes with us and understand what the brand's about.
What is the goal with the Window?
We're making sure we're giving people an experience that feels somewhat personalized. We're able to leverage our store presence through the concierge function. You can book a personal shopping appointment. We can use our technology platforms to connect with a personal shopping experience. We're working with technology partners on pushing the envelope in terms of what's possible in on-site personalization in the next couple months.
What tech element is currently at play, then?
We have personalization algorithms that try to push the new designers, the new products the new stories — the things you were not expecting to experience. That's the challenge when it comes to luxury. Collaborative filtering doesn't work. You can't make assumptions. This notion of really taking into account merchant intelligence, we have the best merchants in the world. The ability to tap into that knowledge base and tap into stories that are meaningful and based on what we know about our customers.
Which requires a fair amount of data.
We collect data on customers and in stores and leveraging that is at the heart of this. No filtering algorithm is going to show what's new to people. We're working on ways to bubble up things to take advantage of that insight.
What's your new editorial directors' role in this?
Marissa is going to be fantastic for us in terms of furthering the growth and development of the Window. She's perfect in that she combines knowledge of fashion, editorial and technology and metrics and really pushes that forward in a near real-time sense. It's a perfect fit.
What is an example of a truly Barneys piece of content, then?
We'll do a campaign like the one we did with Bruce Weber on transgendered identity. We built an entire ecosystem of content and story around that. We created combinations of content: longform pieces, 10 or 14 minute videos, combined with snackable content that connects back to the bigger things. Our biggest success is in understanding that the customer is willing to engage in a story across an app and website, and making sure that the offerings are different enough at each — at the Window, Barneys.com, Instagram even at the store level.
You mentioned Instagram. What's your strategy there?
We get an amazing amount of response from Instagram. As a visual storytelling medium there is a huge amount of engagement within fashion. What we try to do there is tell our brand stories a little differently than everybody else. During Fashion Week everybody takes pictures from the same shows at different angles. We try to take exclusive pictures that give users access they're not getting anywhere else. That 15 second or less video can be a really powerful piece. The ability to tell a story is a really exciting challenge.
https://digiday.com/?p=74915
December 8, 2023 • 3 min read
For Atlas Creative, expanding into Roblox is not solely a play to scale up. The company believes there are concrete benefits that will come with having a hand in multiple metaverse platforms.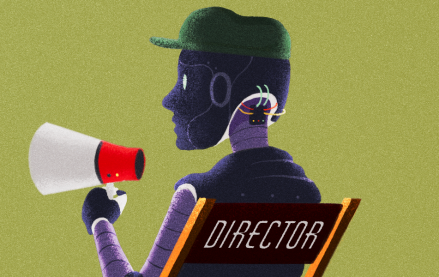 December 8, 2023 • 5 min read
Since ChatGPT became a breakout hit, the names of numerous AI companies and products have entered the cultural vernacular.
December 8, 2023 • 4 min read
Even as linear TV ad spend declines, 23andMe is reinvesting in the channel to boost brand awareness.