Brands glom onto 'Sharknado 2' buzz with awkward tweets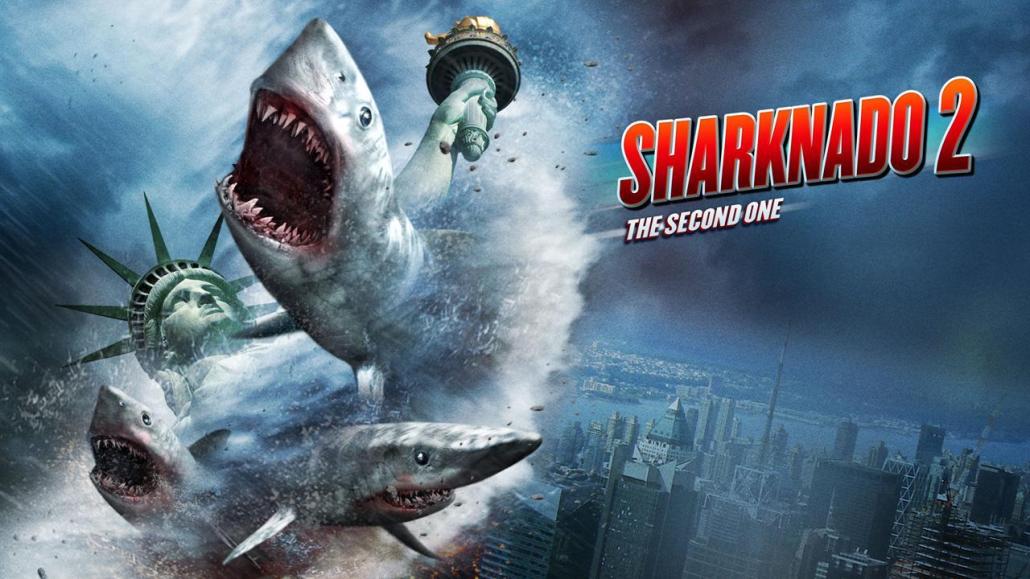 It was the biggest social TV moment of last year, with Twitter reporting that a peak of 5,000 tweets per minute, and 600,000 tweets after it premiered the first time. So it was no surprise that Wednesday night's Syfy premiere of "Sharknado 2: The Second One" (same plot, different city) brought out plenty of brands that tried to get in on the communal conversation.
This one actually kind of makes sense, Weather Channel.
[GIF] @SyFy Wet + Stormy + Sharknado = #ItsAmazingOutThere #Sharknado2TheSecondOne https://t.co/aPC6zbYUM6

— The Weather Channel (@weatherchannel) July 31, 2014

Nonprofits ASPCA and the Red Cross of Philadelphia get in on the act.

For these shelter dogs, one storm will change everything! https://t.co/zogzzKxS3n #Barknado #Sharknado2TheSecondOne pic.twitter.com/gG3aG82ePC — ASPCA (@ASPCA) July 30, 2014

In the event of a #Sharknado We recommend having a kit and downloading the #redcross apps! #Sharknado2TheSecondOne pic.twitter.com/TaPsWHXx0R

— Red Cross Philly (@RedCrossPhilly) July 31, 2014

Poor showing, Lenovo. Minus points for the terrible Photoshop job.

Thinknado. #Sharknado2TheSecondOne pic.twitter.com/i2i3fwTGtu — Lenovo (@lenovo) July 31, 2014

Priceline makes a dubious connection between travel and tornadoes.

Tornadoes may be perfect for sharks, but we humans prefer saving on airfare with Priceline. #Sharknado2TheSecondOne pic.twitter.com/BUpX8c4Wxb

— Priceline.com (@priceline) July 31, 2014

Miller Lite appeals only to the most die-hard of fans with a reference to screenwriter Thunder Levin's initial reaction when Syfy approached him to write the script.

What's all this about SharkNATO? #Sharknado2TheSecondOne pic.twitter.com/36eybHnPGb — Miller Lite (@MillerLite) July 30, 2014

U.S. Cellular gets random.

Now charging…straight towards us. #Sharknado2TheSecondOne pic.twitter.com/lgwQRVWsZk

— U.S. Cellular (@USCellular) July 31, 2014

Trolli Candy recalls that it does produce some shark-themed products.

Fear not. With Sour Watermelon Sharks by your side, you're safe watching #Sharknado2TheSecondOne pic.twitter.com/h1xVXmhmfw — Trolli Candy (@Trolli_USA) July 30, 2014

Say what you will, but at least Moe's Southwest Grill put some effort into this.

Puntastic, DiGiorno.

It's not delivery, it's DIGIORNADO hahahaha so timely #Sharknado2TheSecondOne

— DiGiorno Pizza (@DiGiornoPizza) July 31, 2014

Subway is one of the marketing partners for the film, and Jared 'the Subway guy' Fogle even made a cameo — along with an "Eat Fresh" joke. Subway restaurants across the U.S. featured in-store displays promoting the film. In a release, the brand said it would be live-tweeting the film with "cheesy sub-liners." A sample below.

.@CathBrad How about a beach towel so you can maximize your shark watch on your next beach trip? DM us. pic.twitter.com/vZa2dPSfhu — SUBWAY Restaurants (@SUBWAY) July 31, 2014

https://digiday.com/?p=82593