There are many reasons a brand might want to chime in on a national or cultural event on Twitter. They want to be part of the conversation; they want to be seen as relevant or with it. Ultimately, they want to sell their product.
Today brands — from White Castle to Walmart — want to "commemorate" 9/11, to let us all know that they will #NeverForget. For that, let's be grateful. Because how else would we have remembered an unprecedented attack on American soil that took thousands of lives and still reverberates in the headlines daily, 13 years later?
Last year we asked if brands should even be tweeting on days like today. Apparently they know what's best. So, thanks, brands, for reminding us of what really matters on this anniversary. And hey Applebee's, save us some potato skins.
Build-A-Bear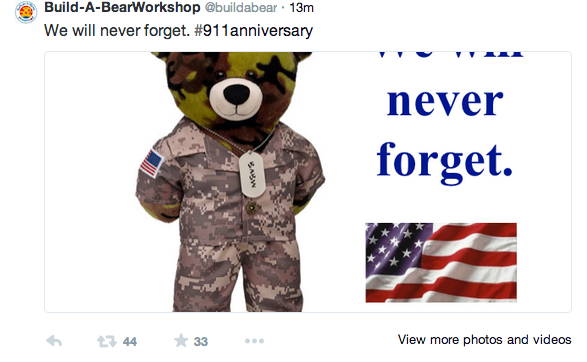 This might be 2014's worst brand 9/11 tweet. But then, the day's not over yet. No wonder it was removed almost immediately. Too bad, though, that the Internet #NeverForgets.
Tied To the South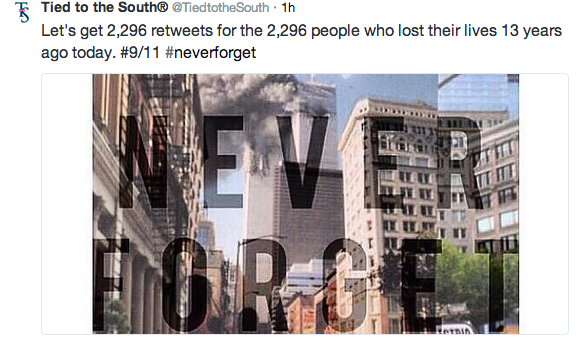 This one comes a close second, and was obviously removed too.
Wow. This tweet was also removed. Looks like someone made these Bikram enthusiasts sweat a little too much. 
Intimacy Box
Rembering those who lost their lives on September 11, 2011. 40% OFF END OF SUMMER CLEARANCE… https://t.co/aAF3ENwtBr

— Intimacy Box (@intimacybox) September 11, 2014
Oooh, mustn't dally!
Cold Fusion Juice
#NeverForget 9-11-01 #CFJMOB use coupon code FUCKTERRORISM for 1-30ml for $9.11 @ https://t.co/Q9rywycRh7 #vape #vapelife TELL YOUR FRIENDS!! — ColdFusionJuice (@Coldfusionjuice) September 11, 2014
Ok, we might be able to get behind the sentiment here, guys. Nice one.
Yucatan Guacamole
#Remember911 today and everyday. A special thanks to our armed forces for protecting this beautiful country. pic.twitter.com/behgOcMtmN

— Yucatan Guacamole (@yucatanguac) September 11, 2014
Ooops. Looks like they deleted the tweet — and the image that went with it. Fortunately we have a screengrab:

Hmmm. Is that a memorial reflecting pool … or a giant guacamole bowl? Can't tell.
White Castle
God bless America. #NeverForget911pic.twitter.com/NnfqnmsINg — White Castle (@WhiteCastle) September 11, 2014
This makes us feel as gross as we do after scarfing a six pack of sliders.
Fleshlight
Today is 13th anniversary of 9/11. We remember those lost, & honor those still fighting for freedom. #911NeverForgetpic.twitter.com/W0yFU73L7V — Official Fleshlight (@Fleshlight) September 11, 2014
Fleshlight, for the record, makes fake vaginas. Thanks, Fleshlight.
Other companies, like Barney's, the New England Patriots and Urban Outfitters too joined the fray.
The following, however, were not quite as cringe-worthy:
AT&T
pic.twitter.com/vRLHZXxF19 — AT&T (@ATT) September 11, 2014
Looks like someone learned its lesson last year.
Dunkin Donuts  
Today we honor the memory of those who lost their lives on September 11. pic.twitter.com/OW2FZt8O8l — Dunkin' Donuts (@DunkinDonuts) September 11, 2014
Dunkin Donuts kept it simple with flags demonstrating remembrance and solidarity.
Delta
We will always remember. #911Memorial#Honor911#NYCpic.twitter.com/YZzLjhIBfO — Delta (@Delta) September 11, 2014
Using a popular quote that sums up everyone's feelings. Well done, Delta.
Applebee's
We will never forget. pic.twitter.com/7zJrh3ACWh — Applebee's (@Applebees) September 11, 2014
Some lazy real-time marketing from the fast-food chain, but at least its message is hard to argue with.
Walmart
Always Remember. pic.twitter.com/2SsTeoemjf — Walmart (@Walmart) September 11, 2014
Macy's
We'll never forget. Our hearts go out to all those affected by 9/11. pic.twitter.com/NQKGnzlvf2 — Macy's (@Macys) September 11, 2014

Burlington Coat Factory
13 years later, & we will #neverforget. pic.twitter.com/mG0rFzV0Yi

— Burlington (@Burlington) September 11, 2014
There was one brand, though, that really got it right. Everyone else take note: If you're trying to sell us something, this probably how you should handle 9/11.
Verizon
In observance of 9/11, this handle will be silent tomorrow. We will resume sharing on September 12.

— Verizon (@Verizon) September 11, 2014
https://digiday.com/?p=87699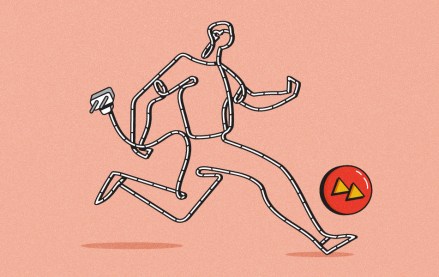 September 22, 2023 • 4 min read
Women's sports are having a moment. Brands, media companies and agencies are looking to get in on the action.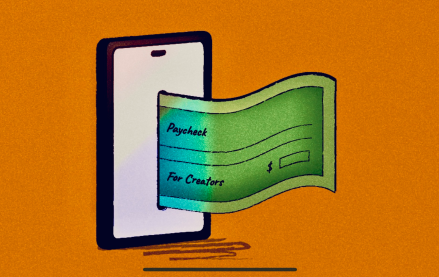 September 22, 2023 • 6 min read
The Hollywood strikes were supposed to be a game changer for many of them, but the situation hasn't quite lived up to the hype.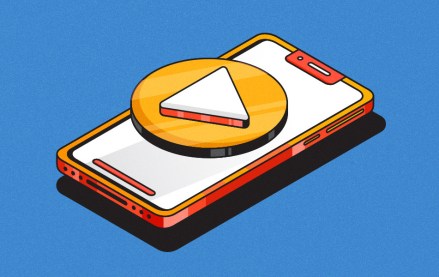 September 22, 2023 • 5 min read
Given the rise of short-form video, agencies that focus on the format, rather than specific platform expertise, will reap the rewards.