Brands celebrate the Fourth of July with fireworks and clichés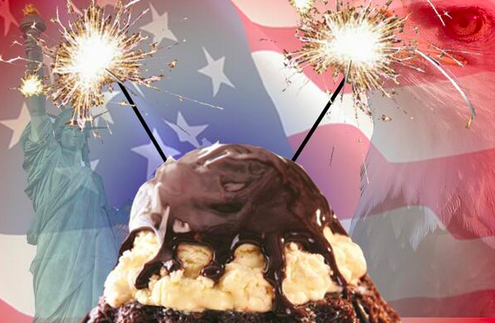 The need to be "real time" means brands have to mark every occasion, large and small. America's birthday is no exception.
Your typical brand social media manager wants nothing more than to get out of the office for the long weekend. Let's say most of these well wishes for America won't win many creative prizes. To the tweets!
Ah, fireworks.
Celebrate the red, white and blue. Happy #4thofJuly! pic.twitter.com/lkamzk4rZD

— Walmart (@Walmart) July 4, 2014
Still more.
Who knew patriotism and pyrotechnics could go so well together? Have a blast this 4th of July! pic.twitter.com/OyAzQO8XPb

— General Electric (@generalelectric) July 4, 2014
And more.
Happy 4th of July! Thank you to all of those who serve our country. #July4th pic.twitter.com/0pgQCxPOJo

— Applebee's (@Applebees) July 4, 2014
And more.
Fireworks. You're doing it right. https://t.co/QBe1QybVAS pic.twitter.com/bRVc4UQvY7

— Pizza Hut (@pizzahut) July 4, 2014
And then there were the American flags.
'Merica. #HappyFourth pic.twitter.com/QxWRkBrzOL

— Trident Gum (@tridentgum) July 4, 2014
Ah, cupcakes, those are American.
Ring in the Fourth of July with our recipe for Star-Spangled Cupcakes: https://t.co/WwZV13gwht pic.twitter.com/QpT5uifhmd

— Bounty (@Bounty) July 4, 2014
The Molten Chocolate Cake is uniquely American — and 1,270 calories and 62 grams of total fat
Happy Fourth of July, everyone! Here's a reminder of some of the things that make America awesome… pic.twitter.com/x9yAwcle5a

— Chili's Grill & Bar (@Chilis) July 4, 2014
Doughnuts are very American — the stop-motion is a nice touch.
Happy Birthday America! #4thOfJuly https://t.co/ibqlTIBAJB

— Dunkin' Donuts (@DunkinDonuts) July 4, 2014
Come to think of it, so is bacon.
Happy #4thofJuly! pic.twitter.com/pXNM6e7K5x

— Arby's (@Arbys) July 4, 2014
And hot dogs are definitely American, as is acting a little weird. Kudos, Sonic.
Not sure what's going on over at @sonicdrivein, but I think it has something to do with hot dogs. I can dig it. pic.twitter.com/OdO6FKkCip

— brian braiker (@slarkpope) July 4, 2014
But nothing is more American than a tasteful product placement.
America's favorite holiday and America's favorite burger. pic.twitter.com/JPlJjqPf1l

— Burger King (@BurgerKing) July 4, 2014
Lufthansa reached across the pond with some Germanic well-wishes.
A very happy Independence Day to you and yours :) Enjoy the fireworks! pic.twitter.com/WTJ6AYSwj4

— Lufthansa USA (@Lufthansa_USA) July 4, 2014
While Newcastle, to its credit, continued to troll America on its birthday.
You don't have to be British to drink British! Happy Independence Eve, America! #IndependenceEve pic.twitter.com/jSDkZBdhPf

— Newcastle Brown Ale (@Newcastle) July 3, 2014