In Jay-Z's "BBC," Nas raps, "Fila sweats, 88 I rocked a mock neck." Visitors to RapGenius.com, the site where users annotate hip-hop lyrics with the meaning behind them, will find an explanation for the verse from the Italian sportswear brand itself, along with a photo showing that Nas did indeed rock that look back in the day.
For the past four months, Fila has been annotating on Rap Genius, explaining the stories behind mentions of the brand by rappers like Big Boi, Childish Gambino and DJ Jazzy Jeff. The effort is a pet project of Sean Lynch, a marketing specialist at the brand, who sees an opportunity for the sportswear brand to celebrate Fila's roots.
"Brands sign artists and have them wear product, but in 2013, we don't believe that is as impactful as an organic approach," he said. "That's our thought process at least. If you want to wear it, wear it. That translates into the lyrics and how the artist speak about the brand organically. So yeah, this is just our way of going in and explaining what the artists were saying from our brand perspective."
Rap Genius, which recently received a $15 million investment in a round led by powerhouse VC firm Andreesen Horowitz, is banking on more brands taking Fila's lead. It helps that the lyrics site is growing at a breakneck pace. Rap Genius drew 5.3 million U.S. unique visitors in October, well more than double the amount from a year earlier. Its two-year traffic pattern shows a breakout site.
The company, which also operated Poetry Genius, Rock Genius and News Genius, has grand ambitions. It basically wants to annotate the entire world, explained Mahbod Moghadam, a co-founder of the company.
"I know it sounds obnoxious, but we want to be the fabric of the Internet," he told Digiday. "It's the new printing press. Every site is going to be Genius-powered."
Its efforts haven't been without controversy. Rap Genius has raised the ire of the National Music Publishers Association in regards to copyright infringement. Last week, Rap Genius signed a deal with Sony ATV to use lyrics it owns the rights to.
Legal issues aside, like all platforms, Rap Genius has to convince brands that annotation is a behavior it should take seriously. Brands have some experience here. Many have taken to places like Foursquare to annotate real-world locations with tips, for instance. Moghadam believes brands will see how annotations are used with their younger consumers. Rap Genius doesn't sell advertising on its sites yet. And banner ads are not part of the plan.
Instead, Rap Genius wants to adopt a Twitter-like native ad model where brands will pay for visibility in users' news feeds of new annotations. The vision, Moghadam explained, is for brands to act like Rap Genius users themselves — and in the process build awareness and connection to the brand by contributing to what Moghadam sees as a broad cultural movement.
"Their audience cares, especially the younger part," Moghadam said. "It's the same as in 1998 when you needed a website. This is what people want."
The problem, of course, is not all brands are Fila. Many are boring. Is there really a lot for Swiffer to add in annotations? Nobody's rapping about Swiffer. (Actually, strike that. Maybe they are.) Colin Nagy, executive director of media at The Barbarian Group, sees this as the big challenge as brands rush to annotate. "For every one good branded Foursquare tip pegged to location, there's 12 annoying ones," he said.
For Fila, it comes down to cultural relevance. Lynch can't say annotating rap lyrics are going to move tons of product at stores, but that's not the point.
"It's effective in a sense because people are saying, 'Wow, that's what that lyric meant for you guys' or, 'Wow, Fila is still a dope brand.'"
Image via Flickr
https://digiday.com/?p=56717
December 8, 2023 • 3 min read
For Atlas Creative, expanding into Roblox is not solely a play to scale up. The company believes there are concrete benefits that will come with having a hand in multiple metaverse platforms.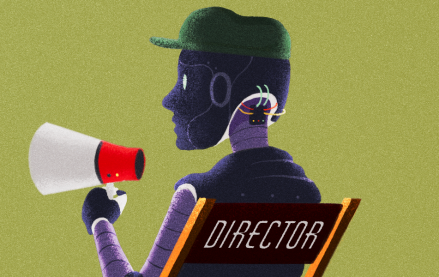 December 8, 2023 • 5 min read
Since ChatGPT became a breakout hit, the names of numerous AI companies and products have entered the cultural vernacular.
December 8, 2023 • 4 min read
Even as linear TV ad spend declines, 23andMe is reinvesting in the channel to boost brand awareness.