Inside Scotiabank's downtown Toronto 'digital factory'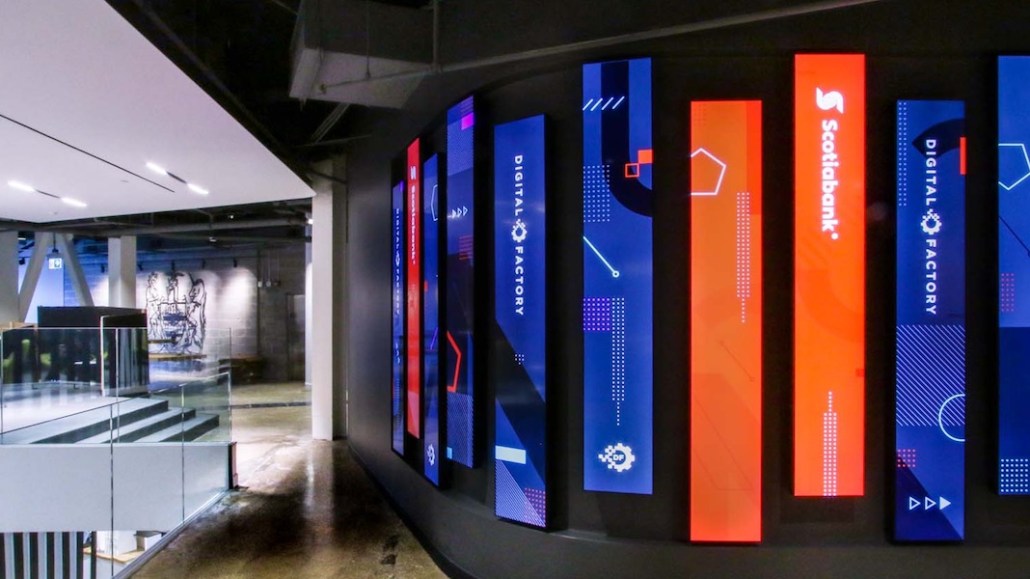 A bowling alley, a ping pong table and a speakeasy aren't often the first things that come to mind when thinking about working at a bank.
Gray, glum, segmented cubicles, maybe. This is an industry known for its risk aversion and bureaucracy, after all. But increasingly, banks from Capital One Labs to BNP Paribas' Innovation Zone are organizing themselves around digital hubs. Among them is Scotiabank, Canada's third-largest bank. It has opened three so-called "digital factories" this year — a Toronto location (January), Bogota, Colombia (February) and Mexico City (March). Then, it plans to open two more later this year.
Digiday spoke to Shawn Rose, Scotiabank's evp of digital banking, to get a sense of its 70,000-square-foot digital factory, located in the heart of downtown Toronto in a former newspaper building. Employees enter the building biometrically, with a wave of a hand, and the layout — drawing inspiration from Google and LinkedIn campuses — emphasizes co-working with floor-to-ceiling windows and 17,000 square feet of whiteboard space. A rotunda with OLED screens welcomes visitors.
Rose said the digital factory will help the bank work more closely with a range of skill areas from within and outside the bank, including specialists in engineering, digital and design. It will also involve close collaboration with startups.
"Part of the reason that we're partnering with startups is to be able to get used to the speed in which they're moving," said Rose. "When we talk about agile, we're talking about moving from waterfall to something different — to have a development time both in terms of the ideation as well as the delivery from months and sometimes years down to weeks."
Beyond just working spaces, an on-site cafeteria, games area, fitness center and bar encourage work-life balance and help employees perform better, he said.
"Every square foot is dedicated to output and productivity," he said. "It's high density in working areas, but in common spaces, a team could bring in marketing and legal to cross-fertilize these ideas. We're using this in a test-and-learn way."
Scotiabank is looking to focus on products that relate to the consumer banking experience, including mobile and digital banking, account openings, loans and mortgages. A customer usability lab lets customers test new products and give feedback to developers.
The bank wouldn't reveal the price tag of these sleek new centers beyond saying that they are included in the $2.6 billion Canadian ($1.9 billion) annual technology spend. But analysts say the labs are more than just marketing, noting that the design model helps banks evolve with the changing nature of the business. The lab model allows banks to more easily share APIs internally and with other companies and quickly develop a new range of consumer products, said David Albertazzi, senior analyst at Aite Group.
"The developments coming out of these innovation centers are being made mostly in the area of user experience," he said. "There's no question that many banks are looking not just for agile infrastructure but agile ways of releasing new products and services, and many financial institutions are looking toward being able to release new products and services faster than they've been doing."
Photo credit: Techvibes (main image has been cropped)
https://digiday.com/?p=226961