There are better (and healthier) ways to celebrate the new "Star Wars" movie than sitting on your couch re-watching the whole franchise. R/GA UX designer Gene Lu is tracing out iconic "Star Wars" imagery in his runs around Portland, by taking routes in the shapes of Stormtroopers, TIE Fighter, Darth Vader and At-At Walkers.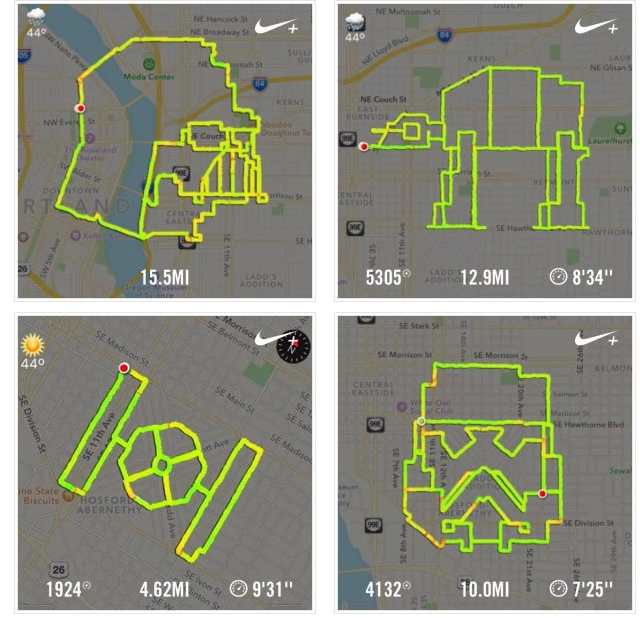 R/GA, Lu's agency, is  the shop behind Nike+ itself — it created the platform for longtime client Nike in 2006 as a way for runners to record and track running data. It was also the agency behind the now-defunct Fuelband, for which it won a bunch of advertising awards in 2012.
Lu himself has been down these roads before — literally. In 2013, he also created running ran in the shape of Game of Thrones characters, including dragons and direwolves. The idea came about when Lu's user experience team was experimenting with new features for Nike Running. One of those experiments helped him figure out how to map running routes visually.
Now, the self-described "Star Wars nerd" has added downloadable albums that runners can refer to on their phones as they run — so they don't have read off an email or a note. The images direct runners when to turn ("at the blue dumpster," for example). Then they simply swipe to the next photo for the next direction. (You can download the AT-AT, Stormtrooper or Darth Vader.)
"Everything is there, you just need to find it," Lu told Digiday about his process mapping our the routes. "Star Wars for me is my nostalgic childhood. I love doing these."
The Force is strong when this Portland-based agency staffer goes for a run.

Posted by Digiday on Monday, 21 December 2015
Nike+'s runner tracking capabilities have been featured in other fun side hustles, too. Claire Wyckoff, now a copywriter at Wieden + Kennedy Portland, last summer made pictures of penises all over San Francisco using the app, just a few months after Lu did the Game of Thrones work.
It's also been used for advertising: in March, European sports retailer Intersport asked runners to run in the shape of their logo to get a discount on gear.
https://digiday.com/?p=153051