Agencies turn to WeWork for cost savings and cultural perks
July 20, 2018 • 2 min read
• By
Digiday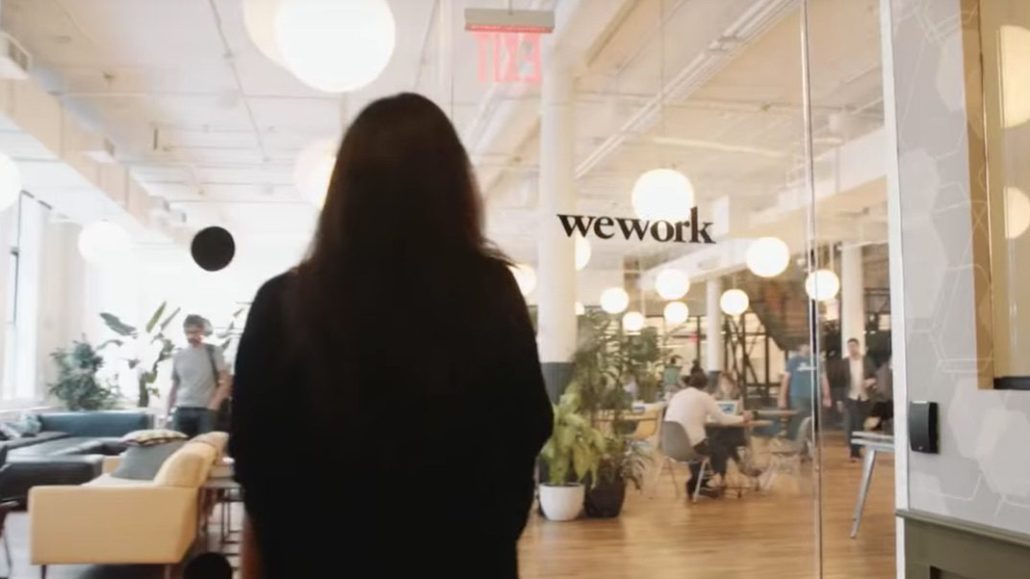 When digital marketing agency Jellyfish began thinking about opening a second New York office this coming November, it chose a WeWork space in Chelsea. There, it could pay only for the space it needs, work alongside other companies that might need its advertising services and network with nearby Google.
"In today's market, where real estate in popular locations is at a premium, WeWork offers a valuable alternative," said Jim Hamilton, managing director and head of U.S. at digital agency Jellyfish.
The 8-year-old WeWork that rents shared workplaces is becoming an attractive option for ad agencies looking for new space to expand to. Agencies say WeWork can offer exposure to other workplace cultures and cost-savings, especially in major cities like New York.
Agencies, faced with pressure from consultancies and more brands bringing their marketing in-house, often need to cut costs, and real estate is a big expense because agencies have to be in big cities where the clients and talent are. But with rents as much as $40,000 a month on a 1,000-square-foot room in New York City's Nolita neighborhood, shared office spaces like WeWork can save them money from shared amenities, rather than the actual rent. WeWork provides amenities like office supplies, internet, common areas and mailing.
Geometry Global, whose clients include Coca-Cola, SC Johnson and Unilever, moved its standalone Rio de Janeiro office into a WeWork space in March, becoming the first WPP agency to do so, said Leticia Arslanian, growth director for Geometry Global. The move saved the agency a lot of money on utilities, said Arslanian, who did not provide specific numbers.
WeWork's options include private offices, dedicated desks, desks in common areas and custom layouts of entire floors or buildings. One desk in a common area begins at $220 a month; a company of up to 100 people can share a private office starting at $450 a month. But location matters. A private office in WeWork's upcoming location near Union Square in Manhattan starts at $1,050 a month while one desk in a common area starts at $520 a month.
Nicole Levings, director at ad agency AgencyTK, with clients like Virgin Galactic and Sketchers, said her agency pays about $4,500 a month for a six-person office at a WeWork in Santa Monica, Calif. There's square footage that's slightly cheaper, but by using WeWork, the agency doesn't have to pay for internet, décor and furniture. AgencyTK is growing its business — Santa Monica is its first U.S. location — and Levings said using WeWork also lets the agency avoid being locked into a long-term lease agreement.
And while WeWork's recent decision to go meatless at events might be controversial, agencies also say the community events and workshops WeWork hosts can benefit their workplace culture.
"We are in the industry of creative ideas, and nothing helps drive more creativity than meeting new people and understanding new realities and businesses," said Arslanian.
https://digiday.com/?p=296029