Thailand has many distinctions. Its capital, Bangkok, is one of the world's most popular tourist destinations. It is the only country in Asia never colonized. And it is home to the most soppy, tear-jerking TV commercials you will ever see.
It seems that every other day there's a new viral spot that tugs at the heartstrings. The most recent: "The Power of Love," a commercial aimed at urging people to put down their smartphones.
"We've seen that ads that use emotional triggers are more widely received and highly successful in creating talk-ability," said Natjala Paitoon, communications director at Ogilvy Public Relations Bangkok, which is responsible for the 2014 Cannes Bronze Lion–winner "Giving."
They're clearly on to something. Bangkok has won 360 Clios since the awards went international in 1965. At Cannes in the past two years, Thailand won a total of 26 awards, including four Gold Lions. The seven commercials below uploaded to YouTube have been viewed nearly 18 million times combined.
Pathos undoubtedly sells in Thailand, and Paitoon said that the predominance of Buddhism helps explain why Thai people are viewed as "humble, respectful and compassionate."
"It's evident when one walks through the streets of Thailand. We have countless projects and charities of varying scales. We give alms to beggars rather than dismiss them," she said. And so ads that evoke these emotions "are likely to succeed in gaining our favor and ultimately establishing long-term brand affinity and recall."
What's striking is how well that sentiment translates to other cultures, too. Don't take our word for it. Here are seven commercials that are guaranteed to make you cry like a baby. We dare you to get through these without reaching for a tissue.
'Giving'
This year's Cannes Bronze Lion winner from Ogilvy & Mather Bangkok for Real Move Co., about karma and what true communication actually means, is sappier than a Vermont maple tree. And no, we're not crying; we just have something stuck in our eye.
'Closer'
This heartwarming one by free call and messaging app Line also won a Cannes Bronze Lion this year, and is based on a real-life story of a father using Line messages to cheer up his mourning daughter after the loss of her mother. Sorry, our allergies must be acting up again. Can you pass the Kleenex?
'The Power of Love'
The most recent addition to the growing list of Thai weepies is the aforementioned spot from Y&R for DTAC, about a new daddy trying to use technology to make his little one stop crying — until he realizes that no touchscreen can compete with the human touch. Why are you trying to kill us, Thailand?
'Unsung Hero'
This one came out earlier this year for Thai Life Insurance, again by Ogilvy & Mather Bangkok, and highlights the daily rituals of a good Samaritan. What does he get for his efforts? Beautiful, beautiful emotions. What do you get? A giant lump in your throat.
'Silence of Love'
That wasn't Thai Life Insurance's first trip to the tear-jerk rodeo, though. This 2011 offering about the troubled daughter of a deaf-mute soup-monger … sorry, we can't even finish typing this sentence.
'My Beautiful Woman'
This short film from Worx CJ and Wacoal as a part of the 'Beauty Inside' campaign is about a woman who must choose between carrying her child to term or undergoing chemotherapy to treat her newfound cancer. Make it stop!
'Disconnect to Connect'
The Thai people must have some serious attachment issues with their phones because here's another ad that deftly and chillingly underscores how isolating our technology can be. At least this one ends on a note that won't have you reaching for the bottle.
https://digiday.com/?p=81096
December 8, 2023 • 3 min read
For Atlas Creative, expanding into Roblox is not solely a play to scale up. The company believes there are concrete benefits that will come with having a hand in multiple metaverse platforms.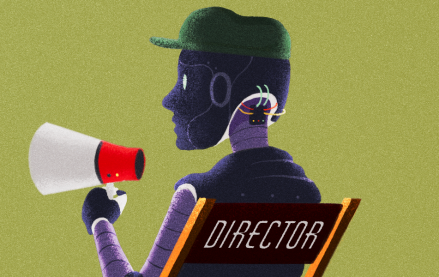 December 8, 2023 • 5 min read
Since ChatGPT became a breakout hit, the names of numerous AI companies and products have entered the cultural vernacular.
December 8, 2023 • 4 min read
Even as linear TV ad spend declines, 23andMe is reinvesting in the channel to boost brand awareness.