The mother of all generations: 5 things brands should know about millennial moms
May 13, 2015 • 5 min read
•
•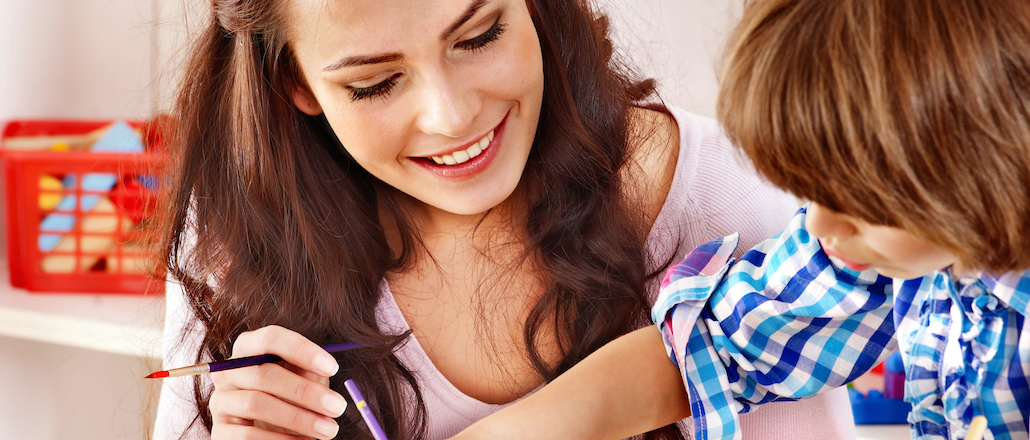 Millennials make up the largest demographic in the country. They are, quite literally, the mother of all generations: Millennial moms account for almost 90 percent of the 1.5 million new mothers within last year, up 50 percent from a decade ago. And they are spawning just as economic conditions are improving, which means brands would do well to pay attention.
"Millennial moms have taken on a new parenting strategy, that of 'assistive parenting,' where it's their job to not just set their kids up for success but also to hold their hands on the very bumpy road to get there," said Rachel Speigelman, president of agency Pitch. "And assistance is exactly what they expect from brands. Tell them as a mom how you will better their lives and that of their family's."
A comprehensive new study released Monday by Goldman Sachs distills public information from multiple sources about millennial moms, who are increasingly emerging as the most important subgroup among millennials. We read the 37-page report so you don't have to. Here are five things brands need to know about millennial moms:
There are more of them than you think.
The average age of a first-time millennial mom is 26, two years higher than what is was in the mid-'90s. But considering that millennial moms are only growing in numbers, their purchasing power is too.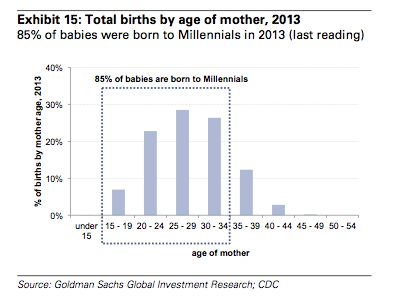 According to the study, approximately $1 trillion is spent on children between the ages of 0 and 17 in the U.S. across housing, transportation, food, apparel, healthcare, childcare and education. And while that number might be growing, its is also shifting, as tech savvy millennial moms make more values-based purchasing decisions.
To stand out, brands need to convey what they have to offer in new and ingenious ways, said Spiegelman. "I'm too busy reading up on the next stage of life I need to assist my child in reaching. And that's where the successful brands will make a difference."
They prefer brands that align with their values.
The big millennial bywords are authenticity and social causes. And while no previous generation exactly embraced inauthenticity, millennial moms pay greater lip service to brands that have authentic-sounding narratives (while delivering seamless experiences across physical and digital spaces, of course).
Which is why brands like Toms — the shoe company that donates a new pair of shoes to an impoverished child with every pair sold — touch a chord with millennial moms, according to the study.
Brands across industries have found millennial passion points to align themselves with. Whole Foods is trying to appeal to the millennial obsessions with health and fitness — and is even set to launch a new store for millennials soon. The rise of conscientious fast-food brands, like Chipotle, comes at the expense of traditional chains like McDonald's, according to the survey.
"Millennial moms are millennials with a set of specific buying needs," said Jamie Gutfreund, CMO at agency Deep Focus. "They want personalization and a relationship with the brands they support — especially for their children."
They love brands that get technology.
Millennial moms grew up online, so brands that have managed to integrate mobility and digitization into everyday tasks are winning.
Whether it is Uber providing them their own drivers and cars in minutes, or San Francisco-based dry cleaning service Washio, brands that help these multitasking millennial moms make more efficient use of their time are the ones they tend to gravitate toward. New service brands like Plated and Blue Apron that deliver healthy meals while making life easier for them and offering utility are also gaining currency, according to the report.
"There is more choice now than ever before, so consumers today are always willing to try new things and brands that have interesting concepts," said Sucharita Mulpuru, analyst at Forrester. "That definitely skews slightly higher for younger customers."
And small brands are winning among millennial moms.
Through their tailored offerings and grassroots marketing approach, smaller brands have been able to carve their niches. And the study expects this trend to continue.
Incumbent brands can often be slowed by their corporate cultures and sheer size. Small brands have a fresh starting point and a new set of tools at their disposal, such as digital, e-commerce and social media channels, said Gutfreund. This is evident in the rise of brands such as Kind, Burt's Bees, BabyGanics and UPPABaby.
"The appeal of smaller brands revolves around their agile ability to deliver an experience around the product," she said. "They have a story, a mission and appeal to a generation of 'venture consumers' — who don't just buy products, but invest in brands, want to feel a connection and want to have a stake in the outcome."
But all is not lost for the legacy brands, for incumbents like Nike, with a market cap of $88 billion, continue to grow through adaptation — even though they are challenged by upstarts like Under Armour.
"Copy them, acquire them, learn from them, invest in them," said Mulpuru, advising the bigger brands. "Once you're an incumbent, it's hard to displace you and you can do anything a smaller brand does by usually doing it better and cheaper."
E-commerce will only grow for millennial moms.
According to the study, millennials expect a seamless experience from the brands they do business with and don't fully understand the logistical challenges of distributing content and merchandise across multiple channels. This has opened the door for new online entrants and e-retailers as preferred modes of commerce.
This explains why e-retailers like Zulily and ASOS have grown so much in just a few years. Zulily, the report points out, has made shopping entertaining and also invested significantly in enhancing its mobile experience into a highly personalized experience with 1-click checkout. The company also merchandises the site in a "flash-sale" model, enabling a fresh, new experience daily. According to data from comScore, it has 12,858 million unique multiplatform visitors on average.
"In this day of constant innovation and information, newer, more nimble brands have gotten their products into the hands of the very vocal mom community faster," said Spiegelman.
https://digiday.com/?p=118233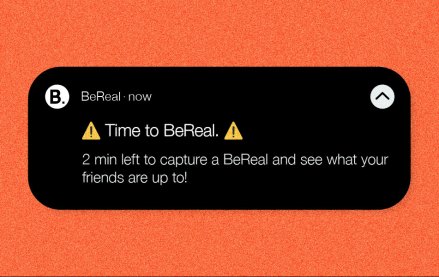 October 4, 2023 • 4 min read
•
•
BeReal launches its first global campaign, hoping to drum up buzz with users. Now, marketers are reconsidering the app.
October 4, 2023 • 7 min read
•
•
There are still those who believe that AR has a place in the marketing funnel, however big or small right now.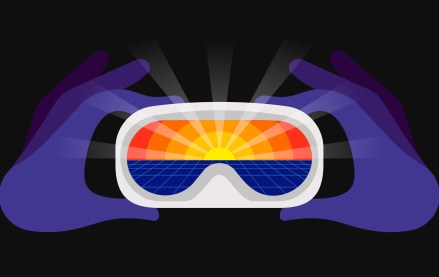 October 4, 2023 • 3 min read
•
•
With Pokémon Go revenues falling year-over-year, Niantic, its developer, is looking beyond its popular augmented reality game to generate profits.