In just a few years, messaging apps like Snapchat, Line, Kik, WeChat and WhatsApp have amassed hundreds of millions of users and are still growing.
Brands and marketers have predictably not been far behind. Several have already successfully tapped into Snapchat, Mayo brand Hellman's has used WhatsApp to distribute recipes. Some apps, such as WeChat, are also turning into marketing platforms themselves, integrating services and payment functionalities which can serve brands well.
"Messaging apps are morphing into marketing and e-commerce platforms," said Thomas Husson, Forrester's principal analyst of marketing and strategy. "For brands, it won't necessarily be about ads, but about mixing content and context in a relevant way."
For those brands still wary, here's what they can keep in mind as they navigate through the expanding messaging apps universe.
Messaging apps are still growing
Messaging apps have already reached large global audiences, but aren't showing any signs of slowing down. According to comScore data on mobile messaging app audiences, Facebook Messenger, GroupMe and Line saw the most growth between April 2014 and April 2015, increasing their user bases by 138 percent, 92 percent and 73 percent respectively. While Facebook Messenger jumped from 37.9 million to 90.2 million users in one year, GroupMe nearly doubled its base from 2.7 million to 5.2 million and Line expanded from 2.7 million users to 4.7 million users.With the exception of Skype and Kik, all the other top messaging apps also increased their user base.
People spend a lot of time on messaging apps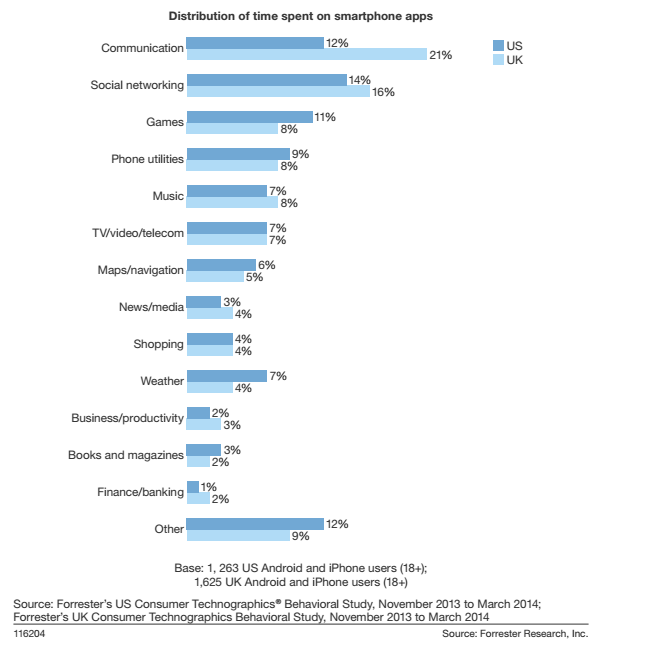 Messaging apps are not only growing in numbers, people also spend a significant amount of time on them– especially outside the U.S. A July 2014 report from Forrester found that time spent on messaging apps like WhatsApp (18 minutes daily in the U.K.) can exceed time spent on Facebook (14 minutes). While the vast majority of this time for now is spent talking with friends and relatives,  people are starting to use these apps for more than just communication. As this trend continues, brands will be able to get deeper customer insights, become a part of conversations in a nonintrusive way, and reach audiences where they spend a great deal of their time.
Messaging apps are great ways to reach millennials

Gen X and the Baby Boomers may be catching up, but millennials still dominate messaging apps. Snapchat (74.9 percent millennial visitors), Kik (68.4 percent) and GroupMe (65.6 percent) all skew young, according to comScore data.
A recent study titled 'Reality of Mobile Messaging Apps' by media agency MEC, released in April 2015, surveyed nearly 1,700 U.S. respondents between the ages of 18 and 49 and found that 63 percent of 18-34 year olds surveyed are active mobile app users. These millennials use such messaging apps not only to chat with friends, but also to share pictures and videos. And a majority of them prefer these apps for the privacy they offer compared to the bigger social networks.
"This might be because the mobile is the primary screen, and millennials have an increased appetite for privacy," said Matt Waghorn, the director of communications planning at Huge.
Messaging app users are not necessarily averse to brands

According to the MEC study, 79 percent of the messaging app users surveyed said that they were likely to engage with various brand categories within their app experience, which presents a great opportunity to test out these platforms. Movies, TV shows, online retailers like Amazon and Zappos, and casual restaurants like Panera and Chipotle emerged as some of the top categories that users said they wouldn't mind interacting with.
In fact, messaging apps have the potential to be more powerful tools than traditional social networks to build communities, provided brands can seamlessly integrate themselves in conversations without disrupting them. Nearly half (46 percent) of 18-34 year old mobile messaging app users said that they are likely to engage with brands they are interested in versus 39 percent of 35-49 year old users.
Consumers seek value from brands on messaging apps
Messaging apps are not just cheaper alternatives to texting, they're content portals that can facilitate direct interaction between brands and their fans.
However, while both millennials and older generations seek "value" from brands, the definition of value varies by age group. For example, the MEC study shows that younger consumers define more interactive experiences as those that have "value," and are more likely to engage with brands that push out relevant and ingenious content and experiences. Those 18-34 year olds are 31 percent more likely to read content from brands, 53 percent more likely to watch branded content, 31 percent more likely to follow brands on social media and 20 percent more likely to comment or post on content from brands.
On the other hand, older consumers see value in saving of time and money and are more likely to appreciate brands that offer them discounts on products.
"People realize that brands are phenomenal providers of valuable content," said Whitney Fishman Zember, MEC's senior director of innovation and consumer technology.
https://digiday.com/?p=118917